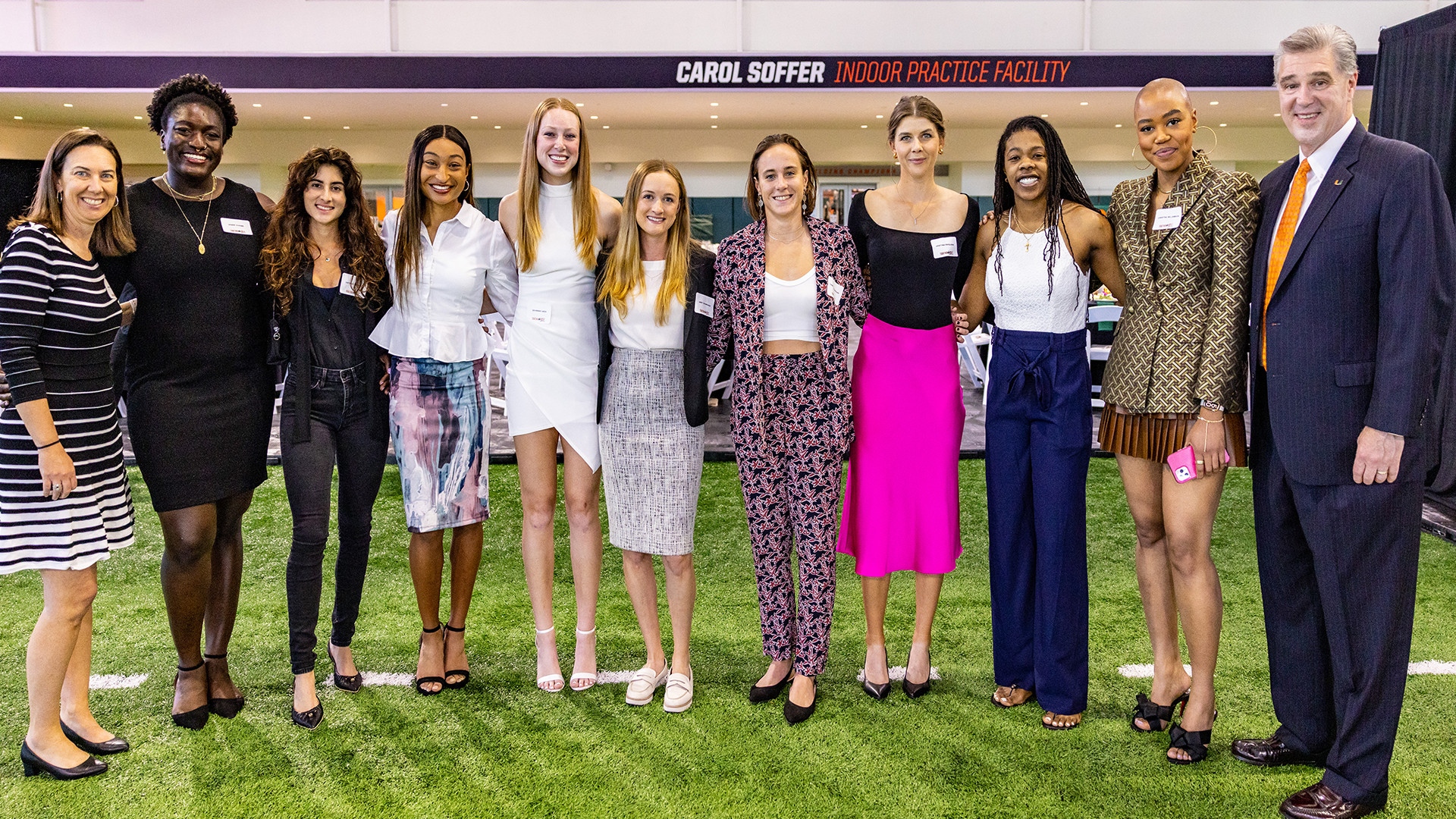 CORAL GABLES, Fla. – The Celebration of Women's Athletics had ended and most of the event's attendees had already filed out of the now-quiet Carol Soffer Indoor Practice Facility.
Still, an excited group of Miami student-athletes surrounded Christine Williamson, hoping for a quick word and maybe a picture with the ESPN anchor and former Hurricanes volleyball player who returned to campus on Sunday to serve as the emcee for the eighth annual event.
As eager as those student-athletes may have been to chat with her, though, Williamson was even more excited to offer advice, suggestions or simply provide a bit of encouragement.
After all, not long ago, she was in those student-athletes' same shoes.
"I just feel like I'm being myself, but I love the fact that that is what's inspiring people. So it's huge for me to come back," Williamson said. "I never thought I would be where I currently am. When I said that I did not know what the heck I was doing when I was a student-athlete, I'm not joking. I didn't know what I was going to do. I didn't know what my ceiling was. I didn't know any of that…I think having people that are able to be very real with you, but also be good role models and be doing things that people aspire to do is super important."
The opportunity to connect with some of Miami's top student-athletes, though, wasn't the only highlight of the evening for Williamson.
Getting to meet the honorees, hear their stories and introduce them to the event's guests was inspiring for her, too.
"They're so awesome. I honestly don't know how they're able to do so much," Williamson said of the 11 award winners. "I didn't do one-tenth of what they're currently doing, so it was super inspiring for me. These women are going to go on and do incredible things…They're incredible student-athletes. When you think about student-athletes, the one thing is, it felt like we didn't have time for much anything else. When you actually see what they're doing outside of being a student-athlete, it's incredibly mind-boggling and super inspiring."
Among the honorees recognized Sunday night was diver Mia Vallée, who last month won the national championship in the 1-meter springboard at the NCAA Women's Swimming & Diving Championships. Debbie Ajagbe, a two-time ACC Indoor Shotput Champion who is pursuing a master's degree in mechanical engineering was recognized, too. So was women's basketball student-athlete Kelsey Marshall, who is pursuing a master's degree in finance and will leave Miami as the Hurricanes' all-time leader in career 3-pointers.
Also recognized Sunday were tennis student-athlete Daevenia Achong, soccer student-athlete Selena Fortich, golfer Kristyna Frydlova, track and field student-athlete Lauryn Harris, cross country runner Daphnee Lavassas, swimmer Carmen San Nicolas, rower Abby Schwenger and volleyball student-athlete Savannah Vach.
All have excelled not just in competition for Miami, but in the classroom and community as well. And three – Ajagbe, Marshall and Vach – participated in an on-stage panel with Williamson where they detailed how competing and studying at Miami has impacted their lives.
They also shared what advice they'd offer their teammates and some of the young girls in attendance who aspire to be student-athletes themselves one day.
"In the beginning, it's going to be very, very hard…but the more and more you get into it, it becomes a lot easier to do," Marshall said. "If you take the time and be patient, everything will go well for you."
Added Ajagbe, "My advice would be to lean into failure. Even though it's easy to try and pretend to know 'Okay, I want to be perfect and I'm supposed to do this and I'm supposed to do this,' you're learning something. You're not supposed to know anything. You're supposed to fail and fail again until you get it right."
Said Vach, "I would say, no matter what you do, go out there and get your dreams. You go get them. Don't wait for them to come to you…People all over the world today are rooting for women to do well, so go out there and get what you want. Don't wait for it to come to you."
To help student-athletes at Miami continue to achieve at the highest level, on Sunday, the athletic department announced the launch of a new leadership academy for female student-athletes. And the event, which drew more than 400 attendees, raised more than $750,000 – its highest total yet.
All of that, along with the Together 4 Her campaign, will continue to help UM develop leaders and prepare women to be successful in the world beyond just competition.
And the goal is always to continue building on all of that success, said Jenn Strawley, Miami's Deputy Director of Athletics.
"Sometimes you just have to take a deep breath and realize that where we started was with this idea that we could really find a way to celebrate our female student-athletes and do some things to help put them in a position to make connections and be successful, but also to raise money to support them and be able to put first-class opportunities in front of them," Strawley said. "Unfortunately, we weren't able to do it last year, but to come back and see so many people and see the support financially that people have provided and to be overwhelmed by just the incredible stories of the young women we get to honor, it's just one of the proudest moments you have as an administrator. You realize the impact we can all have, collectively, on young people. It's really special."