Editor's Note: Taylor Lynn, a UM graduate, is Digital Marketing & Analytics Specialist for Miami Athletics
It was Selection Sunday and it was all but a foregone conclusion that both the men's and women's teams were locks for the Big Dance. The only question to answer was "Where?" I sat in the Watsco Center's Multipurpose Room with our student-athletes, coaches, staff and season ticket holders anxiously awaiting the answer to that question. The room erupted with joy when it became official the men's basketball team was dancing. The men were headed to Greenville.
As I waited for the Women's Selection Show to start, I had a Jimmy Neutron-style brain blast. I realized there was a chance that women's basketball, men's basketball and baseball could all be in South Carolina on the same weekend if the women drew Columbia as their host. Then my passing thought became a reality. The women were dancing in Columbia.
It was one of those moments where the words came out of my mouth before my brain had processed the thought. I turned to a co-worker and said "I'm going!"
The only question was if I could make it to all three games in the same day. By Monday morning when all the game times were out, I had my answer. The women would play at 11:30 a.m., the men at 3:10 p.m. and baseball at 6 p.m. It was possible.
By Monday night, I had booked a flight, a rental car and a pair of cheap AirBnbs and requested vacation days for Thursday and Friday.
I woke up on Friday morning in Columbia ready to bleed orange and green across the Palmetto State. After a quick stop at Dunkin', it was off to Colonial Life Arena to cheer on Canes women's basketball.
The turnout was strong in Columbia with nearly every seat filled in the section behind our bench making for a raucous reaction on each bucket. On the court, it was clear from the start that the Canes had come to play. Miami led nearly wire to wire with a balanced attack. Five Canes scored in double figures leading UM to Coach Katie Meier's 400th career win and a date in the second round with the top overall seed, South Carolina, on ABC at 3 p.m. on Sunday.
As the clock wound down on the final seconds of the first round, I looked on as Coach Meier and Kelsey Marshall embraced. A team that was on the bubble just a few weeks prior came together and went on a dominant run through February and March. Months and months of hard work filled with highs and lows had paid off and the Canes were not only back in the NCAA Tournament, but were moving on to the Round of 32.
I gave high fives to my fellow Canes fans and then booked it to my rental car and was off to Greenville. As I approached Greenville, it started to rain, first a drizzle and then an outright downpour. I received a text from Director of Baseball Operations Robert "GM" McDaniel that signaled the dream of seeing three Canes games in one day might not happen as there was talk of postponement.
After a short 90-minute drive, I was in my seat only a few minutes after tip to cheer on the men's team. The men were firing on all cylinders early and took an 11-point lead to the break while holding USC to a season-low 20 points in the first half. My family friend, a diehard USC fan, texted me at halftime talking about how great Miami looked. I replied, "Indeed! This is a good USC team though. I'll be nervous until the final buzzer."
The second half saw one of the top 25 teams in the nation claw back and take the lead, but much like the women's game, a strong showing of Canes fans created a home court advantage over our west coast foe and the Miami men showed why they belong in the big dance with a big win over the Trojans and a second round matchup with the two-seed, Auburn, on Sunday at 7:45 p.m. on truTV.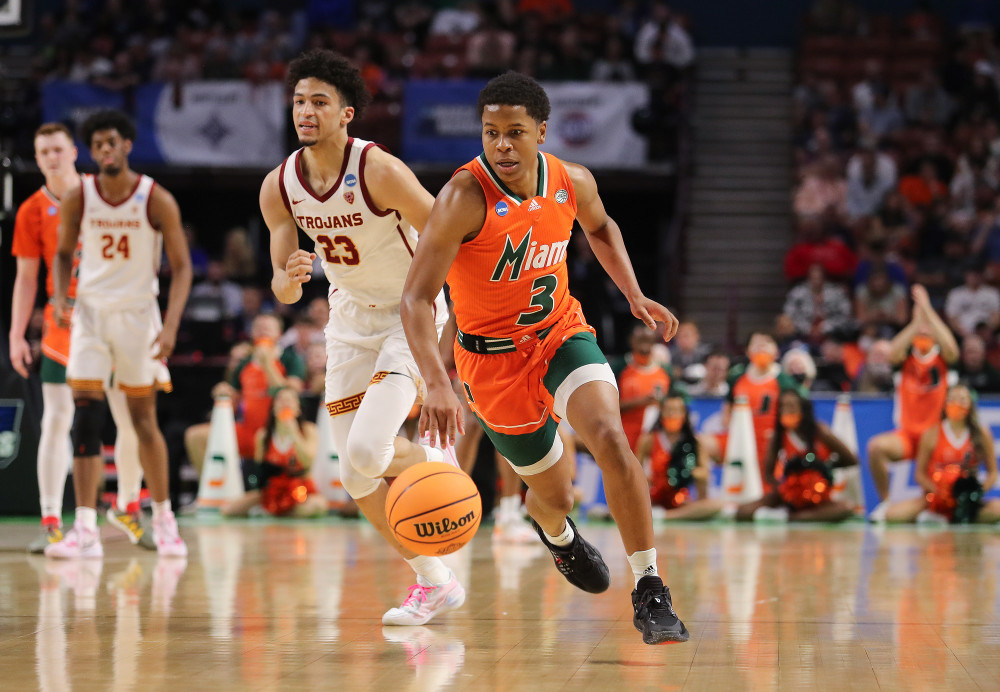 By the time the men's game ended, the rain had cleared and baseball was on. After a 45-minute drive through rural South Carolina, I had arrived in Clemson to cheer on Canes Baseball.
Could it be done? A 3-0 day for the Canes. It would not be easy as baseball had to face No. 18 Clemson on their home turf. However, when I walked into Doug Kingsmore Stadium, I could tell a 3-0 day was imminent. The Canes were up 4-0 and dominating on both sides of the ball.
It only became even more lopsided from there as a small, but rowdy group of Canes fans made it feel like Mark Light North and the baseball team closed Miami's dominant day in South Carolina with an 11-4 victory over the Tigers.
When I look back at this day in the future, what will I remember? The wins? Traversing South Carolina to see three games in one day? Honestly, the highlight for me was seeing a young Clemson fan's day made when Carson Palmquist emerged from the dugout after a lights out start on the hill to hand her a baseball. It was a moment of pure jubilation as the kindergartner sprinted to her dad and brothers and exclaimed that she had gotten a ball.
From the victories on the playing surfaces to the comradery of my fellow Canes fans to the off-field moments, all I can say is what a day. What a GREAT day to be a Miami Hurricane.