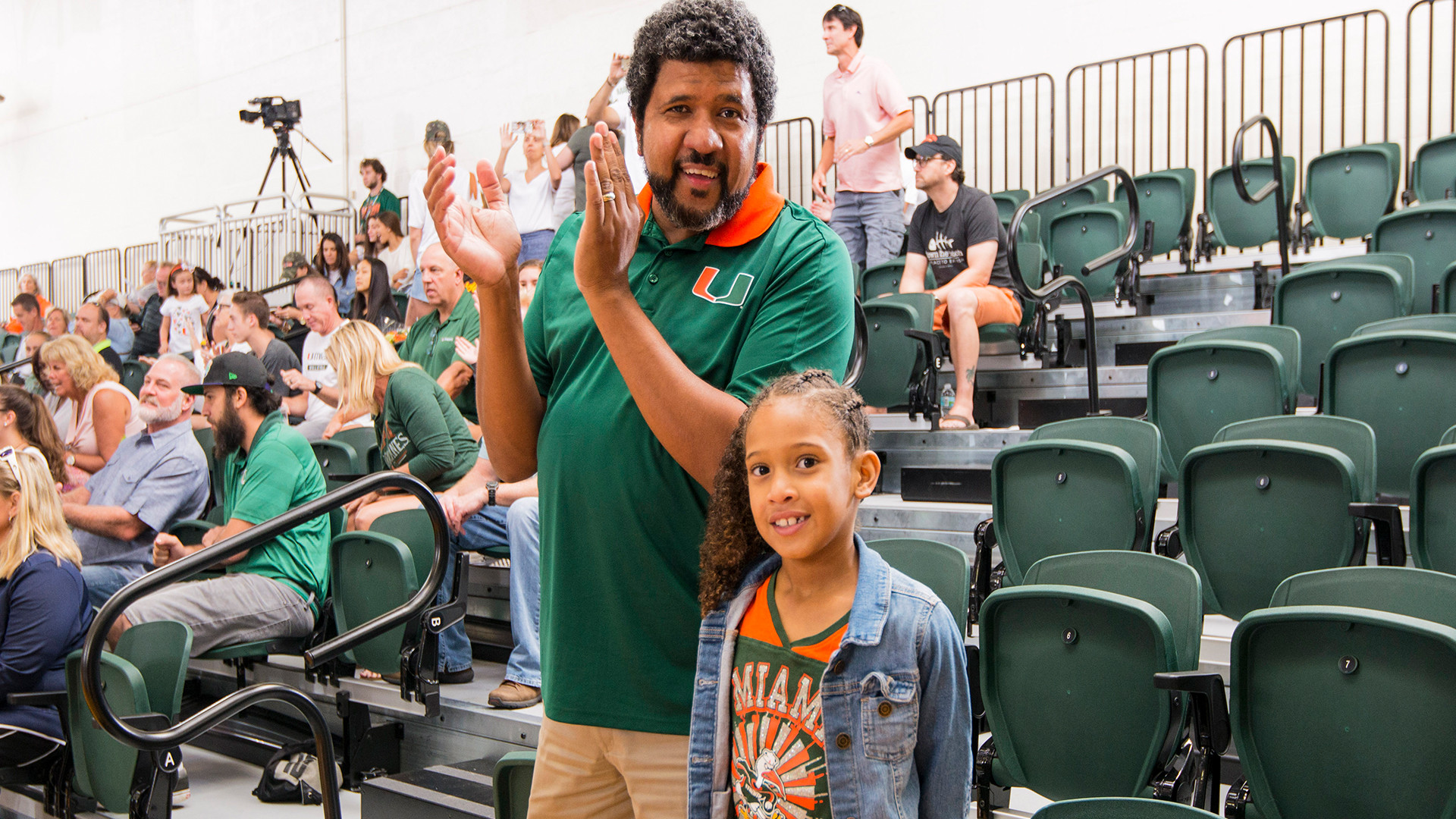 CORAL GABLES, Fla. – As a wide-eyed graduate student, David Wyman had a big dream.
A year removed from earning an accounting degree at Florida A&M in Tallahassee, he came to South Florida intent on carving out a career path that would, one day, put him in the owner's suite of a professional sports team.
An assignment for one of his masters-level classes at St. Thomas University, though, changed everything.
Tasked with learning more about different careers in sports, Wyman had to interview a professional in a field he didn't really know existed: academic services at a university.
He wound up reaching out to Dr. Anna Price, then the Assistant Athletic Director of Student Support Services at the University of Miami. Their initial phone call led to a conversation over lunch.
That lunch led to an internship. And that internship led to a 26-year career at Miami that Wyman could never have imagined more than two decades ago.
"I learned so much during that one hour of time, eating with her and talking about the opportunities athletes have, and the drawbacks of being an athlete as well," said Wyman who is now the Senior Associate Athletic Director for Academic Services at Miami. "I became enamored with it. I was like 'This is where I want to be.' My passion, from that point on, became that. I went to a Black school and [the NCAA] wasn't graduating as many Black students in the [1980s] and 90s. There was a lot of politics and concern about athletics in general and Black athletes in particular and I realized I could be a change-maker…
"At UM, the reality is, our football team, our basketball team, so many of our sports programs, the athletes are Black. They look like me. I wanted to affect change positively. I now wanted to work in academic services. [Price] called me about a month after that and asked me if I wanted to intern…I really couldn't ignore the opportunity to work with students that, again, I wanted to help make lives better for. So I accepted Dr. Price's internship and started in '95 right during orientation for students."
It didn't take long for that internship to quickly become a full-time opportunity.
When an academic services staff member left Miami that October, Wyman was offered the chance to work with the Hurricanes football and men's basketball teams. He ran study hall sessions and worked to motivate students as best he could.
There was a lot of on-the-job training Wyman conceded. But he realized in short order that this was work he was meant to do, work that could help him make the kind of differences he hoped.
"I learned a lot of psychology on my feet, about how to positively influence and modify behavior for positive outcomes," Wyman said. "I didn't have any kind of psychology background. My background was in accounting. I was supposed to be a CPA and a business student, an owner one day. Not an academic advisor. But I loved it, to see these young people grow up…I wanted to continue to make a difference."
Today, Wyman can't help but smile when he thinks about the careers some of the student-athletes he mentored went on to have after they left Miami.
Former Hurricanes men's basketball player James Jones, a member of the UM Sports Hall of Fame, won three NBA titles and is now the general manager of the Phoenix Suns.
Former Hurricanes football player Tony Coley, an All-American during his time at Miami, is now the South Florida Regional President for Truist Bank.
And more than a few of the students he worked with – including former Hurricanes football players DeMarcus Van Dyke, Mike Rumph and Ed Reed, along with former Hurricanes baseball player J.D. Arteaga, and former Hurricanes women's basketball players Shenise Johnson and Morgan Stroman – have returned to their alma mater and are working with Miami student-athletes in a variety of capacities.
That, Wyman points out, is special to him, too – as is the fact that he's now worked with the sons and daughters of some of the student-athletes he advised early in his career.
"The best part is the relationships you build. They last," Wyman said. "We have students from back in the 1990s and 2000s that have children here now that are athletes…So many students and families that have come through here and this family at UM is real to me. That's the best part. You're building lives."
Those relationships matter to his student-athletes, too.
"Mr. Wyman is one of those guys that whenever it's not about school, whenever it's not about business, you can have a real conversation with him," said Kameron McGusty, a sixth-year redshirt senior guard on Miami's basketball team and a finalist for this year's Senior CLASS Award, which honors a Division I basketball player who excels in the classroom, on the court and in the community. "He's going to laugh with you, joke with you. But when it comes to school and making sure you have everything you need, he's all about it. He makes sure you have everything you need for class. If you have any concerns or questions, he's going to get right on it…He makes you feel like a part of his family. He keeps it real with you. He's always looking out for your best interests…He's one of those guys who does all he can in his power to help you…Having that type of support in your corner helps."
Wyman's support in and out of the classroom has made a difference for the Hurricanes throughout his career.
In December, it was announced that Miami student-athletes posted a Graduation Success Rate of 91 percent for the second straight year. It marked the sixth straight year and ninth in the past 10 that Miami has earned a four-year average rate of 90 percent or higher.
The national GSR average is 88 and nine UM programs posted perfect scores of 100 percent: men's basketball, women's basketball, golf, soccer, men's diving, women's swimming and diving, men's tennis, women's tennis and volleyball.
His goal is to continue ensuring that kind of progress and continuing to make a difference.
There are still more lives to change, more graduations to attend, more dreams to inspire.
"Our students are phenomenal, I mean, just phenomenal people," Wyman said. "They have wonderful ideas and they're going to be wonderful creators of things in the future or doers of things in the future. We have to continue to think big. We can't settle…We want to really focus on our student-athletes' learning development and their thinking development…
"That is so important because in today's society, we need people that know how to solve problems, but also think about creating solutions for problems we haven't even seen yet – whether it's the environment, whether it's business, whether it's schools, whether it's housing, whatever the case may be, we need our students to think better and that's what I want to make sure we do, help them think better."