"There's Nothing We Can't Accomplish as Hurricanes"
CORAL GABLES, Fla. – The text messages and the conversations always seemed to flow.
Every time the Hurricanes had a big win or a tough loss, friends and former classmates would reach out to Dan Radakovich, wherever he happened to be, for a spirited discussion.
And the veteran athletics administrator, who earned his MBA from the University of Miami in 1982 and shortly thereafter started his career with the Hurricanes, was always happy to oblige.
"That was something that was really important to me," Radakovich said Tuesday after being formally introduced as Miami's new Director of Athletics. "I always followed wherever the Hurricanes [would] go…The opportunity to come back here and be a part of that, and to influence it in some ways was just a great draw. Just very, very fortunate to have the opportunity."
The Hurricanes, understandably, feel fortunate to have Radakovich leading the program, too.
Though he is just starting to dive into the process of meeting with coaches, student-athletes and staff across Miami's athletic department, Radakovich's success at Clemson and Georgia Tech, where he previously served as athletic director, have captured the imaginations of more than a few members of the Hurricanes community.
Head football coach Mario Cristobal, for example, is confident Radakovich's experience at Clemson – where the Tigers won six ACC titles during Radakovich's tenure – will help elevate the Hurricanes to where they want to be.
"He's done it at the highest level, at a competitor's spot," Cristobal said. "All in all, you couldn't ask for a better situation. It motivates me that much more. I thought I was pretty motivated already, but it's flat-out awesome. Miami is intent on going to a different level and that's another example of it right there."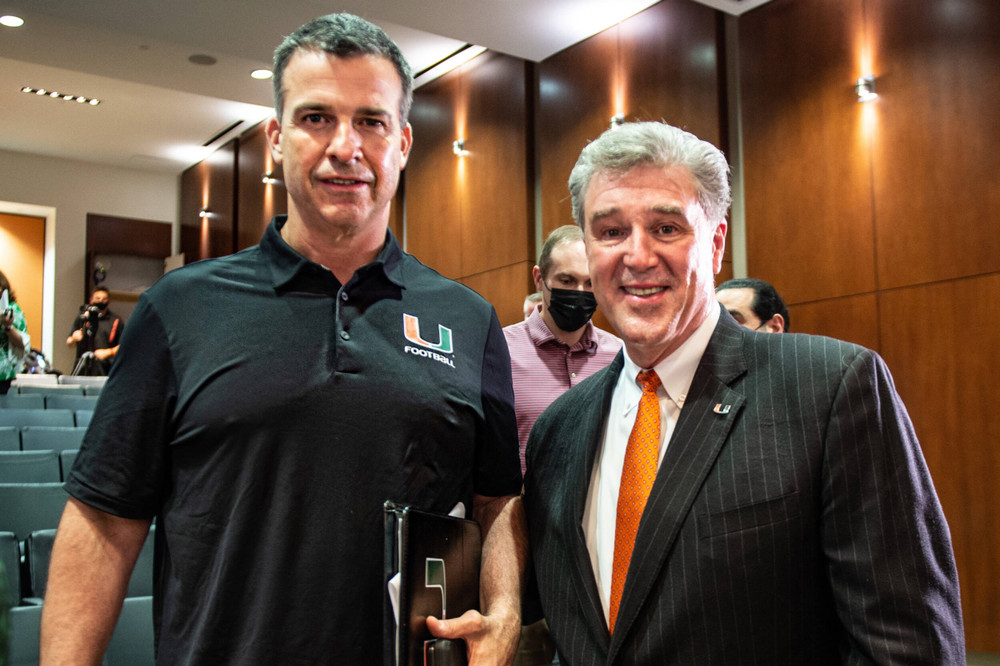 Head women's basketball coach Katie Meier, meanwhile, noted Radakovich's appreciation for "innovative solutions and creative ideas" will only boost the entire Miami program.
"He's proven that in his background," Meier said.
Those are just a few of the reasons University President Julio Frenk and Senior Vice President for Public Affairs and Communications and Chief of Staff Rudy Fernandez felt Radakovich was the perfect fit to lead the Hurricanes.
"The arrival of Dan Radakovich is a significant moment for the future of athletics at the University of Miami," Frenk said. "The success he has helped enable for student-athletes in the classroom and in competition is reflective of our values. Dan has the experience, the relationships, and the passion it takes to ignite and sustain excellence – the very, very core of our bold vision for the future of Hurricanes athletics."
Added Fernandez, "I think he is at the very top of his game. We went after what we considered the best athletic director in the country and we got him. We're thrilled. President Frenk was very focused on hiring a dynamic leader who's been around excellence and has a track record of building great programs, so we're incredibly excited. I think Dan is going to be a force. When you couple him with the coaches we already had leading our teams and you add Coach Cristobal to the mix, I think the future of UM athletics is incredibly bright."
In his nine years at Clemson, Radakovich presided over an athletic program that won 15 Atlantic Coast Conference team championships, including those six football titles. The Tigers also made the College Football Playoff six times and won a pair of national titles during that span.
Clemson's student-athletes were successful in the classroom, too, during Radakovich's time there. They recorded nine semesters with a 3.0 GPA or higher and the athletic department attained the school's highest-ever NCAA Graduation Success Rate in 2021 at 95 percent.
Before leading the program at Clemson, Radakovich served as the Director of Athletics at Georgia Tech from 2006 to 2012 and was a senior associate athletic director at LSU when the Tigers won a football national championship in 2003.
In 2017, Radakovich – who has also worked at American University, South Carolina and Long Beach State University – was recognized as the Athletic Director of the Year by Sports Business Journal.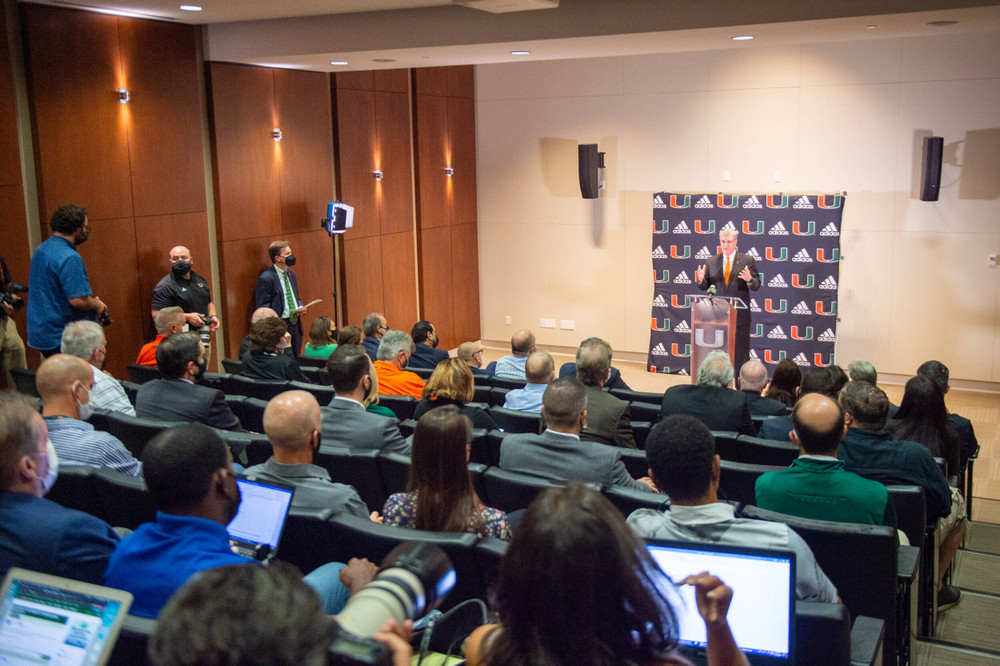 All of that, he hopes, will now help him shape Miami's program into a consistent powerhouse, on and off the field.
"There's a lot of work to be done and for all of you who are involved in athletics, you know that there are many ways to get the same thing done," said Radakovich, who will also serve as a vice president on the University's senior leadership team. "We're going to try and do it the way that it fits the University of Miami and allows us to have the greatest success that we can. I will spend a lot of time over the next coming months engaging, listening and learning from everybody in the department and within the University community. It's going to be very important for me to know and understand that as we chart the next course for the University of Miami athletics program…
He continued, "I've done a lot of building at some of my other stops along the way. Facilities are important. They're important for attracting really great student-athletes to come here. But facilities are just brick and mortar. It always has been and always will be about people. So we want to put people first, but we want to make sure that the facilities we have are the best they can be. Our current campus partners, our generous supporters, our passionate fans and alumni, our former and current student-athletes, our coaches, our staff and community, when they come together, there's nothing that we can't accomplish as Hurricanes."