At Home, In and Out of the Pool
CORAL GABLES, Fla. – Carmen San Nicolas made the decision to come to Miami sight unseen.
There was no official recruiting visit. Not even a trip to the United States beforehand, period.
But a handful of conversations with Hurricanes head swimming coach Andy Kershaw made her feel comfortable enough to leave her native Spain and cross the Atlantic in an effort to make her dream of earning a degree and competing at a high level a reality.
Four years later, the senior has absolutely no regrets about her life-changing move.
Last May, she graduated with a degree in business analytics. She's now pursuing a master's degree in the same course of study. And earlier this month, she helped make school history.
At the highly-competitive SMU Classic in Dallas, San Nicolas and teammates Danika Huizinga, Emma Sundstrand and Giulia Carvalho – each of whom hail from a different country – combined to post a Miami-record of 3:37.95 in the medley relay.
Not bad, especially given that San Nicolas wasn't quite sure what to expect when she opted to move more than 4,000 miles from home to study and compete.
"I mean, honestly, I feel out-of-this-world. It doesn't feel real. I feel like I've been living a movie for the past four years or so," San Nicolas said with a chuckle. "I feel so lucky and I'm thankful every single day. It's the best experience ever. I feel like it's not real."
It's been, of course, very real and at Miami, San Nicolas has found a second home of sorts.
The city's diverse culture and Spanish influence have made her transition to living in the United States easier. The warm South Florida climate has helped her feel comfortable in and out of the pool. And at the University, she has found not only encouragement from her teammates and coaches, but from professors that have helped her excel in the classroom.
San Nicolas says in every way, she's been made to feel a part of the Miami family from the start. That quickly helped her adjust to life as an international student-athlete.
"We have people from all over the world here and that made me feel good. Even though at the time, no one spoke Spanish on the team, I knew all around me that if I needed something, I could get it. I felt like I had a safe space," San Nicolas said. "We have such great support around us that any problem or anything, I have someone to help me from athletics…
"We basically have a person for every aspect we could need. We have a nutritionist. We have trainers. We have sports psychologists. The coaches, the coaches are basically like parents for me. Literally every aspect, there's peace of mind to know that someone can help me. Now, for example, athletics has started this group, Canes Worldwide, that not only can help me right now, but also in the future for my career. All the support around us gives me all the tools I need. For academics, we have tutors. We have advisors. It's everything."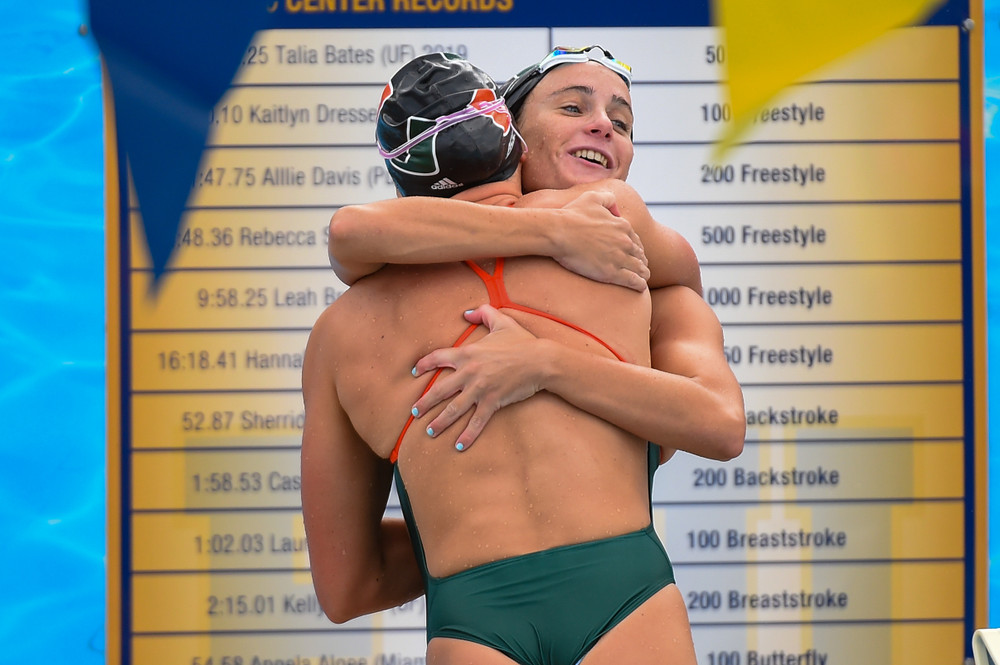 There is another piece that San Nicolas says also helped make her experience at Miami better than she could have imagined: her teammates on the Hurricanes' swim and dive team.
The team features student-athletes from eight different countries including the United States, Brazil, Sweden, England, Canada, Finland, Australia, and of course, Spain.
Together, the group has helped each other navigate all the challenges that come with being not just high-level college athletes, but international student-athletes.
From adjusting to classes in English to adapting to living in a new city, the team has shared more than a few common experiences. And that helped create such a welcoming environment that eventually, San Nicolas felt comfortable sharing another part of her personal story.
"When I came out, so to speak, it was to one of my teammates," said San Nicolas, who identifies as LGBTQ+. "And I'll never forget, my teammate Grace [McGinnis], who is basically my sister now, said something along the lines of 'Carmen, so what? If you like girls, just be happy with who you are and who you love and who you like.'
"I was like 'Whoa, this is great' and the rest of my teammates were very supportive as well, and the same as my coaches…Support and love, that's all I've received."
Since her decision to come out to her teammates and coaches, San Nicolas has continued to thrive, both in the classroom and in the pool.
As a junior during the 2019-2020 season, she was one of Miami's top point-getters, finishing second in points scored over the course of the season.
She advanced to the ACC Finals last year – a personal highlight – and already this season, she is helping break school records.
All of that, San Nicolas said, has helped make her time at Miami special. And it's why she feels confident any student-athlete considering becoming a Hurricane will feel comfortable in Coral Gables.
"I have no doubt in my mind that this is the place to be in any aspect," San Nicolas said. "It's overwhelming. It's the place to be academically and athletics-wise. The diversity here allows you to always bring something to the table and at the same time, take so much in at the same time. Miami makes you grow so much."