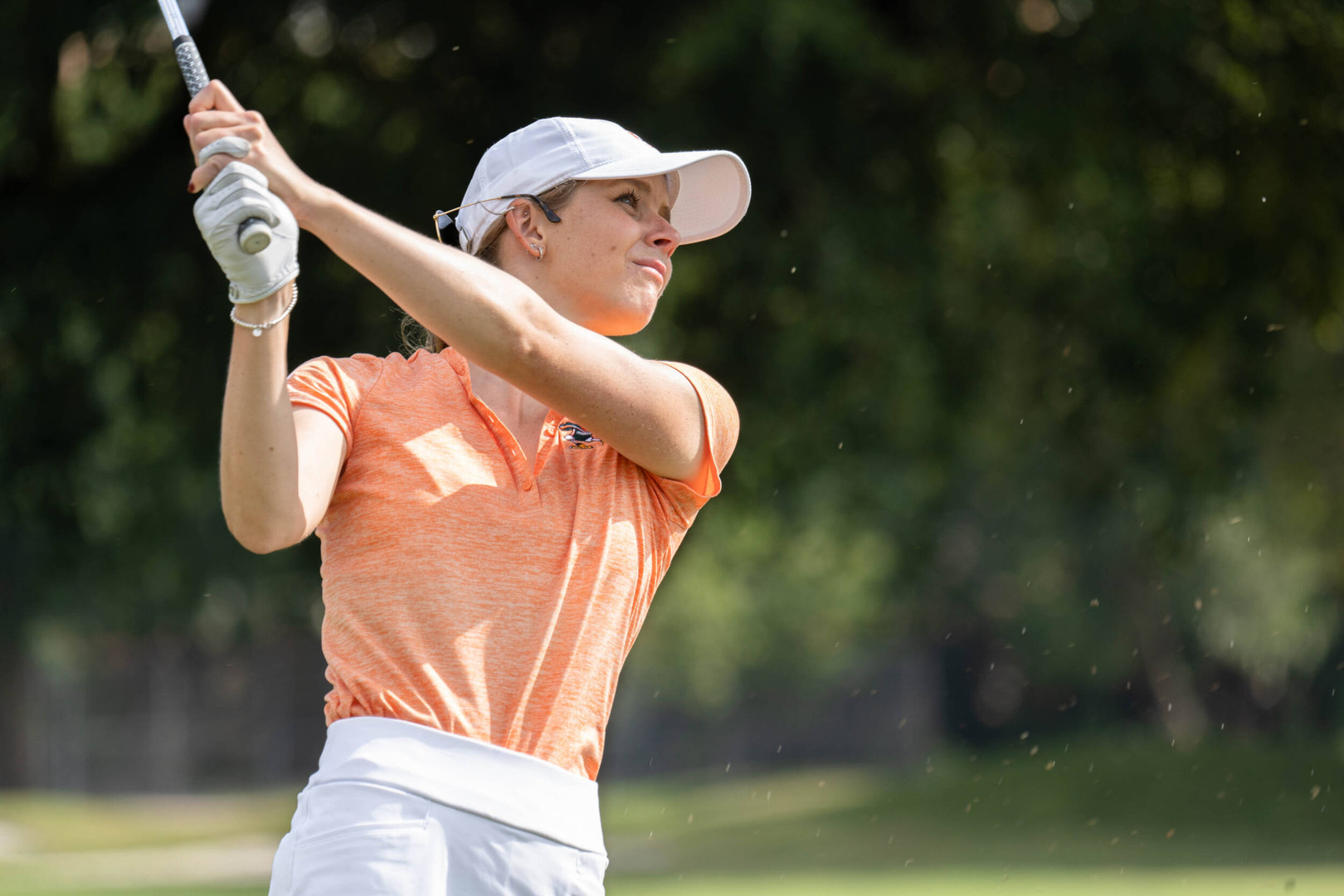 CORAL GABLES, Fla. – It was in high school that she discovered a passion for science, for biochemistry in particular, and for the field of medicine in general.
And so, when Kristyna Frydlova had the opportunity to help one of the hospitals in her hometown navigate the COVID-19 pandemic last summer, she figured it would be not only invaluable experience for her, but an opportunity to make a difference in her community.
"At that point, all over the world, countries were struggling with Covid. I was home for a pretty long time, I didn't have any classes. Golf tournaments were happening, but it was hard to travel around Europe, so I helped out in the hospital lab and kind of did everything that was necessary so the actual lab employees would have time to do everything properly and maybe get some rest," said Frydlova, a member of the Hurricanes' golf team. "It was so tough for them…I did anything I could do to help and it was good experience for me and hopefully, people got help."
During her five-week internship as a Clinical Microbiology Laboratory Intern Assistant at Bulovka University Hospital in Prague, Frydlova helped lab technicians process COVID-19 tests. She also had the responsibility of calling patients and informing them of their results and helped maintain a database of close contacts for patients who tested positive.
All were tasks she knows were key in helping minimize the spread of COVID-19 and the experience, she said, helped her realize the extensive work she's done at Miami over the course of the last four years has a greater purpose.
"I was really happy that I could use what I learned in school and actually do something meaningful about it," said Frydlova, who graduated in May with a Bachelor of Science in Biochemistry and Nutrition, along with a double minor in chemistry and psychology and is now pursuing a master's degree at Miami. "I feel like it just made me realize that I'm so sure about liking what I'm doing and liking what I'm studying. I feel like that kind of work is always going to be important and it was great to see the real-life applications and experience of that."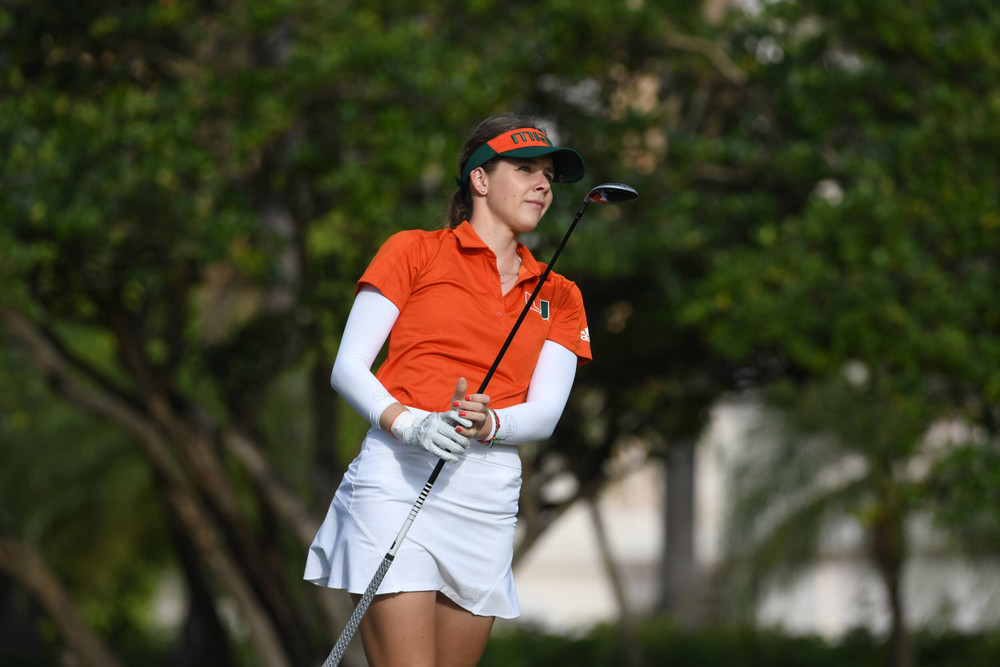 This week, Frydlova is one of 11 Hurricanes student-athletes who will be honored as part of Miami's Celebration of Women's Athletics.
The annual event celebrates the accomplishments of Miami's female student-athletes on the field, the court, the course and the track, and recognizes their excellence in the classroom and in the community.
Along with Frydlova, Miami will honor student-athletes from Miami's other 10 women's programs throughout the week.
In their own ways, each has starred in competition while, like Frydlova, making a difference in the community and posting impressive accomplishments in the classroom.
Frydlova, for example, has made the Provost's Honor Roll in all eight of her completed collegiate semesters. She has twice earned President's Honor Roll recognition, was tapped into both the National Mortar Board Honor Society and the Omicron Delta Kappa National Honor Society and is a three-time Women's Golf Coaches Association All-American Scholar, as well as a three-time ACC Honor Roll selection.
She graduated with a 3.91 cumulative GPA – all while posting a 73.31 scoring average during her first four seasons and collecting 11 career top-20 finishes.
"I'm very proud of Kris. She never ceases to amaze me," said Hurricanes head golf coach Patti Rizzo. "She's not only an amazing golfer, but an amazing student and an amazing person. I have been very fortunate to have her on my team."
Rizzo and the Hurricanes will have Frydlova on campus for one more season, with the golfer opting to take advantage of the NCAA's decision to grant an additional year of eligibility to student-athletes in the wake of the COVID-19 pandemic.
And both on the course and in the classroom, she intends to continue capitalizing on the opportunity.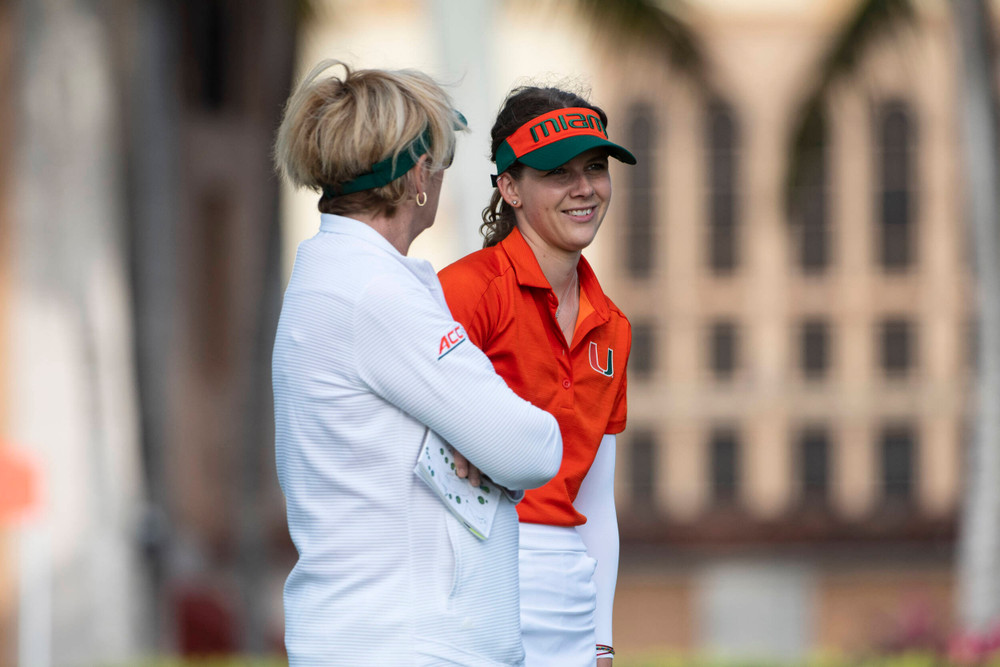 Next fall as she pursues her master's degree, Frydlova hopes to gain additional laboratory experience at the University's Miller School of Medicine. And on the course, it's her goal to help the Hurricanes qualify for a berth in the NCAA Championship tournament, an opportunity Miami missed out on this year when their regional tournament was canceled because of adverse weather conditions.
"This year was really unfortunate, not being able to go to nationals. That's the main goal for our whole year, I think. I really hope we're going to do that," Frydlova said. "I want to have as much fun and get as much experience as I can get from the extra year and pass that experience on to my teammates before I leave…I'm really happy about having the chance to get a master's and still play golf."
Both, Frydlova says, would not be possible without the support she has received at Miami.
"I just always felt like when I came here and said 'Okay, I think I want to do this or this,' my advisor in athletics, my coaches or my trainers, they always helped me find a way and helped me make sure it was going to happen, if I do my part," Frydlova said. "I think that's really important. At Miami, you're always encouraged to do whatever you want and whatever you dream of and no one ever tells you it'll be too challenging. I feel like no matter what, you always have someone behind you and that's really important."