CORAL GABLES, Fla. – During a typical year, they help Miami's student-athletes work their way back from injuries, provide pre- and post-practice treatment, coordinate doctor's appointments and provide support on the practice field, the court, the track, the course or the pool.
This year, of course, has been anything but typical.
For the members of Miami's athletic training staff, keeping the Hurricanes healthy has taken on an entirely new meaning over the course of the last 15 months.
Of course, Miami's athletic trainers have helped care for injured knees, shoulders, ankles and everything else as the Hurricanes competed in their respective seasons. But Miami's athletic trainers have also played a significant role in helping the Hurricanes navigate the COVID-19 pandemic.
They've run a specialized testing center that conducted thousands of COVID-19 tests for the athletic department, coordinated with local labs to get test results back in a timely manner, built databases to track those results and communicated with student-athletes and coaches about any necessary absences.
Athletic trainers have also helped make sure impacted student-athletes got the proper medical care after any positive tests, communicated any potential absences to academic services staff so arrangements could be made on that front and even coordinated meal deliveries for athletes who've had to quarantine.
There's been constant communication with colleagues across the Atlantic Coast Conference, making sure they're as up-to-date as possible with ever-changing COVID-19 guidelines and serving, in essence, as a line of defense against an opponent unlike any the Hurricanes have faced before.
It hasn't been easy. Hours have been long. Stress has been high. But Miami's athletic trainers have risen to the challenge to keep the Hurricanes competing throughout a difficult year.
"I think it was the mentality of 'Where we go one, we go all' and just being aligned with the understanding that it's going to be a tough time for everybody and each of us has a very important piece of the whole athletic department puzzle to navigate through," said Luis Feigenbaum, Miami's senior associate athletic director for performance, health and wellness. "Teamwork and collaboration were vital. Without that, it wouldn't have happened. People have been selfless through this."
Added Vinny Scavo, Miami's associate athletic director for athletic training, "When this all started last June, as we were getting ready to come back, we didn't know what to expect. We didn't know how long this was going to go on and we didn't know what the outlook was going to be. Once we realized that we were getting right into the thickness of all this, my staff did a tremendous job, all of us, just walking around every day with the uncertainty…It's not easy to be an athletic trainer and do your job professionally and have social distancing…but our staff has gone above and beyond to make sure that not only is this run smoothly and that we're successful, but that we help put the athletes at ease that everything is okay and they're going to be taken care of."
For Miami's athletic trainers, adjusting to a new normal in the Covid era began immediately after campus was closed in March 2020 and students returned home to complete the semester via remote learning.
Because some Hurricanes were still working through injuries at the time and in-person contact wasn't possible, Miami's athletic trainers and physical therapists quickly found creative ways to conduct virtual training and rehabilitation services.
There were countless FaceTime sessions, Zoom meetings and phone calls to connect with student-athletes who needed their guidance and last June, members of the training staff were among the first to return to the Hecht Athletic Center to begin in-person sessions with a handful of student-athletes.
And while all of Miami's athletic trainers have taken on new responsibilities over the course of the last 14 months, two – Julia Rapicavoli and Hannah Ellis – have been instrumental in helping run an on-campus Covid testing site that has conducted between 800-1,200 tests a week throughout the academic year.
That, both trainers said, was a daunting task – but one they were willing to take on in order to help keep the Hurricanes competing.
It was an experience that helped each of them become better trainers, too, they said.
"For me, personally, I went from doing my day-to-day job to being a leader and kind of running a clinic," Rapicavoli said. "I think I had to go from being a little bit of just a member of our team to a leader and I think that was a learning experience for me…It helped me grow as a professional."
Said Ellis, "We're used to doing a lot of different things, but this year really showed me a lot. I'm really proud of our profession and I'm proud of every single athletic trainer who literally was on the front line… Sports is what we do. Sports are our job. We found a way to make it safe and we found a way to have these athletes compete. A year ago, I would have said there's no way we were going to have a year. Everyone was looking down the pipeline asking 'How are we going to do this?' and the cool thing about our profession is that we took the bull by the horns and said 'We're going to find a way' and we did. We were creating protocols from nothing. We were adapting to daily changes coming down the pipeline…We had to truly show kind of our coat of many colors."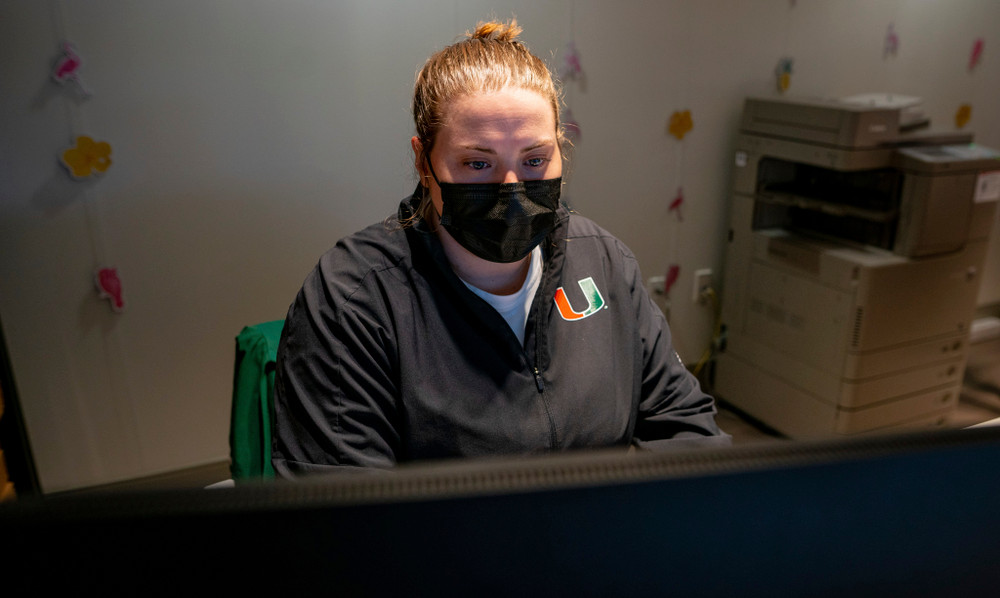 That adaptability and that willingness to go above and beyond are two of the big reasons Miami's athletic trainers have been some of the Hurricanes' unsung heroes this year.
And while there is certainly gratitude for the work they've done, there's also a sense of confidence, knowing that as the group starts to look forward, what they've navigated this year has prepared them for whatever may come next.
"All of our athletic trainers, our student trainers and student managers, they don't get the glory of playing on Saturdays, but they had to make the same sacrifices the student-athletes had to make," head football coach Manny Diaz said earlier this year. "Everyone did their part and if they hadn't, the whole thing would have gone away. There's countless people behind the scenes that helped make the season possible."
Added Scavo, "Our staff was on top of it every day…They had to change how they did almost everything, but they did an outstanding job. We have a great group of people here, a lot of people who used to go to school here so they really care about this University…I appreciate so much what they've done. They've done a great job. I'm proud to lead them. I'm proud to support them and I'm proud to work with them."