Teaming Up to Fight Cancer
CORAL GABLES, Fla. – Like most, Arielle Scavo knows the devastating impact of cancer.
Scavo, an associate director of equipment for the Hurricanes, lost all of her grandparents to the disease. And years later, it was Scavo who drove her friend Gemma Henderson to the emergency room and was at her side when a myriad of tests revealed Henderson had cancer.
Though did her best to stay positive and keep her composure in that emotional moment, eventually she had to step outside of her friend's hospital room and catch her breath.
Cancer, Scavo told herself, wasn't supposed to happen to people like Henderson, a young student equipment manager for the Hurricanes' football team who had a whole life to live.
"It was probably one of the hardest things I've ever had to deal with…We're sitting in the hospital and I was like, 'What is happening?' I've never had a friend pass away. I've never had a friend get sick," Scavo recalled. "I called my mom and asked, 'What do I do? How do I help her?' Physically, I can't do anything and nobody wants to hear 'This is fine' when you find out you have a huge mass on your lung. I just wanted to figure out how to be an even better friend to Gemma and keep her calm and let her know we were going to get through this together."
Over the course of the next few months, Scavo was a regular presence at Henderson's treatment sessions and all of her hospital visits. So, too, were Sam Nichols, a fellow associate director of equipment for the Hurricanes, and Iva Earley, Miami's associate director of events and operations.
For all of them, keeping Henderson smiling was the ultimate goal. This weekend, though, Scavo, Nichols and Earley will do something else – raise money for the Sylvester Comprehensive Cancer Center, where Henderson was treated.
The trio will be joined by 13 more members of Miami's athletic department who will participate in this weekend's Dolphins Challenge Cancer event, which is celebrating its 11th anniversary this year and has, to date, raised more than $39 million for Sylvester.
"It really hits home," said Nichols, whose parents were both diagnosed with cancer last year.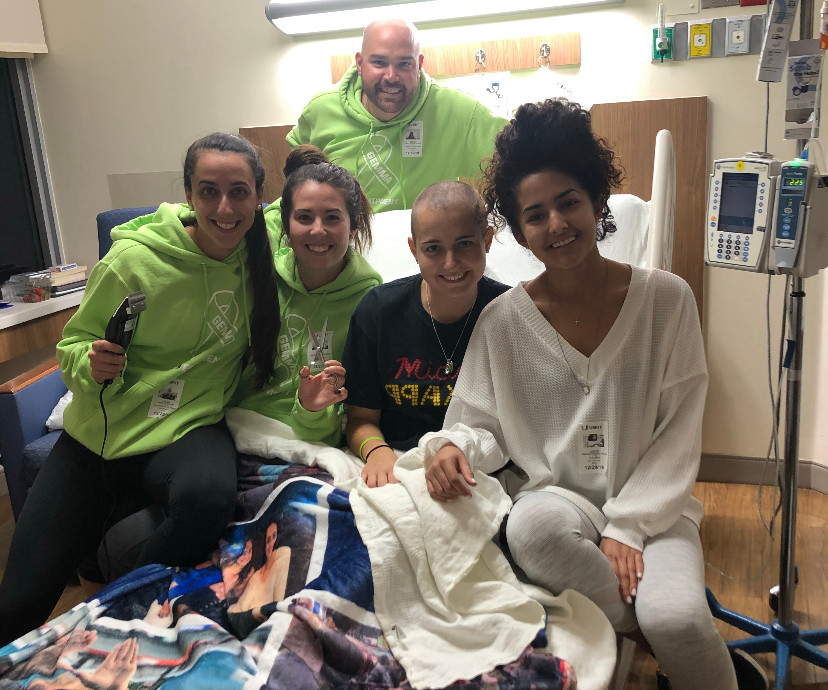 In this year's event – highlighted by a 100-mile bike ride – participants can cycle, run, walk or raise funds online. Because of the COVID-19 pandemic, they'll also have the option to participate either virtually or in-person on Saturday at Hard Rock Stadium.
And Miami's athletic department will be well represented all weekend long, working together as Team Hurricanes. Scavo will serve as one of the team's captains.
Director of Athletics Blake James is among this year's participants, as are Deputy Director of Athletics Jenn Strawley, head women's basketball coach Katie Meier, head swimming coach Andy Kershaw and head golf coach Patti Rizzo.
So far, the team has collectively raised more than $14,000 – but team members say their work is far from finished.
Each has their own reason to be a part of Saturday's challenge. Each knows they are helping make a difference. And each appreciates they won't be undertaking the physical challenge of the event alone.
"The true essence of leadership is not asking people to do something, but to do it yourself and have them follow you and I think Blake and Jenn have done that. It's just tremendous leadership," said Meier, who has spent weeks training to participate in the DCC's 35-mile bike ride. "Any time you can take something charitable, something that feels good anyway and you help create a sense of community, that's what I love about this race. I know what it represents. I know it meshes so many important institutions in our community, so many important organizations…
"If you think about everybody who's going to gather and everybody who's going to participate, you already respect them, even if you haven't met them. That's the greatest thing about Miami and this South Florida community."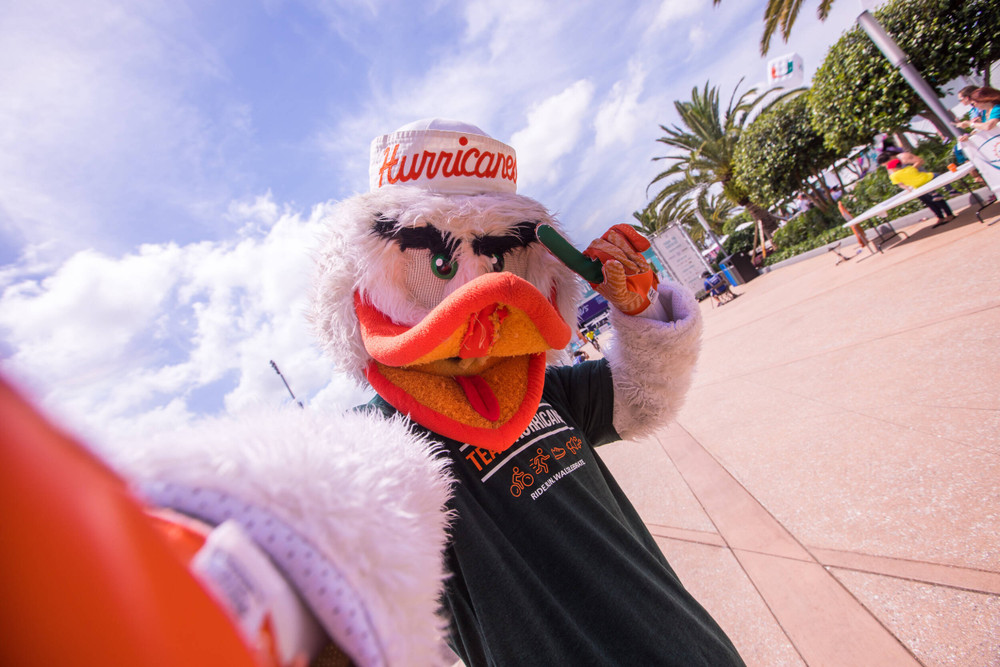 Henderson isn't the only member of the Hurricanes athletic department that's inspired her colleagues.
Earlier this year, Assistant Director of Communications Ashleigh Young shared her story with Team Hurricanes, detailing how doctors initially misdiagnosed her during her own fight with cancer as a toddler.
Young's experience Scavo says, stayed with her and this weekend, she'll be running with both Henderson and Young in mind.
"I couldn't get Ashleigh out of my head. I was like, 'I really want to do this and I really want to do it for Gemma and [assistant rowing coach Claire Frenkel] and [assistant women's soccer coach Alan Fread]," Scavo said. "But I really want to do this for Ashleigh, and I feel like we should get her story out there."
For Young, that kind of support means the world. Knowing how much so many of her colleagues want to help eradicate the disease that impacted her so greatly has been humbling, she said.
"When I hear that I'm helping people become more aware or just want to be a part of this, it definitely means a lot to me," Young said. "Cancer has hit not only me, but my family pretty hard…It's really nice to hear that people care and that they want to help…I know how important it is for me and my family to raise more awareness, especially for children's cancers. The support is huge."
Click HERE to help Team Hurricanes reach their fundraising goal in this year's DCC.