Grieve Dominates in Canes Win Over NC State
SOUTH BEND, Ind. – Miami volleyball opened the second half of the 2020-21 season with a 3-1 win over NC State.
"It was great to get back on the floor and compete today," head coach Jose "Keno" Gandara. "It's already been a long year and everyone was eager to compete."
Sophomore Angela Grieve dominated on offense with a career and match-high 25 kills, while hitting .400 in the Canes sixth win of the season. Miami improved to 6-3 and 4-1 on the road this season.
"Angie is a very competitive person. Today was that kind of match so we needed that type of performance from her," Gandara said. "She is a good all-around volleyball player and even though she is only a freshman, she is a big part of who we are as a team."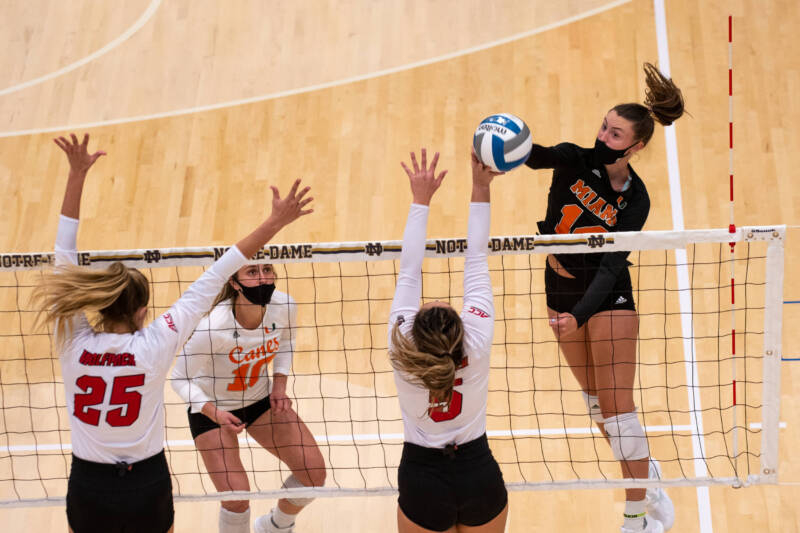 Like they have in every match this season, the Canes took the early 1-0 lead after a 25-21 set win. Senior Elizaveta Lukianova got out to a hot start with eight kills, while sophomore Savannah Vach got right back to work with 13 of her 41 total assists.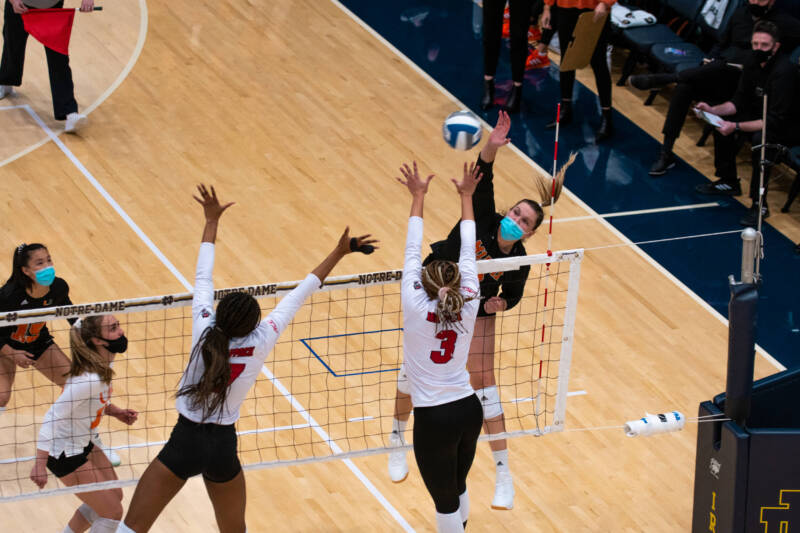 NC State took their only set of the match with a 25-22 second set win, holding the Canes to its lowest hitting percentage and just 10 kills.
Grieve continued to dominate on offense adding six more kills in the third and three of her career-high 11 digs, combining for her first double-double of the season. The Canes registered four team blocks with sophomore Taylor Burrell leading the way with two. Miami held NC State to just 10 kills and an .161 attack percentage.
The Canes would dominate the fourth set, leading by as many as eight points (20-12). Grieve added her final 10 kills in the set, while Lukianova boasted four with Vach and sophomore Priscilla Hernandez grinding out five digs each to close out the match.
Vach ended the match with 41 assists and 12 digs for her sixth double-double this season. Saturday's match is just the second time two Canes have recorded a double-double in the same match this season after Janet Kalaniuvalu and Vach each recorded one in the opening match of the season against Georgia Tech.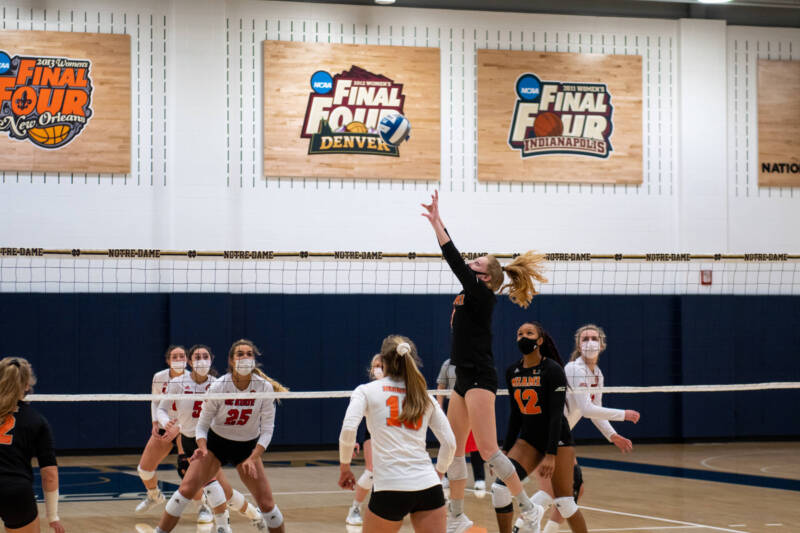 "This was our first match in 2021 with a new lineup and tomorrow we are playing a good Notre Dame team that has already played a few matches," Gandara said. "We will need to play better tomorrow night, but we will be prepared for them and focus on our development and improvement."