Daniella Barrett Set to Make 2021 Debut
CORAL GABLES, Fla. – Competition.
For the University of Miami golf team, ranked No. 15 in the first golfstat.com spring rankings and No. 16 in the WGCA Coaches Poll, competition is everlasting with nine student-athletes all vying for just five positions in the official tournament lineup each week.
However, with the added competition brings extra motivation for each UM golfer to want to give it their all every practice in order to earn the opportunity to contend in the team's five scheduled regular season events.
"It is great to have such a good team that we all need to play our best in order to go to the tournaments," Daniella Barrett said. "Of course, it is extremely frustrating that I wasn't part of the first two, but it makes me want it even more and work even harder so that I get to play."
Opening the spring with qualifiers, before hitting the greens at the UCF Challenge and Moon Golf Invitational, every practice and tournament has been about improving as a team, making strides individually and continuing to work toward the ultimate team goal of taking part at Nationals in May.
For Barrett, the sophomore's hard-work and determination in practice has lofted her into the starting lineup at Sunday's Florida Gators Invitational, a position she hopes to maintain while working toward helping the Hurricanes reach their goals.
"I am very excited to be competing in my first tournament this year. It will be interesting to see how the hard work will pay off," Barrett said. "I want to be consistent and have a good time on and off the course.
"I want to make the top-20 so that I am able to play in some future events without having to worry about qualifying," Barrett continued. "I want to play consistently and make sure my short game is getting better."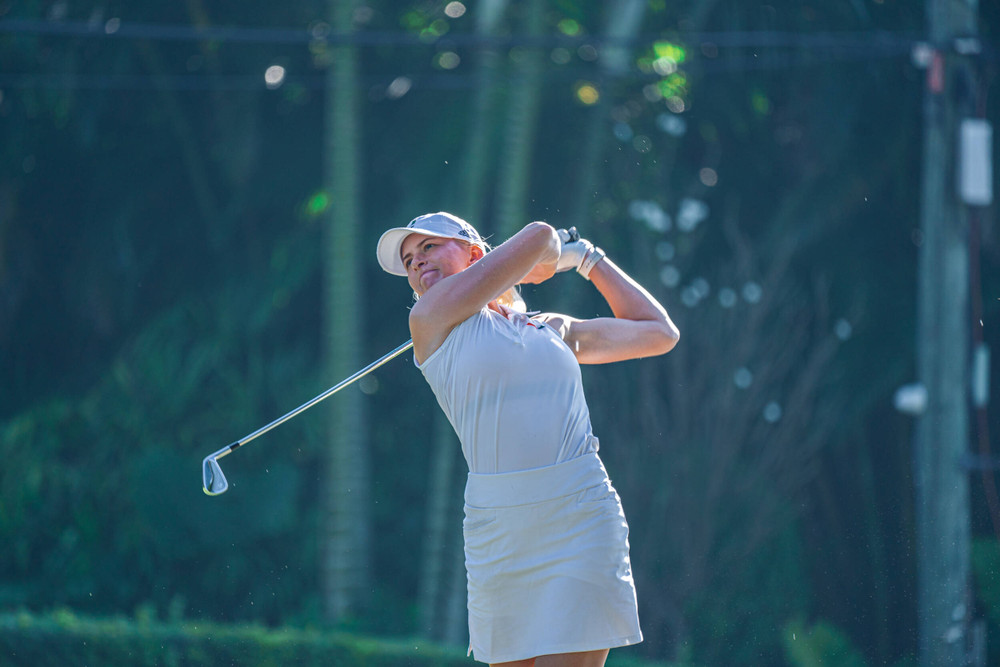 As a freshman, Barrett competed in all seven tournaments, prior to the season being canceled due to the ongoing COVID-19 global pandemic, while continuing to make strides in her game each week.
In the second to last tournament of the shortened 2020 spring season, she collected her first-career top-20 finish, placing 17th at the Allstate Sugar Bowl Intercollegiate in New Orleans.
Returning home to Turku, Finland, up until the start of the spring season in January, Barrett took the time to spend time with her family and continue to make improvements to her game.
"I focused on getting my speed back in my swing and getting it to be more consistent," Barrett said. "I learned to play different kinds of shots from hard places and shape my shots in the way I wanted to. I feel like my short game is an area that I really need to focus on while I am here. It is more about the confidence and right club choices that are the deal breakers for me since I know I have the skills to be a good short game player."
While home, Barrett added a win to her resume on the Finnish Tour (Aug. 22, 2020).
Opening the event with a four-under, 69, the sophomore jumped out to a commanding five-stroke lead on the competition, a lead she would not look back on. Overall, she finished three-under 216, seven-strokes ahead of second place.
Along with the first-place finish, she added two more top-10 results on the Finnish Tour.
Barrett will hope to continue this steady improvement seen over the course of her freshman campaign and at the Finnish Tour in Gainesville, Fla., where she is set to tee off at 9:20 a.m. on Sunday.
---
Prior to making the 5,000-mile trek to Coral Gables, Fla., Barrett did not start playing the game of golf until she was eight, playing for fun with her family, "snow" or shine.
However, it was not until she turned 10 and given the opportunity to offically compete in tournaments that she gained a passion for the sport.
"I was always at the golf course with my parents from a young age but I wasn't a huge fan of it until I was allowed to compete," Barrett said. "I feel like for me, that was the turning point where I then wanted to practice in order to win.
"I loved dancing, and still do, so I would have loved to continue doing that if golf was not an option, since it has also always been a passion of mine," Barrett added. "I also grew up playing a lot of other sports like skating, skiing, basketball, as well as badminton and track and field occasionally."
Ultimately, the multi-sport athlete maintained her love for golf and continued to make steady improvements to her game throughout her amateur career, opening the door to compete at the Division I level in the United States.
"The whole recruiting process was interesting for me since I was pretty clueless of how everything worked," Barrett said. "Miami as a place is so beautiful and so pretty, but most importantly it is warm. That is not the case in Finland most of the time, so to have the opportunity to play golf outdoors all year long in a beautiful place seemed amazing. And once I came to visit, I fell in love with the coaches and the campus, plus the team seemed really nice too."
Her relationship with head coach Patti Rizzo and assistant coach John Koskinen proved to be key, as she immediately felt a connection with both of their upbeat and welcoming personalities.
"I met coach John before coach Rizzo, back when he was recruiting me in Europe," Barrett said. "From the very beginning, he seemed like a very chatty and nice person. Especially when I came for my visit to Miami, he was welcoming and made the choice to come here very easy for me. He is very supporting and cares so much about how we are doing both with golf and outside of it.
"I then met coach Rizzo when I came on the visit," Barrett added. "She, as well, was very welcoming, as she is a warm person and easy to approach. She has a nice way of seeing the world and I like the fact that she has a different way of seeing and thinking about the game of golf. Obviously with COVID [the three of us] couldn't bond as much over the past few months, but they have always been extremely understanding, nice and supporting to me to and I don't see any reason why it wouldn't continue being that way."
First arriving on campus in August of 2019, like most freshmen Barrett had made a long trip to a place she was previously unfamiliar with, but each day she continued to get more accustomed to the collegiate game.
"I think that the most important thing to me was learning how to play for a team while competing in an individual sport," Barrett said. "It sometimes feels like you are carrying more than your own game but learning to see it as an advantage is something I want to always keep in mind when competing. Also, learning to trust myself no matter what the environment and field is like is something that I realized my freshman year and is something that I need to continue working on."
No. 15/16 Miami is set to open round one at the par-70, 6,002-yard Mark Bostick Golf Club Sunday at 9:20 a.m.
Joining Barrett (9:20 a.m.) will be Franziska Sliper (9:30 a.m.), Kristyna Frydlova (9:40 a.m.), Renate Grimstad (9:50 a.m.) and Nataliya Guseva (10 a.m.)
In Gainesville, the Hurricanes will face an impressive 14 team-field that includes, #20/21 Alabama, Campbell, #16/15 Florida, #10/12 Georgia, #28/RV Kentucky, #26/RV Maryland, #38/NR Mississippi State, #60/NR Ohio State, #4/5 Ole Miss, #47/NR Penn State, #24/RV Tennessee, #14/18 UCF and #23/24 Vanderbilt.
Live stats for the three-round 54-hole event will be made accessible HERE.