University of Miami Announces Inaugural UM Athletics Trailblazer Award Winners
CORAL GABLES, Fla. – The University of Miami announced Friday the inaugural winners of the University of Miami Athletics Trailblazer Award.
Three former student-athletes – Will Allen (men's basketball, 1967-71), Ray Bellamy (football, 1967-70) and Kim Sands (women's basketball, 1974 and women's tennis, 1974-78) – as well as former University President Henry King Stanford – comprise the 2021 class of University of Miami Athletics Trailblazer Award winners.
Miami Athletics launched the award to honor and recognize current and former minority student-athletes and others affiliated with athletics who have distinguished themselves as pioneers and game changers in sports and life. The award originates from the Diversity and Inclusion unit within the athletic department.
"We thought it was important to create the University of Miami Athletics Trailblazer Award to honor those who have done so much to elevate Miami Athletics but who have previously not been recognized for their contributions to Miami and to the communities they impact," Director of Athletics Blake James said. "I can't think of a more worthy first group than these four pioneers, and all of us who love the Hurricanes are grateful for the contributions of Will, Ray, Kim, and Dr. Stanford. We are a richer and more diverse athletic program because of their efforts."
The University will recognize Allen, Bellamy, Sands and Stanford throughout the week of Feb. 15 as part of its Black History Month initiatives. Allen, Bellamy, and Sands will participate in a student-athlete panel discussion and will appear on next week's episode of the "Behind the U" podcast. All four honorees will also be highlighted during the Hurricanes' men's basketball game versus Georgia Tech on Saturday, Feb. 20.
"We are thrilled to honor these trailblazing Canes with the first University of Miami Athletics Trailblazer Award," said Renae Myles Payne, Senior Associate Athletic Director for Administration and Chief Diversity Officer. "It's important for us to share their stories and sacrifice so we can continue to educate everyone on their significance to the overall history of our athletic department."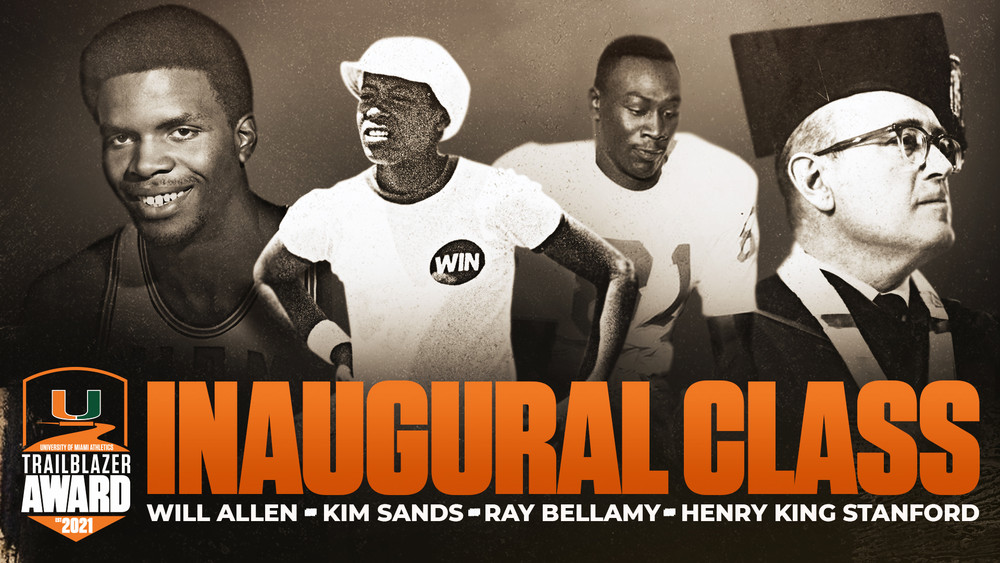 Allen played basketball at Miami from 1967-71, the first Black scholarship athlete in program history. After playing on the freshman team in 1967-68, he joined the varsity team as a sophomore center and ranked second on the team in both scoring (14.7 points per game) and rebounding (11.7 rebounds per game). As a junior, Allen averaged 17.5 points and 12.3 rebounds per game. In his senior season, Allen paced the team with 19.1 points and 12.2 rebounds per game, concluding his Hurricanes career with the sixth most career points in program history. His 916 career rebounds still rank second on Miami's all-time list. In 2010, he was named Miami's Atlantic Coast Conference Legend and in 2016 he was inducted into the University of Miami Sports Hall of Fame.
Allen graduated with a Bachelor of Arts in Physical Education and was drafted in the fourth round of the NBA Draft by the Baltimore Bullets. He chose instead to play for the Miami Floridians of the American Basketball Association, and overseas in Belgium. Allen has since become one of the world's preeminent practitioners of urban agriculture, founding Growing Power. He was named a 2008 MacArthur Foundation Fellow and in 2010, Time magazine named him to its list of "The World's 100 Most Influential People." Allen was the 2011 recipient of the NCAA's Theodore Roosevelt Award and was enshrined in its Hall of Champions. He received an honorary Ph.D. in Agriculture from the University of Miami in 2012.
Bellamy, who played wide receiver for the Hurricanes from 1967-70, was the first Black football scholarship athlete at the University, as well as the first in the Southeast. After setting records on the freshman team, Bellamy caught 37 passes for 549 yards and two touchdowns as a sophomore on the varsity squad. He caught eight passes for 163 yards and one score as a junior before injuries from a car crash cut his football career short.
Bellamy became the first Black student body president in UM history in 1971 and graduated with a degree in economics. He was inducted into Iron Arrow, the highest honor attained at the University of Miami. In 2012 he was inducted into the University of Miami Sports Hall of Fame. Bellamy is currently an academic advisor at Florida A&M.
Sands was the first Black female scholarship athlete at Miami, playing one season of basketball and four seasons of tennis. She then embarked on a 10-year career on the WTA Tour, where she rose as high as No. 44 in the world singles rankings and No. 31 in the world doubles rankings. She twice advanced to the second round at Wimbledon and advanced to the second round of the French Open three times.
Sands returned to UM as head coach of the women's program in 1990. In her eight seasons as head coach the Hurricanes posted a 102-76 record, winning five BIG EAST titles and advancing to the NCAA Tournament five times, including a Sweet 16 appearance in 1991. Sands was a four-time BIG EAST Coach of the Year.
Stanford was the third president in University history, serving from 1962-81 and guiding the University through a period of sweeping change and expansion. He tripled the size of the faculty during his tenure and increased federal research funding by 700 percent. He was remembered for orchestrating larger roles for faculty and students in University governance and championing minority rights and representation, which included helping United Black Students (UBS) gain formal recognition on campus in 1967. The University of Miami Libraries Cuban Heritage Collection presents the Henry King Stanford Award annually in his honor.
Before arriving in Coral Gables, Stanford was president of Birmingham Southern College (1957-62), Georgia State College for Women (1953-56) and Georgia Southwestern College (1948-50). After retiring from the University of Miami he served as interim president of the University of Georgia from 1986-87. Stanford passed away in 2009 at the age of 92. His daughter, Rhoda Stanford McCabe, is accepting the Miami Athletics Trailblazer Award in his honor.