Leading Through Adversity
CORAL GABLES, Fla. – Unusual, uncertain, unprecedented; all words that have been used to describe the COVID-19 pandemic. It has been no different for 2020 Miami rowing captains Mimmi Balaam, Kathleen Hanson and Demetra Vlahos.
The uncertainty began on March 13 when the rowing team learned, while sitting in Hartsfield Jackson Atlanta International Airport, their spring season was over before it even began. Shells were returned to the boathouse and rowers were sent home, unsure of when they would return to campus.
Even though the season was cut short, the captains knew they were building something special at The U and they needed to keep their teammates motivated.
"We had a very successful start to the spring and were all really excited," Vlahos said. "We made some huge strides and, while it was unfortunate to see the season come to an end, we saw where we ended up and can do it again."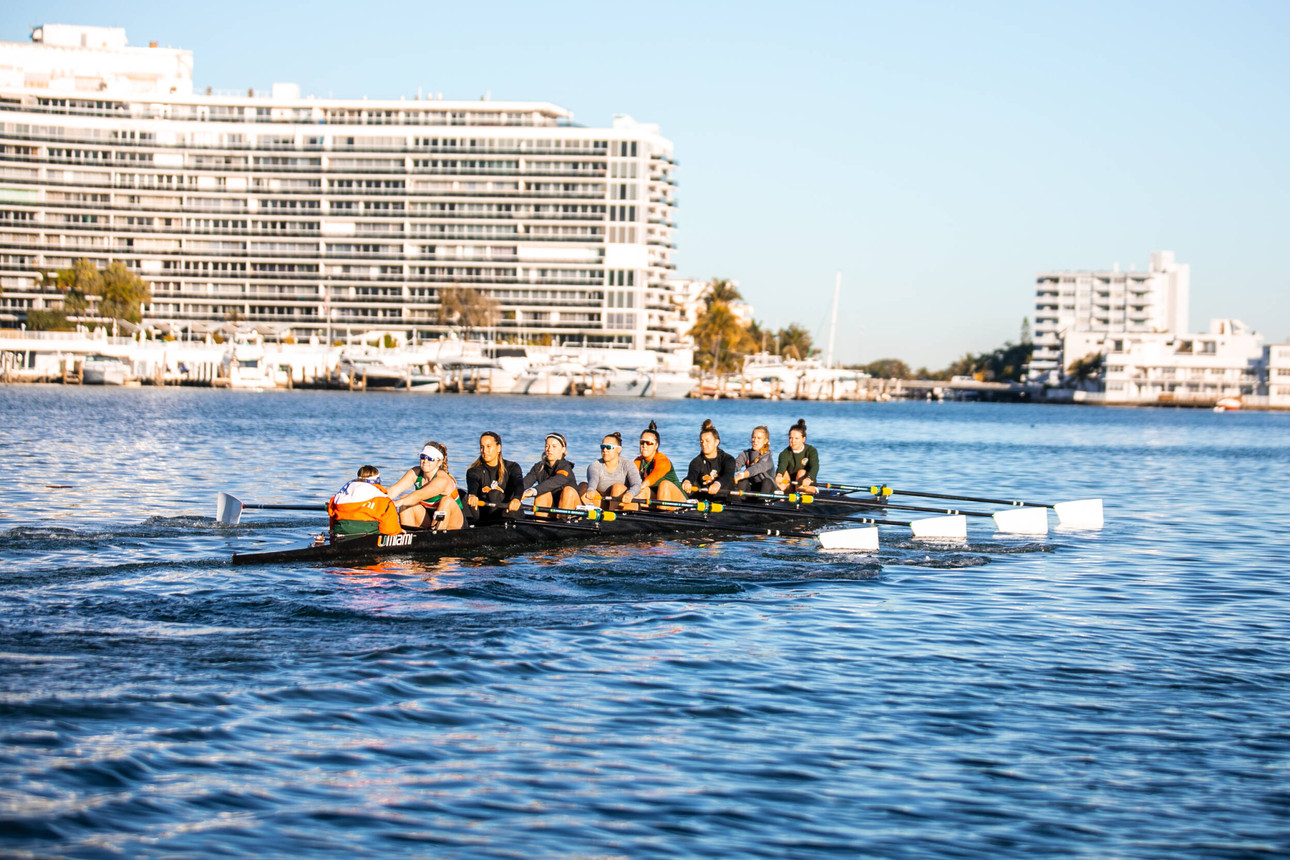 Being a captain during this time has been quite different than being a captain during a regular season. There is no locker room camaraderie, no cheering teammates on at competitions or celebrating little wins on the ergometers. For Hanson, it's been a time to redefine what a captain looks like.
"With COVID, it has definitely transitioned into more of a mateship role," Hanson said. "We've been supporting each other from a distance and have worked to celebrate things like going on runs around the block or building a makeshift bench press in a garage."
It was up to not only the captains, but also the upperclassmen on the team to set an example for the younger rowers on how to continue to work hard during the pandemic.
The teammates shared training plans and started fitness competitions, encouraging each other to keep on top of basic components of the usual rowing training with mobility and stretching. Vlahos and some of her fellow seniors started running every Friday as a way to hold each other accountable and build team chemistry.
"Being on the team is kind of our lifestyle, so being fit and staying active and working out is a part of what we do," Vlahos said. "It was cool to see everyone working together but also still following the COVID-19 safety recommendations."
The safety of the team is the number one priority for the captains because even if the team is in great shape, it will not mean anything if rowers get sick and cannot participate. As a result, training over the summer and through the first part of the fall has been very individualized, so as to lower the risk of contracting COVID-19.
With the cancellation of the fall season, nine rowers remained at their respective homes around the world, from Australia to Europe to the United States. Balaam is one of those rowers and has had to adjust to supporting her team from afar.
"Throughout this semester, being in the leadership group has definitely had its challenges, especially with the 15-hour time difference in Australia," Balaam said. "Touching base with the team virtually and connecting with the freshmen feels a lot less personal, but coach Dave [Sanderson] and our amazing coaching staff have done a great job to stay connected with all of us."
For the rest of the fall semester, Balaam will continue to support her teammates from a distance, motivating them during the day and following workout sessions with words of encouragement, knowing the collective goal is still to perform well at the ACC Championships in 2021.
Even with clear goals in mind, staying motivated while working out alone can be difficult. Throw in the COVID-19 pandemic, which brought on even more isolation, and it is sometimes challenging to find the resolve to keep pushing.
It is at these moments that Hanson pulls on her 'why.'
"Being able to identify the why is so important," Hanson said. "Why am I here? Why do I don The U? Why do I get up at 4:30 in the morning to go to practice? When you don't have those tangible things of being able to get on the water, seeing how beautiful the river is in Miami and being with your teammates, it is challenging to wake up and do independent workouts. I just remind myself why I do this; because I want to share this experience with people who are just as dedicated and just as passionate about this sport and about progressing as a team to the finish line."
Few sports require the precision and coordination between teammates that rowing does and because of that, the team is a tight-knit unit. More than being back on the water or back in the weight room, the captains are ready to be back with their teammates.
"I have spent the last four years living, breathing, eating and living with these girls," Vlahos said. "Not being able to see them and the coaches has been weird. It's going to be so great to see everyone and to be all together again."
The Canes, whether they are on campus or across the Pacific Ocean, continue to encourage each other to work hard every day so that, come January, they will be ready to tackle the spring season in a dominant fashion.