Lopez Finds Dedication Factor in Rowing
Growing up halfway around the world, in Abu Dhabi, United Arab Emirates, rowing was the furthest thing from Gabriella Lopez's mind. Two years into her collegiate career, she has become an integral part of the Canes' rowing team.
A three-sport athlete at the American Community School of Abu Dhabi, Lopez graduated from high school with the goal of playing basketball in college. However, when that did not play out as expected, she turned her attention to the University of Miami, which she felt was a good fit academically.
But something was missing. A competitor all through high school, Lopez was still itching to be a part of a team.
Enter, Miami rowing.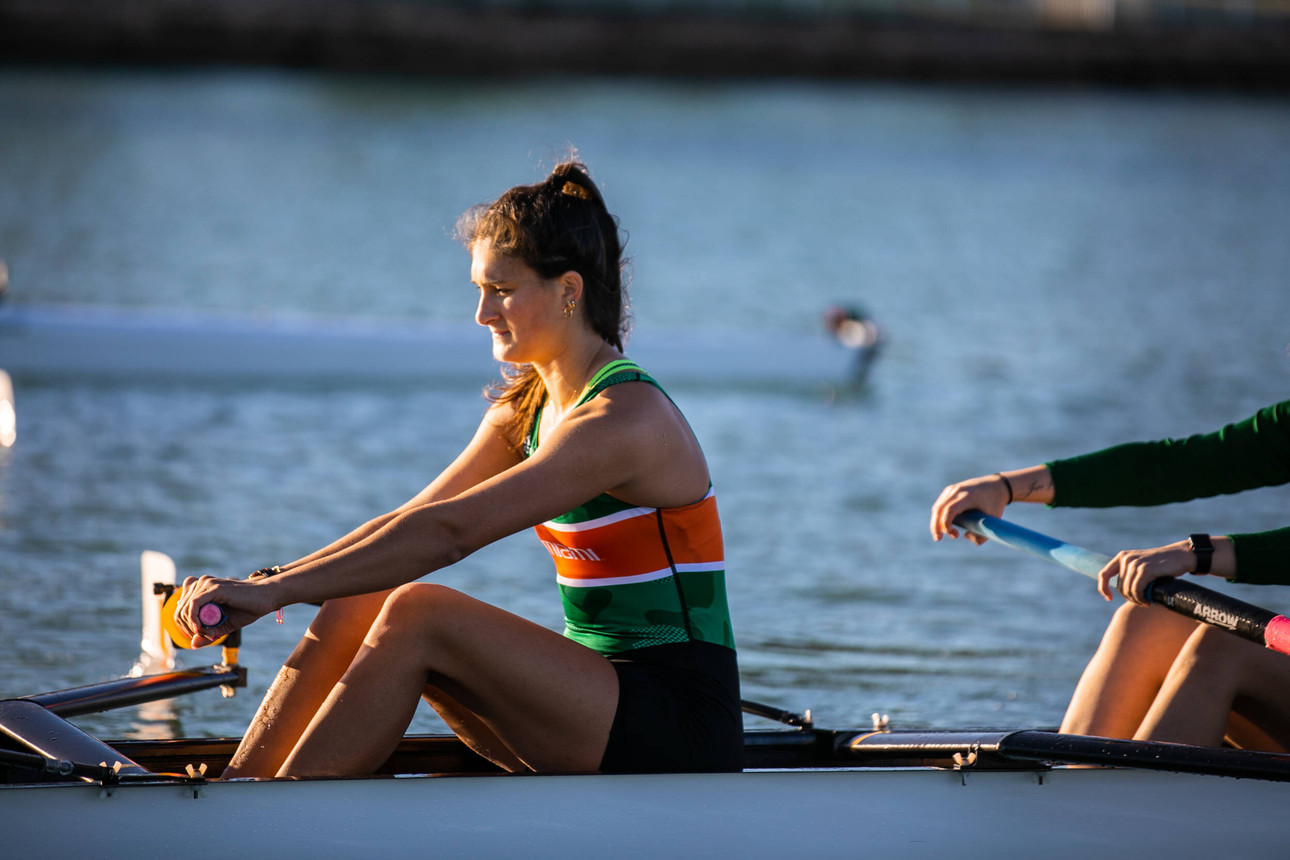 Lopez found out about the Hurricane rowing program through her mother, Penny, who relayed information about a novice rowing program. She quickly sprang into action, contacting assistant coach Claire Frenkel through a recruiting website, which she was on for basketball, and expressed interest in learning to row.
"Claire said that I seemed like a great fit for the novice program, if I wanted to give it a try," Lopez said. "I was like, 'Cool, I have no idea what I am doing, but I am willing to learn and it seems like fun."
Joining the rowing team was definitely a learning experience for Lopez, who recounts her first time out on the water as "confusing and a bit of a struggle." Trying a new sport was a novelty for Lopez, who was a gifted high school athlete in multiple sports.
"I consider myself fit, but on the water, it's a whole different technique," Lopez said. "Being thrown into it as a freshman was exciting but definitely hard."
Despite the challenges, Lopez found a love for rowing and the good habits that it fostered. The sport instilled a "dedication factor" in the junior, which required hard work and kept her motivated through the tough times on the water.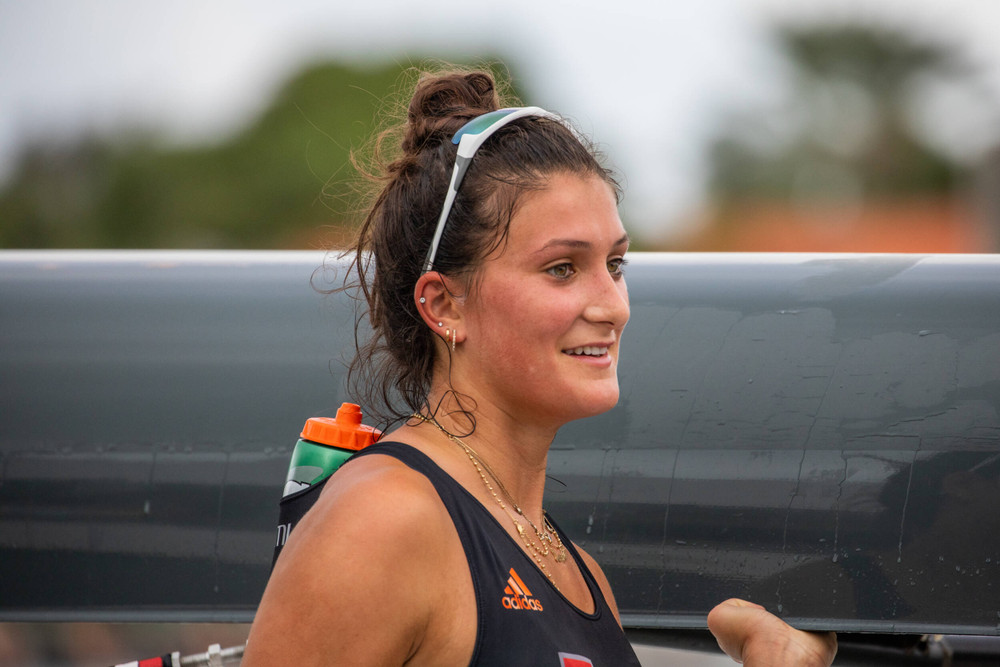 Training for novice rowers differs slightly from that for experienced rowers in that they spend a majority of their first practices focusing on the technical side of the sport. That is made up of two facets: the actual movements of rowing and the strength conditioning needed to be able to perform those movements.
"Early on in the fall, training is obviously oriented around how to row, technically," assistant coach Colin Regan said. "But also, we utilize a strength training program to teach them how to move properly, which directly effects rowing on the water."
Lopez has worked hard over the last two seasons to develop better technique and it has paid off. The junior was part of a 2V4+ boat that finished third in the Grand Final of the ACC Championships in 2018, the most competitive race of the season for the Canes.
Last fall, Lopez helped Miami's Second Varsity Eight to a second-place finish at the Head of the Indian Creek and finished the fall slate at the Rivanna Romp as a member of the Second Varsity Eight. The 2019 fall season was the first time that Lopez competed in an eight boat as a member of the Canes rowing team.
"Gabi has great athletic ability and it has been great to see her invest more in the program," Regan said. "That investment translated to significant improvement last year, despite the season getting cut short."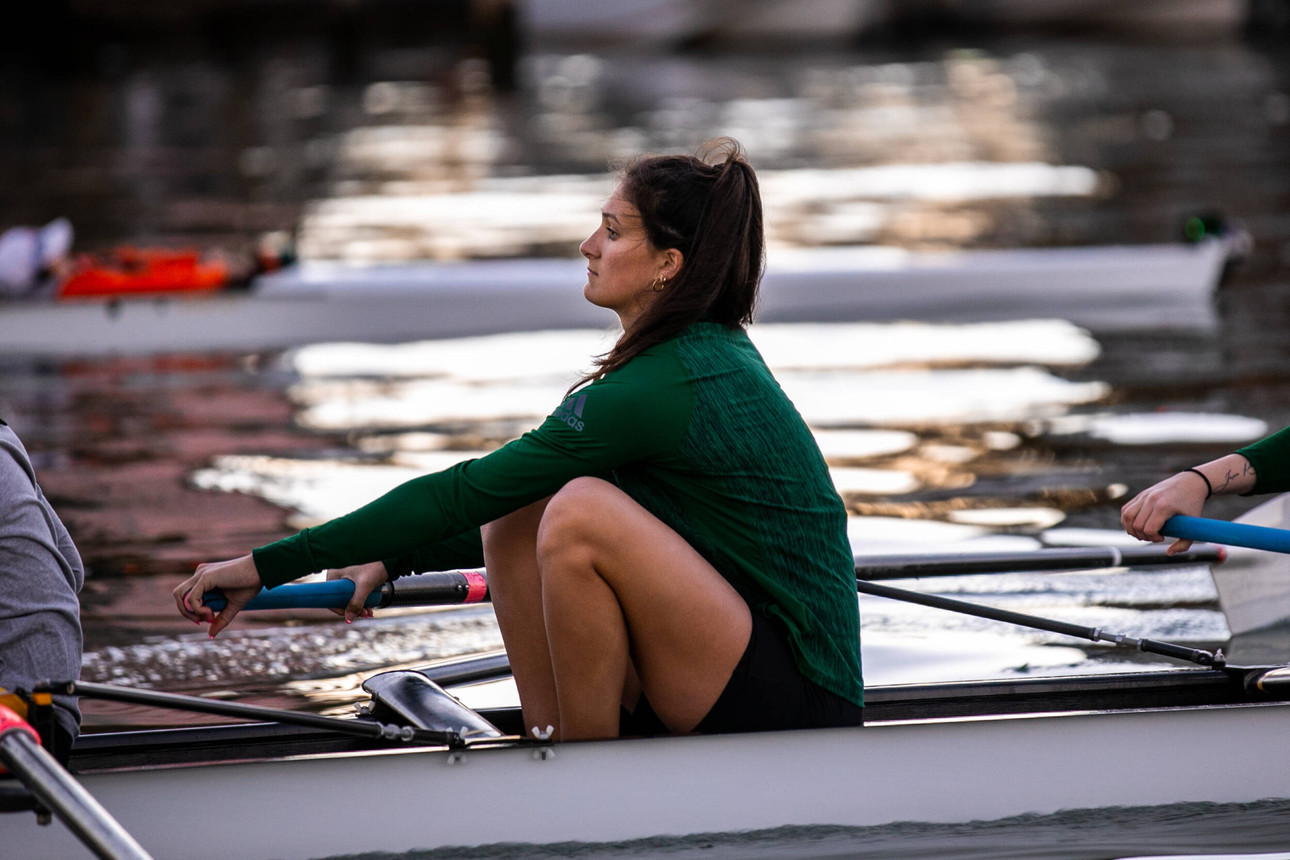 As the spring season draws nearer, Lopez hopes to decrease her 2K time and to develop better form on the water to help her team to victory.
"In rowing, you can work individually, but we all have to work together in a boat to make it go," Lopez said.
She knows that the results may not always be immediate, but they do come, and when they do, the rewards are priceless.
So, to all of the athletes out there thinking about giving rowing a try, Lopez has a few words of advice.
"You never know what is going to come of it and you have nothing to lose, so give it a try."