CORAL GABLES, Fla. – When the opportunity was presented to Andrew Madden to run at the highest collegiate level, with a strong academic program to match, he made the decision with ease.
Plenty of Division III offers were on the table, as were multiple ids from mid-level Division I teams, but when Miami called, it was a no-brainer.
"If I was going to run in college, I wanted to do it at the highest level possible and Miami was going to give me that opportunity," Madden said.
With one cross country season and an indoor track season behind him, the decision to attend Miami has gone better than he expected. The progress in just a year has Madden excited for what he can accomplish this season.
"I can't do things halfway," Madden said. "Going at the highest level possible to really see what I can do was the best decision for me. I have the opportunity to compete against the best people every day."
Despite not getting a chance to race during the outdoor track season due to COVID-19, Madden was able to take his training to the next level over the summer.
After spending time at home in Nicholasville, Ky, Madden traveled to Flagstaff, Ariz., for one month to train in high altitude conditions with friends who compete for Furman and Eastern Kentucky. Home and altitude training were completely different feelings and Madden credits his month away as the biggest difference in the way he feels since returning to Miami.
"I didn't realize how many people train over there, but it was really fun to go over there and be able to focus on the training 100 percent of the time," Madden said. "I was able to absorb the miles better even with the fairly big jump in mileage this summer."
The right training, right nutrients and good sleep has Madden feeling great heading into year two with the Canes.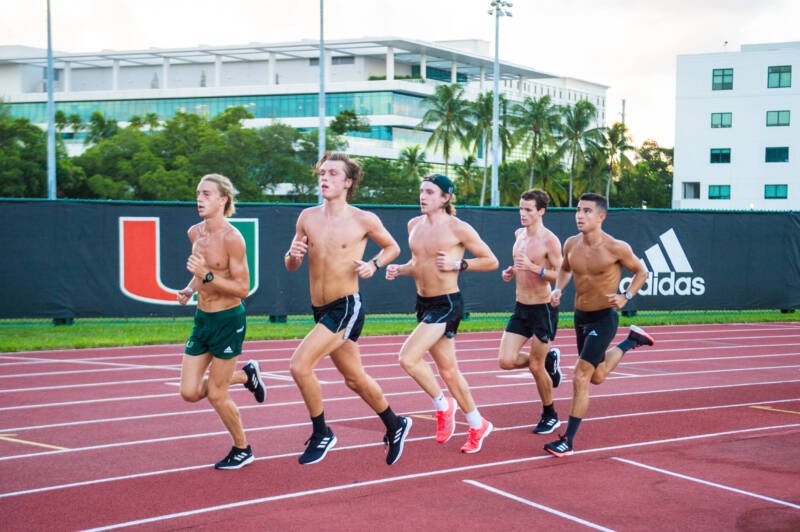 Distance coach Cody Halsey has noticed the drastic changes in Madden's performance and believes Madden's ability to focus on his training and nutrition sets the tone for the rest of the team as a leader.
"Andrew is 100 percent all bought in to the program and training," Halsey said. "He wants to do everything correctly and does whatever he needs to do, to be great."
With the likes of fellow sophomores Dillon Fields and Justin Rittenhouse, Madden is focused on being better than last year.
"We're all working toward the same thing, so it makes it a lot easier when I'm having an off day," Madden said. "There's someone else there that's pretty much in the same position that can keep you focused on what you're still trying to do, what the whole team's trying to do."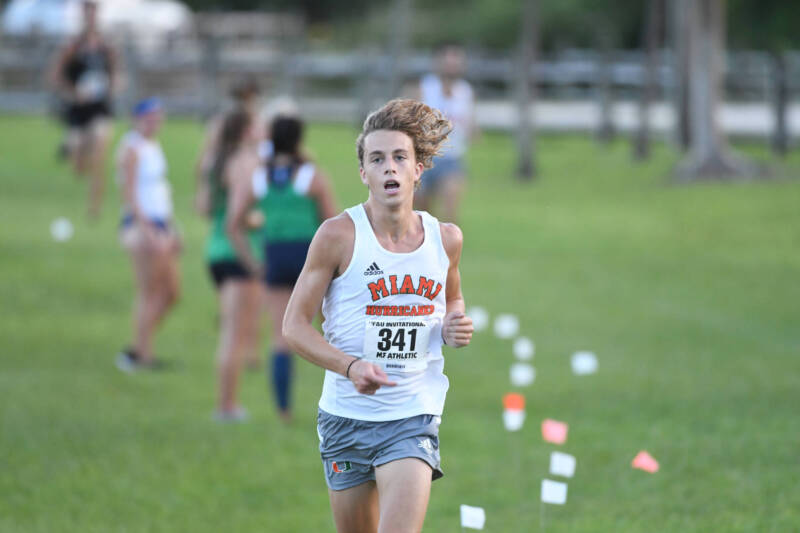 Staying in the mix for more races and finishing better at ACCs is a main goal for Madden and his teammates. The three sophomores represent the 'upperclassmen' for the men's cross country team, while Madden is the sole returner who competed in all five races last season.
Madden said he was always able to take something away from each race last season and that it was not just another race in his mind.
"I was always learning something new last year," Madden said. "I'm ready to take on more this season and really compete better. I thought I did fairly well as a freshman, but I want to be able to perform better at ACCs this year."
Madden isn't letting the fact that his team is young get in the way of training hard and being prepared for the season to come.
"You can make excuses for anything, but that doesn't change the fact that we're here to compete," Madden said. "We're putting in the training so we can get up there and be ready when the time comes to compete against who's there."
His goal for the team is to be more successful and compete against the best, but for himself, Madden wants to run a sub-25 minute 8K time. His best time last season was 25:43.8 at the FSU Invitational, but with the progress he has seen in just a year, it is not only Madden who thinks he can get there.
"He's not only improved drastically aerobically, but also mentally," Halsey said. "I think that's absolutely attainable."