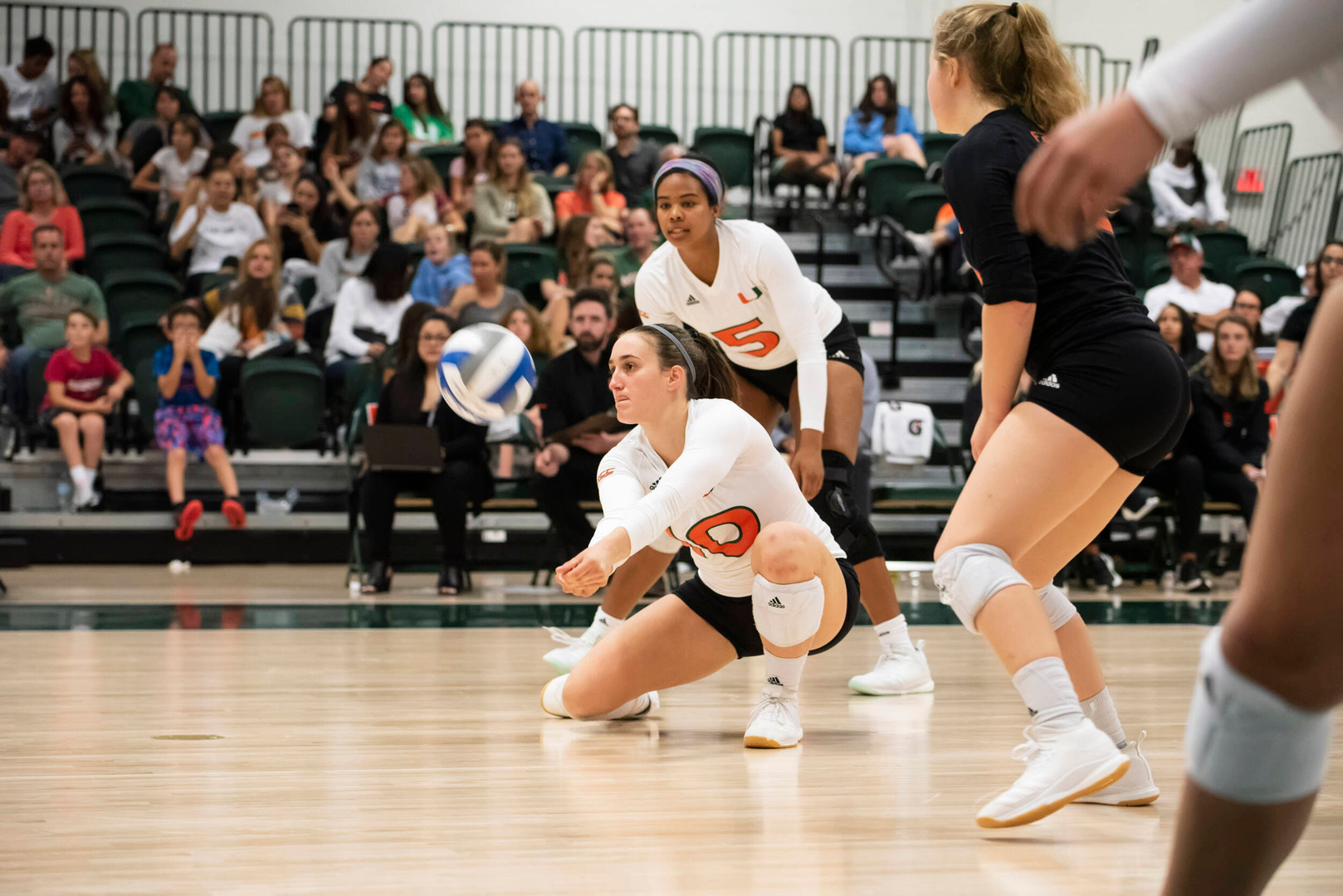 CORAL GABLES, Fla. — The Hernandez family knows a thing or two about being a Miami Hurricane.
How deep does their orange and green pride run? Just ask Priscilla Hernandez, a defensive specialist on the Miami volleyball team.
Her parents, Henry and Sylvia, are both Miami graduates and former Cane athletes. Sylvia spent a brief time on the track and field team, while Henry played first base for the historic baseball program. Hernandez's parents were introduced on campus in 1987, where the pair hung out at an area known as "the pit" outside the Dooley Memorial building.
Their love for Miami sports began early.
Sylvia made her way to Mark Light Stadium to watch Henry play for the Canes, unknowingly starting a family tradition that has carried on for 33 years as the family is still found sitting their season tickets on the first base line decades after Henry's playing career at The U ended.
One of Priscilla's first memories of attending a Miami sporting event was watching her dad play in a baseball alumni game.
UM has always held a special place in the hearts of the Hernandez family.
"My kids grew up riding their bikes at UM. I literally would take them there all the time. They knew UM when they were little kids," Sylvia said. "Just to be able to go to school there was a great experience for them. My mom lives right by UM too, so we've been going there for a very long time. Where the Wellness Center is now used to be a racquetball court and I used to go there and play racquetball with my dad. UM is a big part of our lives."
A second generation of Hernandezes has followed in Henry and Sylvia's footsteps, as the parents had the opportunity to watch their daughters on the court at their alma mater.
It started with Priscilla's older sister, Sylvia, playing on the volleyball team from 2013-16. A former standout at Westminster Christian, Sylvia had an excellent career as a libero at The U.
Sylvia, who went to three NCAA tournaments with the Canes, left Miami tied for first in sets played in a single season as a Cane at 126, ranks seventh in career digs with 1,047, seventh in career digs per set with 2.96 and boasts the ninth-most assists in a single match with 27. While she accomplished a lot on the court, playing for Miami was a dream come true for her.
"I had always grown up being a Canes fan," Sylvia said. "Both my parents played there. When I committed, I was just so excited to compete in my hometown, surrounded by my friends and family at the school I love."
The Hernandez family lives just miles away from the campus in Coral Gables, making it easy to attend home matches. When Sylvia was competing, the stands were filled with family and friends wearing t-shirts that said "MamUka" – her family nickname. The tradition has continued with Priscilla's career at Miami, as the family sports "Prissy's Posse" t-shirts in support of the junior.
"It was the best thing you could possibly think of," Sylvia, Priscilla's sister said. "I'm very, very close to my family. I couldn't imagine it any other way."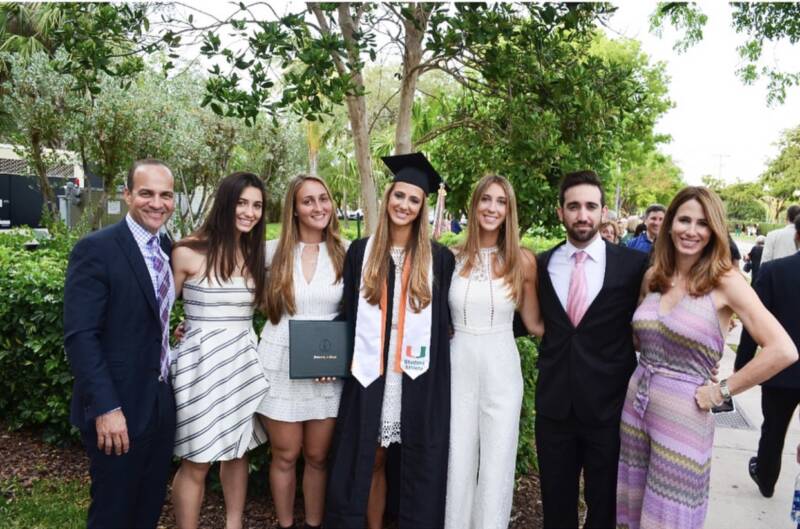 Priscilla followed in her sister's footsteps, making her dreams come true to play volleyball at Miami.
"It was always a dream, I just never knew it would happen," Priscilla said. "When [Sylvia] started playing, it seemed more of a reality [for me to play there] and became more real."
Entering her third season with the Canes, Priscilla has high hopes for the team this year. Eager to finish at the top of the standings, the energetic defensive specialist also wants to be known as one of the top passers in the league.
Her teammates make practice and the challenging training seem easy and enjoyable, but it's her family that means the world to Priscilla. She states she would not be the person she is today without them by her side.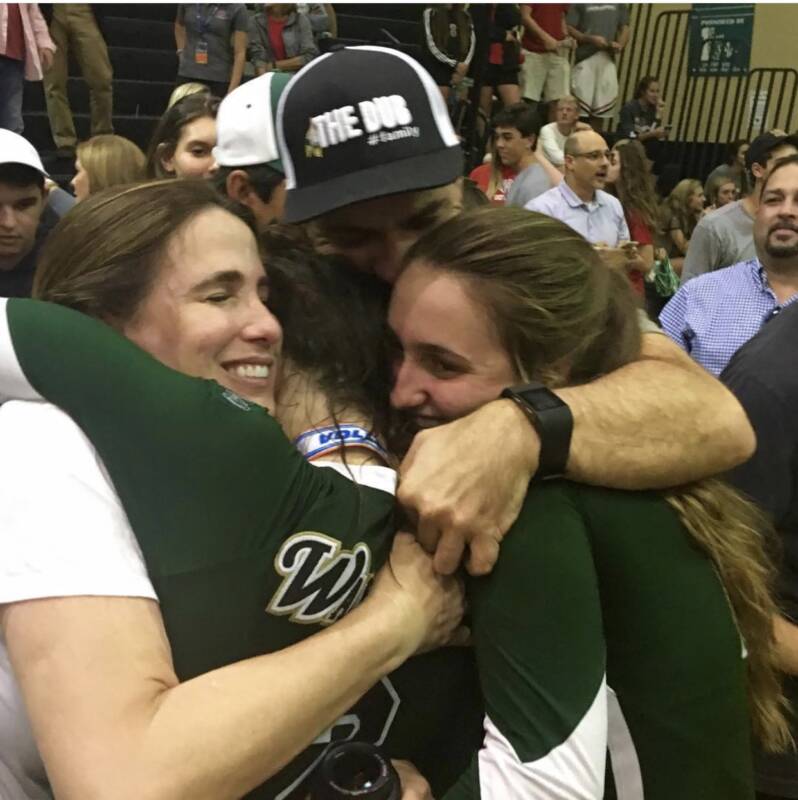 "My family is extremely close to each other, so they make a huge impact on everything I do," Priscilla said.
Both sisters have their favorite memories playing, which include their family being in attendance. Sylvia's senior night game was filled with family in the stands and plenty of friends who watched her grow up playing sports. Priscilla's favorite was playing against FSU during her freshman year, when Miami came back to beat the Noles in front of her family at home.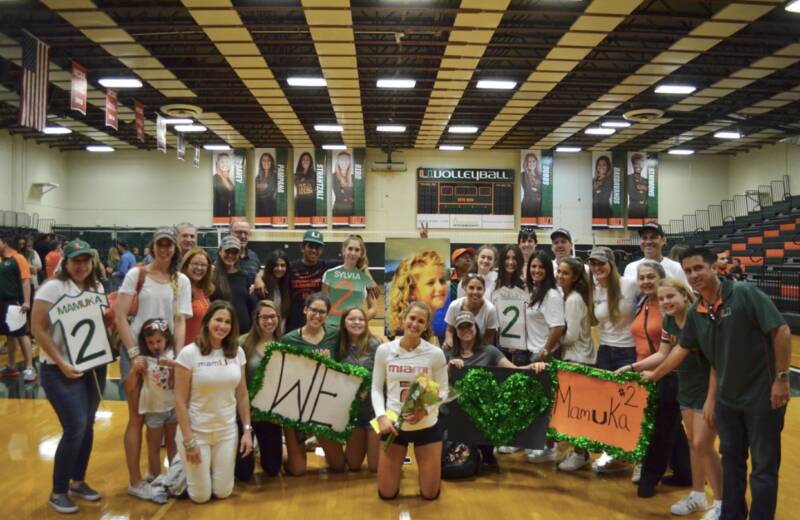 Miami and the Hernandez family go hand-in-hand. Along with her parents and sister, Priscilla's cousin, Anthony Vilar, plays for the Canes baseball team just like her father and uncle Henry Vilar, did.
"It's interesting because it's not just through one sport, it's through multiple sports," Priscilla said. "Even going through the training room, [Associate AD of Athletic Training] Vinny [Scavo] was my dad's trainer in college and now he's in the training room with me. So it's interesting to see now my cousin is on the baseball team and I'm on volleyball after my older sister. We have so many different relationships throughout the entire university that aren't just through one sport."
Both sisters are honored to continue their family's legacy at Miami. Sylvia credits her parents and their upbringing for the success she had while at Miami.
"I think a lot of it goes to our parents for always supporting us and pushing us through it all and letting us realize the sky is the limit and pursue our dreams," Priscilla's sister said. "I think it shows through my cousins, sisters and whole family. It's cool to see us all succeed and achieve our dreams and more."
Miami will always be a special place for the Hernandez family and the name will be forever remembered in the record books and the memories.