Rosa Recounts "Once-in-a-Lifetime" Experience
Bachelor's degree, master's degree, law school and then off to work on Capitol Hill; that is the plan for junior coxswain Hannah Rosa.
It is a plan that began when she stepped foot on the campus of the University of Miami, ready to pursue her dual degree in political science and public administration.
It is a plan that she reinforced when she interned in Florida Senator Marco Rubio's office during the summer of 2019.
It is a plan that she pursued relentlessly these past couple months despite the road blocks set forth by the COVID-19 outbreak.
Her dedication to the plan paid off in April when she was invited to intern for the U.S. Committee on Small Business and Entrepreneurship in Washington, D.C.
"I actually applied to work in Senator Rubio's personal office, but someone from the small business committee reached out and said that my resume had been passed along," Rosa said. "I started the application process in April and then was offered the position after a fairly intense interview process."
Because of the COVID-19 pandemic, Rosa started her work with the committee remotely before moving up to Washington, D.C., in July.
"I think starting work remotely helped me to acclimate myself to the environment," Rosa said. "It kind of helped me to be able to figure a few more things out on my own and not have as much pressure and stress to perform in that environment."
Rosa did miss being able to interact in-person with her coworkers but recounted that the office did an exceptional job of setting up video chats with different people in the office to learn more about the committee.
Finally, in July, Rosa made the trek up to Washington, D.C., and truly began to immerse herself in the world of Congress.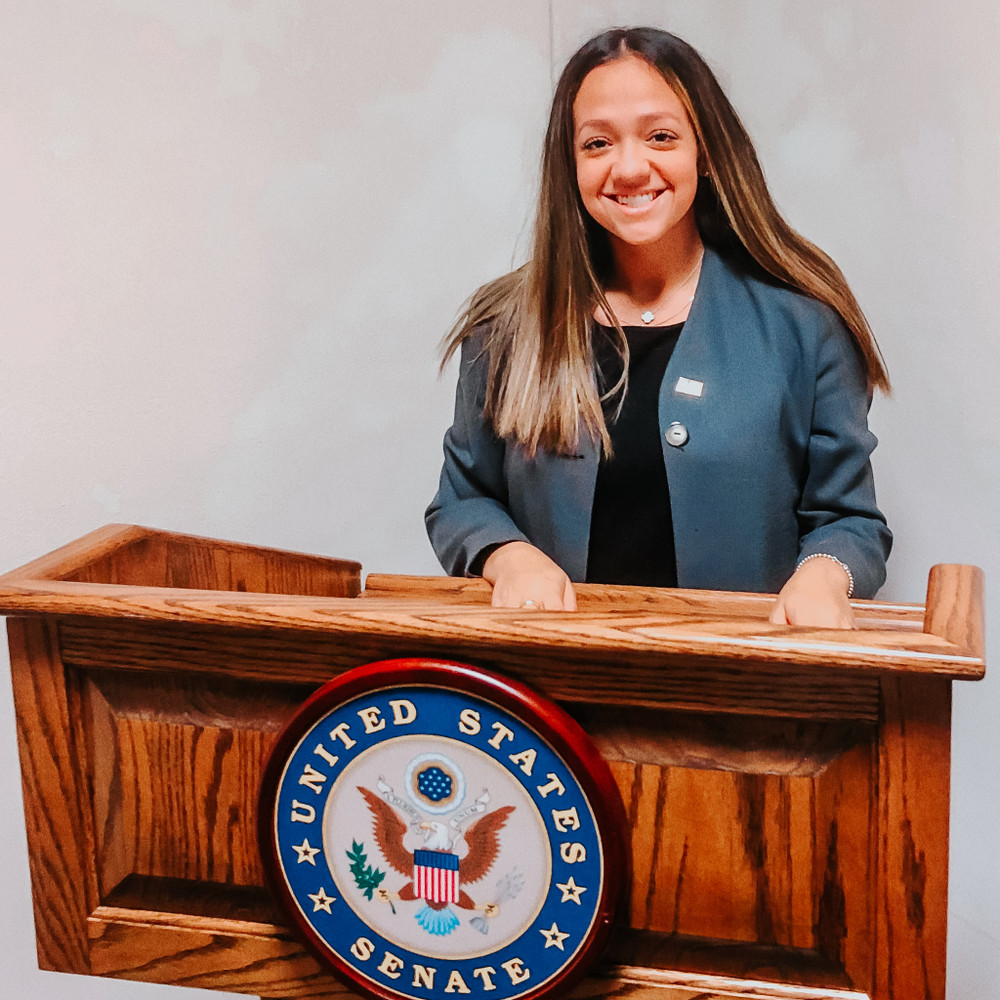 Rosa's daily tasks included collecting daily news clips for the committee, tracking media responses on small business policies and venturing to the Senate cloakroom to deliver documents. The latter task was particularly enjoyable for Rosa because, often times, a senator would be speaking on the floor about a bill or an amendment.
Reflecting on her work this summer, Rosa recognized that this internship was a unique opportunity.
"This was definitely better than a normal internship because they gave us a lot more substantive responsibilities," Rosa said. "They actually had us there because they felt like we had something to contribute to whatever project or program they were working on at the time."
Due to COVID-19, the small business committee was able to, for the first time, set a new precedent for how to deal with country-wide disasters. Rosa described her involvement with the Paycheck Protection Program, which offered small businesses loans to keep their employees on payroll, as incredible because she was "able to see the impact firsthand."
Rosa helped highlight different small businesses throughout Florida and the country through the "Small Business of the Week" initiative.
"It's different when you actually see firsthand people who own these mom-and-pop small businesses that, at one point thought they were going to have to close their doors," Rosa said. "But, because of this program, they were allowed to keep their employees and that is a really rewarding thing."
Working for the committee afforded Rosa many opportunities not open to the general public, including taking the underground train systems that connect the congressional buildings, watching congressmen film news clips and seeing an empty U.S. Capitol Rotunda, which is usually full of visitors and tour groups.
But one of the most unique opportunities came on Monday, July 27, when Rosa was able to pay respects to Rep. John Lewis of Georgia, who was lying in state in the Capitol Rotunda. The junior described witnessing the event as a historic, "once-in-a-lifetime" experience.
On her last day in the physical office, Rosa had the chance to walk to the Capitol with a senator from Texas and to meet Senator Rubio.
"It was a really cool experience because we were talking about going back to school and he was asking me about the upcoming rowing season," Rosa said.
Returning to the University of Miami campus for the fall semester, Rosa brings with her a wealth of knowledge and experience gained through the summer in Washington, D.C. Most importantly, she has a renewed energy to continue to pursue her plan.
"There is a lot of crossover between what I have been learning in the classroom and applying it to a real-life job and that encourages me to want to continue to do well in school," Rosa said. "I love this career path and I know that, no matter how big your dreams may be, there's always something that you can to do to continue to try and reach that goal."