Strantzali at the Top of Her Career
Olga Strantzali left her mark as a Miami volleyball player in just three seasons. Now, she's at the height of her career, playing in Italy and on the Greece National Team.
She said Miami was literally the best three years of her life.
And in those three years, Olga Strantzali became one of the best Miami volleyball players to date.
To name just a few accolades, Strantzali holds Miami's single-match kills record with 33 and ranks third on the program's all-time career kills list at 1,448. She was also named ACC Player of the Year and ACC Scholar-Athlete of the Year in 2017, while earning All-ACC distinction all three seasons.
It's hard to imagine that the Greece native almost quit volleyball after her first collegiate season at UCLA.
Her love for volleyball quickly returned upon her arrival in Coral Gables, Fla. The team, the coaches and the beautiful campus were hard to ignore and her passion for the game returned.
"I had so much fun there. I had great teammates and it was fun being in the gym with them," Strantzali said. "They helped me and made everything so easy for me and it was so much fun being there with them."
It was in those final two years that she truly believes she became the player she is today. With her trust in head coach Jose "Keno" Gandara, her skill level developed and allowed her to explode into the historic athlete we recognize now.
"Keno from day one, literally tried to help me out and improve my skills," she recalls. "My first season wasn't my best, but the next two years of my career at Miami were literally the best. I became the player I am today during that time."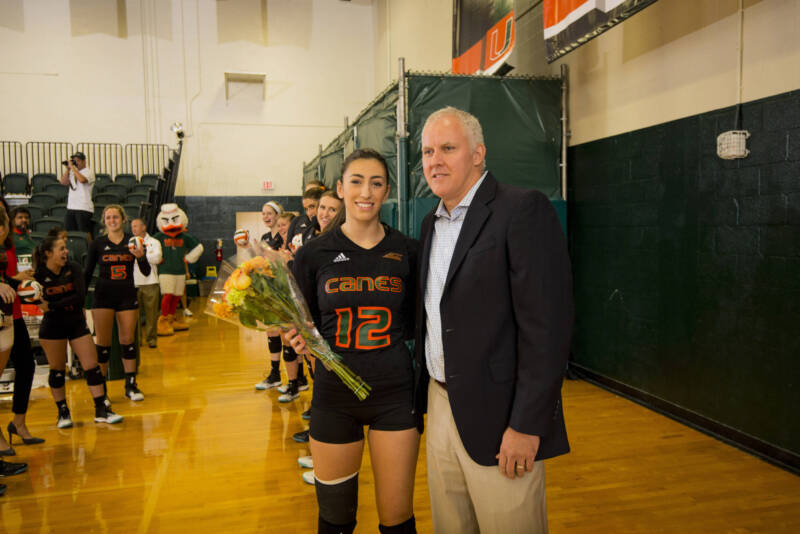 In two of her three seasons as a Cane, Strantzali helped Miami reach the NCAA tournament. In her final collegiate match, the Miami standout finished with a double-double after a team-leading 20 kills and 10 digs against then-second-ranked Florida.
When asked to describe the impact Strantzali left on Miami, associate head coach Kasey Crider described her as a magnet, a person who people naturally gravitated toward.
"Some of our best moments and biggest crowds stemmed from the simple fact that people seemed to be rightfully enamored with her," Crider said. "Coaching her, you got an up close experience of her greatness. Coaches like to say there is no magic in sports, and I tend to agree, but if there is, Olga certainly had it."
Just a few days after her final match, Strantzali graduated in December and set out for her first professional contract, joining the Beziers Angels in France.
Her start in her professional career was interesting to say the least, joining a team midway through the season since the league went from September through May. Strantzali joined the team as they were in the hunt for a Pro A Women's League Title in France and already held onto a 10-1 record.
"The girls were together for so long already, so for me, it was a little weird to join them in the middle of a season," she admitted. "But we won the championship that year so that was really fun."
The level of competition was arguably higher than that in the NCAA. The best of the best make their way to Europe to play professional volleyball. The 6-foot-1 outside hitter wasn't shy to the competition though.
She had plenty of national team experience along with her collegiate accolades. Representing the Greek National Team, Strantzali played with the youth squad that finished fifth at the European Championships in 2013 and eighth in 2011. In 2012, she was the top scorer at the Balkan Championships for Greece and finally got the call up to the senior team in 2015 for the European Volleyball League and has represented her country during the summers ever since.
Her volleyball career began when she was just five years old, going to the gym to watch her father coach his teams. Ever since, the dream has always been to play with the best of the best, against them and beat them.
It's no surprise that she's done all of those things.
Crider said he'd imagine few people around the country who would be surprised for her success. "Her pedigree of being the child of a high level professional coach in Greece and having competed internationally as a high school kid makes the professional level a pretty obvious fit for her. There's a reason she was as highly recruited as she was and her path to the top level of the sport were pretty obvious early on."
In her fourth season as a pro, Strantzali now plays in the best professional volleyball league in Italy – Seria A1 Volley – for Cuneo Granda Volley.
After France, she made two stops in Poland playing for Enea PTPS Pila and DPD Legionovia Legionowo. Each stop gets better and better.
"Every year I take a step higher. Italy is always like the best league in the world and I'm so happy all my decisions and all the hard work took me here," she said.
She's reached her goals. She made it to the biggest and best league there is for women in volleyball.
Strantzali doesn't know what's to come, but what she does know is that she wants to leave a mark on Italian volleyball and be the best to ever play.
"I think it's every girls dream to play in Italy," she said. "If you take volleyball seriously, you want to play in the strongest league in the world and that's Italy right now. My dream became true and now I'm here. I'm working really hard and the team works very hard here. I hope I continue my journey here after this season."
With all of her success, she still thinks back on her time at Miami shaping her to be the player she is now.
"I think I became the player I am now because of Miami," Strantzali said. "I want to thank Keno, Kasey and Jill [Hadder] who were there for me. I want to thank them a lot because they really improved me a lot. I wasn't the player I am today when I got to Miami. They made me become faster and stronger and now I know who I am and how I can help my team. That was the biggest lesson they gave me. Every girl that wants to go to college, I think Miami is a great place to go."