Forever a Cane: Norm Parsons
Norman C. Parsons, Jr. likes to say, "You get an education at the University of Miami, but you get a life at the Herbert Wellness Center."
Now, these words are permanently displayed on a large bronze plaque installed at the entrance to the center's 18,000-square-foot Norman C. Parsons, Jr. Fitness Room for the center's daily student, faculty, staff and alumni visitors to see.
Known for many things during his illustrious 42-year career at Miami, the 2013 UM Sports Hall of Fame inductee spent six magical seasons coaching the Miami women's golf team and helped lead the program to a pair of Association for Intercollegiate Athletics for Women (AIAW) national championships in 1977 and 1978.
What led Parsons to the golf course may be considered unorthodox, but it is what many of his former players believe was so beneficial to their growth as individuals.
Born and raised in West Virginia, Parsons and his brother, Mike, both attended West Virginia University, where Mike was a member of the Mountaineers' tennis program.
"I didn't have that kind of skill," Parsons said when looking back on his athletic past. It wasn't until he took a physical education course in college that he even picked up a golf club. A student through and through, he was enrolled in the advanced Reserve Officer Training Corps (ROTC) program and ultimately graduated from West Virginia with a degree in physical education.
Following graduation, he got commission and served two years in Alaska for the Army. Stationed at Fort Wainwright in Fairbanks, Alaska, Parsons ran the sports and recreation program, which included a golf course, a service club and a movie theater, to name a few.
It was during this time in the military that Parsons honed his people skills.
"I have always been a people person. I have love and respect for people and I love interacting with them," Parsons said. "In the military, I went in as a young second lieutenant and I was working with guys that had been in the military for years. I had a very interesting job."
In his second year, Parsons was selected as a general's aide, where he was re-stationed at Elmendorf Air Force Base in Anchorage, Alaska.
"I worked for the Chief of Staff of the Alaskan command, where I learned an awful lot of leadership and human skills from General John Bennett, whom I worked with for a year," Parsons said. "After that year, I could have re-upped and my next assignment could have been in Vietnam, but it was the early 70s and I just had a baby girl, and I thought I would rather do recreation than Army. So, I decided to get out of the Army and that was when I was lucky enough to land the job at the University of Michigan."
Following a two-year stint in Ann Arbor, Mich., Parsons decided he "had enough of the cold weather" and received an opportunity from Dr. William R. Butler, former vice president of student affairs at Miami, to move to Coral Gables and he never looked back.
"[Norm] had a great vision about the future, wanting to construct new facilities," Butler told The Miami Hurricane student newspaper in 2014 on why he hired Parsons.
When Parsons first arrived at the University in 1972, UM lacked residential colleges and even cafeterias. But with the vision he sold to Butler in his initial interview, three years later Miami opened the Lane Recreation Center.
"One of the reasons I came to Miami was because there were basically no facilities on campus. When I got there, all we had was a boxing ring, eight asphalt basketball courts, which had two-inch cracks all over them, and it had one paddleball wall and one volleyball court," Parsons said. "Our offices were actually over in the university center, along the breezeway, opposite of the book store. And that is where we operated out of until we opened the Lane Recreation Center."
It was a 25,000 square-foot building with a two-court basketball gymnasium, a volleyball court and two small exercise rooms, one for women and one for men.
---
Two years earlier and less than one year into the new job, Parsons played a significant role in UM's initiating the first intercollegiate sports program in the U.S. that offered scholarships for women, and he set up coaching positions for both the women's tennis and swimming programs.
However, one position was left unfilled.
"It was interesting. In 1972, when Title IX was passed by congress, it allowed scholarships for women. I always had an interest in women's sports and helping to promote that opportunity," Parsons recalled. "Speaking with Dr. Butler, he agreed with me and I remember going to a baseball game at Mark Light Field, and [former UM President] Dr. [Henry King] Stanford was there, and Dr. Butler and I talked to him about getting the University of Miami into the women's athletics business early on. He agreed and gave us 15 tuition waiver scholarships to be awarded in the fall of '73 and we agreed that golf, swimming and tennis would be the three sports that we would give scholarships to. So, that got us started.
"And because it was the AIAW and not the NCAA at the time, the athletic department wanted nothing to do with women's athletics," Parsons continued. "So, what my department did—it was called Campus Sports and Recreation (CSR) and that was the only other sport-oriented department on campus. So, we agreed that our department would take over the women's intercollegiate athletic program and I was able to find coaches for all of the sports except golf. So, I decided I would do it and coach the team on an interim basis."
As the new leader of the golf program, Parsons offered the first official athletic grant in women's collegiate history to Terry Williams, a young golfer from Homestead, Fla., and immediately the team saw success on the greens, as the Hurricanes finished as the national runner-up at the 1973 AIAW Championship.
Four-years later, the Hurricanes not only captured a title under the direction of Parsons and in 1978 Miami repeated as the top golf team in the country.
In 1977, the Hurricanes entered the competition as underdogs, but quickly put the golf world on notice in O'ahu, Hawaii.
After two rounds against a stacked Tulsa team, led by the defending AIAW individual champion and future LPGA Hall of Famer, Nancy Lopez, Miami took a commanding nine-stroke lead on the competition, a lead they would not look back on.
"It was just one of those perfect years. We had so much success against some very, very good golf teams and players and in a way–I say this lovingly–we sort of had a rag-tag group of kids that didn't have the greatest of resumes but they fought together," Parsons said. "For example, Cindy Kessler, who was the team captain that year, came to the University as a true walk-on. She had about a 12- or 14-handicap and I just gave her an opportunity to practice with the team and she ended up being the team captain and helped lead us to our second national championship [in 1978]. The kids just really came together and we had a wonderful time."
New to the sport of golf and being told by many that she wasn't good enough to compete at the collegiate level, Kessler, now Cindy Miller, walked into Parsons' office prior to the start of the 1974-75 season and demanded that she receive an opportunity to prove her worth.
"I went to meet Norm, I sat down in his office and I said, 'I'm the one you said could tryout.' And he told me, 'That's fine, here is when practice is and this is what you have got to shoot,'" Miller said. "So, if it wasn't for Norm Parsons, my life would have ended up completely different.
"Norm gave me that chance. And I told him in that initial meeting, 'If I don't get a scholarship, I am not going to be allowed to come back to Miami [as a sophomore]. But, I have to come back. I have to come back. I just have to,'" Miller continued. "I drove the guy crazy because I burned the ships, I wasn't going home. And I got a scholarship my second year and finished as the top-ranked player on the team, a national champion and an All-American. So many coaches nowadays don't do that. They don't see that there could be a diamond in the rough, but Norm did and he gave me a chance. So, he forever changed my life."
Since Parsons never played golf professionally or even just for fun growing up, both he and his student-athletes knew he was not necessarily a good golfer. That, however, proved to be exactly what a "rag-tag group of kids" needed.
Boasting a lineup including three New Yorkers, 1977 individual champion Cathy Morse, future LPGA member Mary Lawrence and Miller, an LPGA Legends Tour member, as well as Carolyn Hill and Sarah LeVeque, what the late-70s Miami golfers needed most was a leader. And leadership was exactly what Parsons brought to the table.
"When he was the golf coach while I was there, the main things I remember about him, was first of all he was super nice and a great guy. We were a nice group of ladies, so it wasn't like he had to keep us in line or anything like that," Morse said. "But also, he didn't try and tell us what to do. He didn't try and teach us how to swing, instead he was just a tremendous leader. He was a good coach, a great leader and he kept us together and safe. He was just a really good golf coach. He wasn't our teacher as much as a coach, which is really what you need. He did everything possible, the right way, which made us a better team. I can say that for sure."
Miller echoed her former teammate, expressing the great mentor Parsons was for the Canes.
"Here is the good news, but it might sound like the bad news. He shot like a 90. So, he wasn't a good player. He was the overseer of the team. He was the leader of the team," Miller said. "He would hold practices and qualifiers, but he wasn't trying to teach us how to play or tell us what to do, which was good for me, because I am a little bit obsessed. So, if you are not better than me, I don't want to listen. But Norm was so great at being an organizer, being a mentor, uplifting you and encouraging you, which is what I needed. He knew how hard I was working, so it wasn't his job to teach the game to me. He was just there to help me and that is what I needed. And in my opinion, that is what made him an awesome golf coach. It wasn't that there weren't boundaries, there were definitely boundaries and rules. But, it wasn't, 'Miller, you aren't doing that right, or this correctly.' But again, it was just the greatest four years ever, because he gave me a chance."
After winning a second straight national championship in 1978, Parsons recalls saying, "I better get the hell out of here while I am ahead." For two years he stepped down, and returned all of his focus back to the recreational side of UM.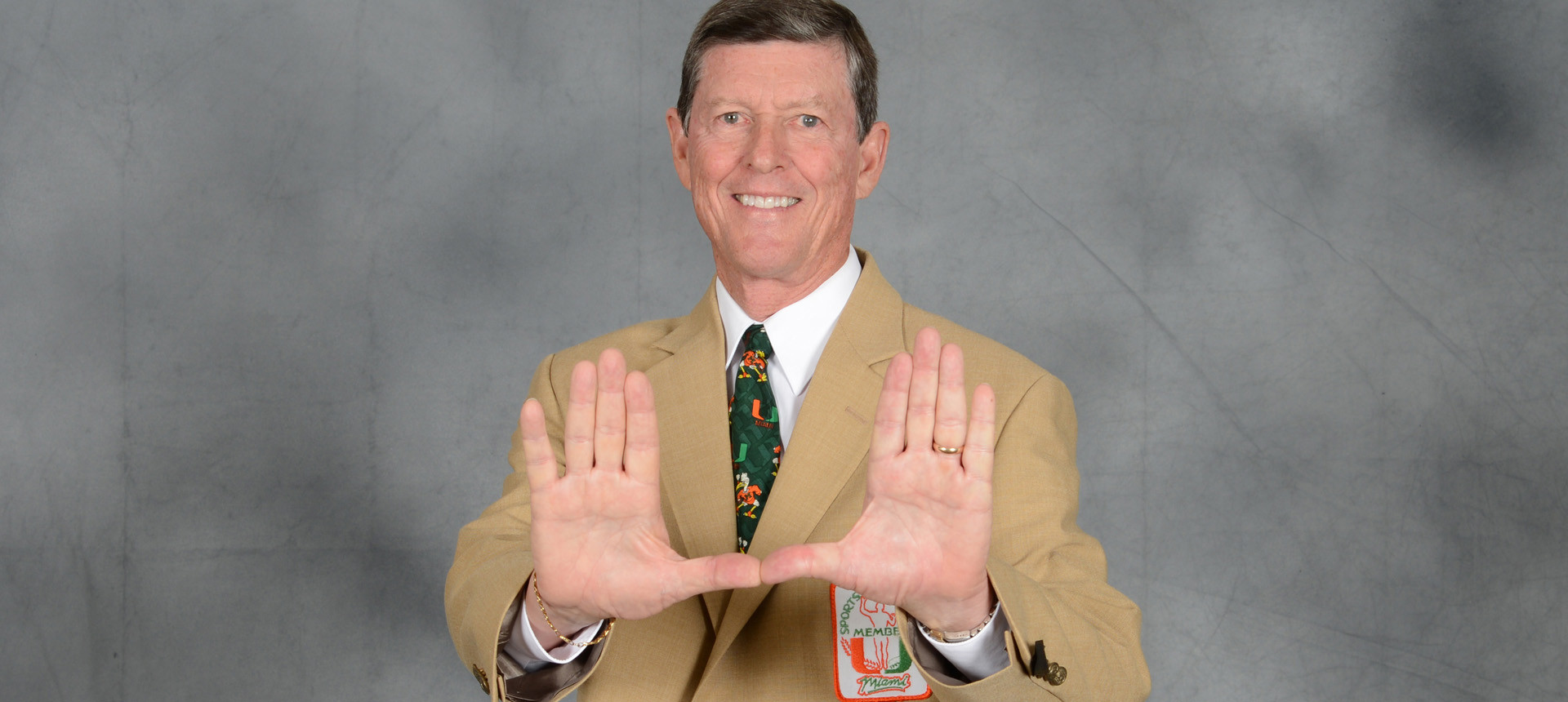 But, in 1980, the previous men's golf coach quit and Parsons was once again asked if he could step into an interim role. Agreeing to do so, both he and his wife, Linda, coached the team for eight years.
"[Linda] was actually a player and a coach in college athletics herself. She played for Broward Community college and then she coached and played at FIU," Parsons said. "And then she came to the University of Miami to work on her master's degree and we ended up together and ended up coaching the golf team together. And the guys really enjoyed it, they called her 'Coachess.' It was a great time and she was invaluable to the success that we had with the men's team during that time."
For those eight seasons, the couple led the team to numerous accolades. Most notably, in 1986, the Hurricanes finished sixth in the nation and Parsons garnered NCAA District 3 Coach of the Year distinction.
"Woody Austin is our last remaining pro player on the men's tours. He is on the senior tour right now and I believe is ranked seventh on the money list and has had incredible career. Scott Gump is an assistant coach for the Notre Dame golf program and had over 325 starts and made over 150 cuts on the PGA Tour, and is doing really well," Parsons said. "Nathaniel Crosby is a name that many would recognize, who played at the University, graduated and won the U.S. Amateur Championship when he was with us. It was really just a good time. We had a van that we would drive to all the trips. It was just a good, positive experience and I just enjoy staying caught up with the guys."
---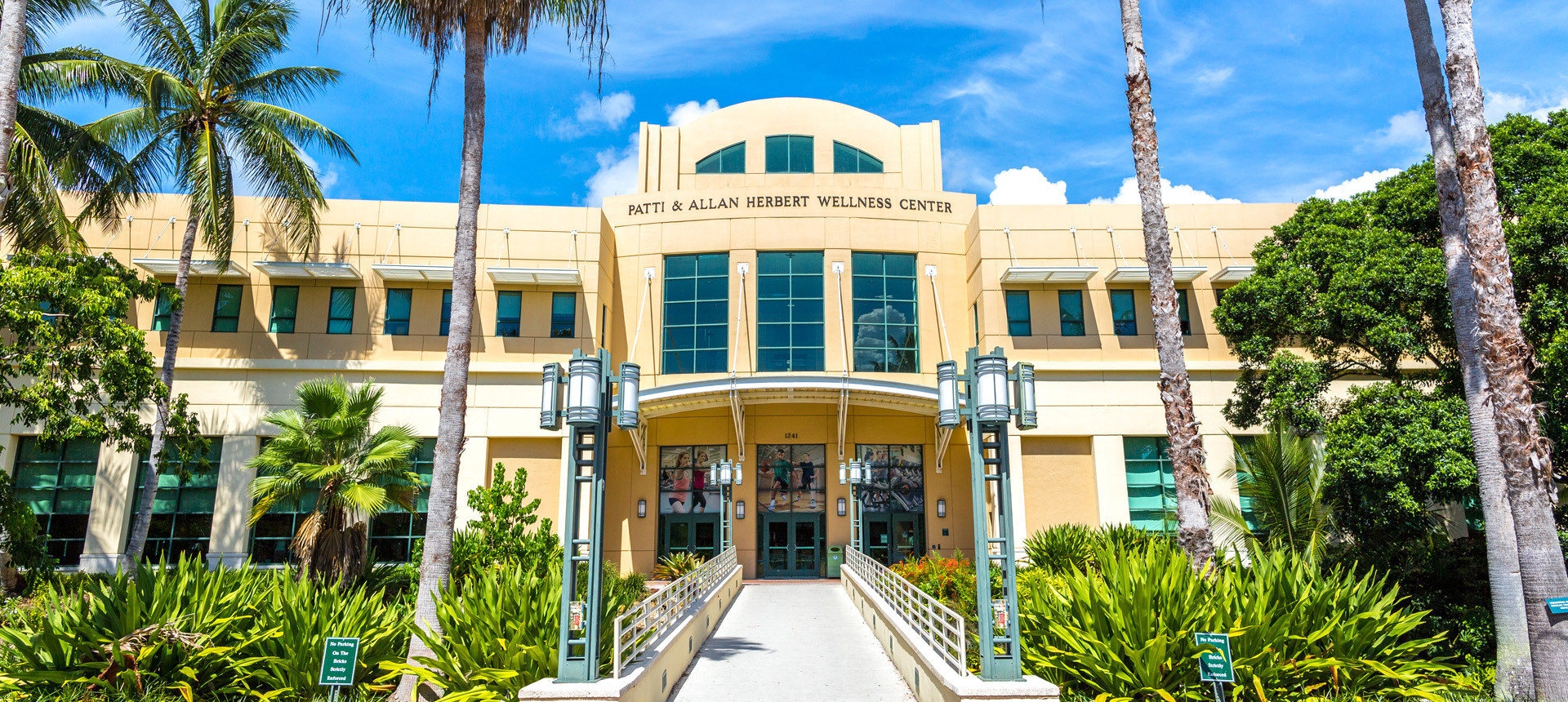 Following his second coaching stint, Parsons again focused on improving the overall wellness of the University of Miami campus.
Looking back to the opening of the Lane Recreation Center, expectations were set in place to expand the facility. However, the money never came through from a donor.
"It ended up being a blessing in disguise," Parsons said. "Because in 1992 the students voted to assess themselves a fee to build a new facility, which we know today as the Herbert Wellness Center."
In 1996, Parsons commissioned the help of graduate and undergraduate student governments to write a referendum to increase the activities fee to add $85 a semester to build the center. All the money raised would stay within the building; students were guaranteed the lowest rate via the fees, while employees and alumni would purchase memberships. The referendum passed in spring 1992 with 78 percent of the votes cast in favor of the move.
Then, in 2011, Parsons headed an 18,000-square-foot expansion of the Wellness center thanks to the generous $8 million donation from Patti and Allan Herbert.
"That building has served the University well," Parsons said. "It is hard to believe that was opened in 1996, almost 25 years old now, and nearly up to 4,000 people a day, before COVID, would go through that building. We like to say, 'The Wellness Center helped people pay for higher quality and longer life.' And that was always our mission and I was very proud of what we were able to accomplish."
Over the course of his illustrious 42-years serving at Miami, Parsons has earned several achievements and honors while working towards improving the campus.
Along with his accomplishments as a coach, he was awarded the University of Miami President's Medal at the spring 2014 commencement ceremonies. He received the Iron Arrow Bowman Foster Ashe In-Memoriam Honor in 2010, the James W. McLamore Outstanding Service Award in 2009, the Women's Commission May A. Brunson Award in 2008 and the University of Miami Alumni Association Inside Out Award in 1996.
A UM Sports Hall of Fame member herself and the current head coach of the Miami golf program, Patti Rizzo had nothing but kind words for the man who helped recruit her as one of his final roles as the head of the program in 1978.
"Norm is right up there as probably one of the top-10 people [in terms of] his contributions to The U. He retired six years ago and he deserves every minute of every cruise he is taking. He is really enjoying his retirement," Rizzo said with a laugh. "He is a man of integrity. He is sincere, he is honest, he is truthful and he was committed to his work 110 percent. He is responsible for us having the Wellness Center. I know he was a great coach, even though I never got to play for him, and I honestly don't know anyone who didn't love Norm. Everybody loved Norm."
---
Parsons, still an avid supporter of the U, said he feels blessed with everything that has come his way over the years. Since arriving on campus, he sports football season tickets since 1972, basketball tickets since the rebirth heading into the fall of 1985 and has made multiple appearances across UM Olympic sporting events, including the annual Miami Hurricanes golf tournament.
"I have just been very blessed. Both of my children graduated from here. My son found his wife in a Target store, even before his freshman year started, as they bumped into each other hunting supplies for their respective rooms. I have just been very blessed," Parsons said. "…People don't realize how young the University of Miami is. We are just coming up on our first 100 years and some of the significant accomplishments, academically, athletically and in so many different ways, it has just been incredible. I am blessed to be a part of it for almost half of the University's life.
"I always tried to set a positive example and something I would say is, 'One of the few things we have control over is the attitude that we have. If I show up with a positive attitude and interact with others with that attitude, then hopefully we can make a difference," Parsons added. "And I think it is so important that we have the right attitude, we treat each other with respect and encourage those to do what they can do."
Before his Fitness Room dedication plaque was unveiled Jan. 16, 2020, Parsons' family joined him on stage to announce a $50,000 contribution to the newly named Norman C. Parsons, Jr. Family Student Development Endowed Fund. This fund provides Herbert Wellness Center undergraduate student employees with funding to attend conferences or seminars related to wellness, nutrition, exercise, recreational sports, athletic training or related careers.
"Well, it was one way that I could give back in honor of my family and my time here. The $50,000 gift was to enable the students who may be interested in a career dealing with wellness, recreation and physical therapy, as examples. I wanted to offer an opportunity for students to do some advanced training, maybe get to go to a conference and learn," Parsons said. "Working with the student employees was always one of the highlights of my life. When the Wellness Center opened, we probably averaged 350 students per year that worked in the building, from managing it, to lifeguarding, to cleaning equipment, to office payroll, you name it. Those relationships with students were extremely important. And to look out now and see the kids that are in professional jobs, that spurred their interest while working at the Wellness, it is a wonderful feeling to know you helped contribute to a person's livelihood and life."
When the history of the University of Miami is written, the name Norm Parsons will forever be included. For more than four decades he served The U with pride and distinction. He was—and he remains—an example and an inspiration to the entire Hurricane community.