Fulfilling Her Promise: Penny Hammel's Story
CORAL GABLES, Fla. – Penny Hammel never imagined sporting an orange and green uniform while growing up in the Midwest.
With her heart nearly set on attending Texas Christian University (TCU), Hammel made a trip to South Florida to compete in the Junior Orange Bowl tournament and forever changed her history.
Prior to all of her success and accolades, Hammel was one of six children to Richie Hammel, a golf professional at Decatur's Scovill and Faries Park courses in Illinois.
The middle child and lone daughter in a large family of eight, Hammel was tested every day and quickly became very competitive in everything she did.
"My five brothers played every sport – baseball, basketball, football, you name it – and when they needed a sixth player or someone to even the teams, they would always call 'little sister Penny,'" Hammel recalled. "I pretty much played everything. They roughed me up. They weren't easy on me. I got hit just like everybody else. Of course, flag football was different, we didn't play tackle, so that was good. However, I grew up playing all sports, even though I wasn't really that good at any of them. Golf was truly my thing, but I played everything."
The love for golf was instant for Hammel, who remembers showing up to her father's golf course and driving range every day after school and during summer break to pick up balls and get some swings in.
At the age of 11, her amateur career began to take off when she claimed her first tournament victory at the Decatur Amateur tournament.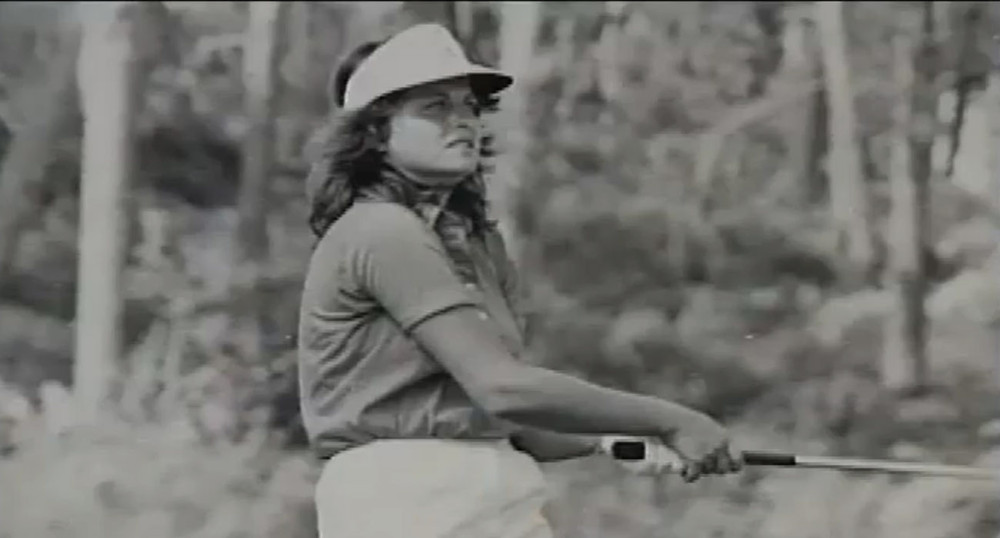 It was this early success and her parents endless support that would draw her back to the greens day after day.
"For me, just being able to compete against older people and get the idea that I was as good, if not better than them just made me love it even more," Hammel said. "And my dad was very, very patient. He never got mad at us and he kind of let us do our own thing. He never said, 'Oh no, you have to grip the club this way,' or, 'Hey, your stance is off.' He just let us play naturally. And then as we got older, he started coaching us and making some corrections when necessary. But like I said, he never got mad and he always supported us and I think that was the biggest thing. It didn't matter if we finished last or first, both he and my mom were there for us. And I think just the patience alone in golf helped me the most and was the best lesson I learned from both of them."
As Hammel matured as an athlete, her success reached new heights as she punctuated her MacArthur High School career with back-to-back state championships in 1977 and 1978.
She was ranked No. 1 by Golf Digest Magazine and by Golf World Magazine in 1979, after she captured two national junior championships — the U.S. Golf Association tournament and the Professional Golf Association Tournament. She also won the Decatur Herald and Review City Women's Amateur tournament a third time in four years before winning a U.S. Junior Cup competition in Venezuela.
But Hammel could never have imagined that a trip to Coral Gables following her final high school semester in 1979 would lead her on a path to The U.
"It was kind of weird. I was the number one junior golfer my senior year out of high school and I was pretty sure I was going to TCU. I graduated high school a semester earlier, so I had the opportunity to head down to Miami and play in the Orange Bowl. I ended up winning and it turned out Lesley Holbert was there, and also just so happened to be the [Miami] coach at the time," Hammel said. "It had never entered my mind to go to Miami but the weather was beautiful. In comparison, when I left Illinois it was snowing, while at the tournament it was at least 85 degrees outside. And after watching me win, Lesley came up to me and said, 'Would you like to come to school here?' And I said [with a laugh], 'I don't know.' So, she showed me the campus and I immediately fell in love with it. I mean, who wouldn't? Coming from Illinois, cold weather, I would have been stupid not to come to Miami. So, the rest was history."
In an interview following Hammel's official decision to become the highest rated recruit to join the Miami golf program, Holbert predicted a ton of success heading in Hammel's direction.
"I saw her play in the Junior Orange Bowl tournament and was impressed. A lot of girls swing the club well and play well but are not winners. Penny is so talented and she has such an outstanding record it is almost cliché to talk about her. I project nothing but the finest possible collegiate and possibly pro future for her."

Lesley Holbert told a news reporter in the summer prior to Hammel's first practice at Miami.
Despite the high remarks, success was not immediate for the freshman as she was set to leave her hometown of Illinois for the bustling metropolitan area over 1,200 miles south.
"I was very shy. Not necessarily introverted, but with five brothers I didn't get to say a lot. They pretty much ruled my world. And when I got to Miami, I was all alone, 1,200 miles away. And my parents dropped me off and left. So, it was very scary, but I luckily had great teammates and a great coach," Hammel said. "I also lived in Eaton Hall, an upperclassmen dorm, and I didn't like it at first. Like many freshmen, my first two weeks were tough. I cried a lot and would say I want to go home. But thank God I stayed. I'll put it this way–It was the best thing I ever did: getting away."
During her first two seasons, Hammel was beginning to make a name for herself. But a week prior to the 1982 NCAA Championship, her and a couple friends got in a near life threatening car accident that put her golf career in jeopardy.
Suffering a broken nose and wrist, Hammel was forced to sit out the 1982 NCAA tournament and begin the road to recovery.
A year later with a pair of collegiate tournament wins now under her belt, the 1983 First Team All-American looked to etch her name in the history books.
Entering the third round trailing the tournament leaders by three strokes, Hammel leveled the playing field at the NCAA Championship with a three-under 71 and entered the final day tied for first.
In the final round of competition, the junior went a remarkable five-under-par to capture Miami's fifth individual title, while setting a then-NCAA record scoring 12-under 284.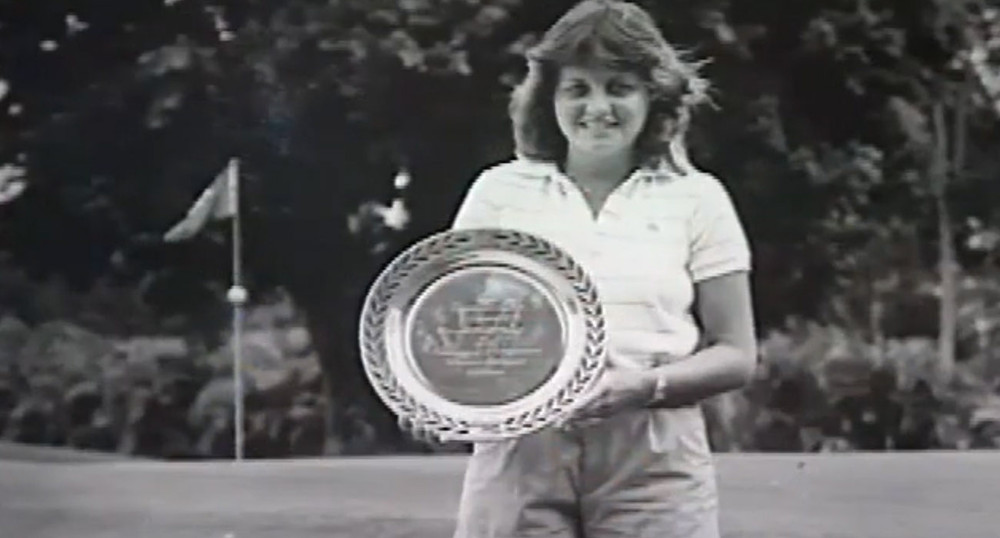 Hammel's record remained intact for 27 years, before Oklahoma's Caroline Hedwall matched the relative-to-par mark in 2010. Overall, Hammel held the top mark for 33 years and now sits in a tie-for-second after Duke's Virginia Elena Carta won the 2016 individual title with a 16-under-par performance.
Despite the record-breaking week, Hammel was so focused on her play that she didn't even know until the final hole that she had won.
"It didn't really hit me until the last hole," Hammel said. "The thing about me, I didn't really pay attention to where I was on the leaderboard. I would just try and stay within myself and play my game. But, obviously, when I won, I went ecstatic. And that is when I knew I wanted to do it professionally. But, really, it was more about the team for me and I wanted to come back as a senior and celebrate as a team."
That opportunity came into play, as a stacked Hurricanes squad entered the 1984 championship field ranked second in the nation alongside defending national champion TCU and just a couple points behind top-ranked Tulsa.
Under the direction of former head golf coach Lela Cannon, who was only in her second year on the job, the Hurricanes took down the Horned Frogs and Golden Hurricane to capture the program's fifth national championship.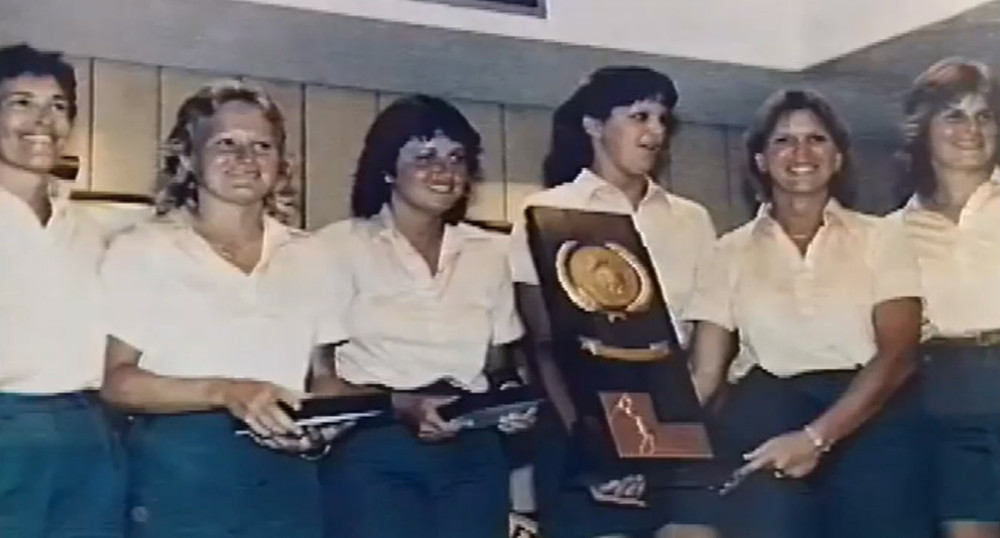 "[After my successful junior campaign] I definitely didn't want to turn pro just yet because I definitely knew we could win as a team [my senior year]. I had incredible teammates, so I just wanted to come back so we could give it our best try," Hammel said. "And even though it was a great feeling to win individually, it was way more fulfilling to win as a team because we put four hard-working years into it. Just the camaraderie we had and the fact that we did it for each other was incredible. And, like I said, college was the best thing that happened to me, for sure."
When she graduated from UM, Hammel had the program's most top-10 finishes (24), lowest stroke average (73.04) and most tournament wins (five). The two-time First Team All-American was officially ready to take the next step in her golf career and try out for the LPGA Tour.
However, a bad opening round nearly delayed her dreams of turning pro.
"[In the qualifying tournament] you played four rounds and the first day I did really bad. If you shot over an 88 on your first day, you were cut and I shot a 10 on one hole resulting in a very high front nine," Hammel said. "But, I managed to stay in and played all four rounds. And even though I didn't get my exempt card, I got a card that allowed me to at least participate. So, I went out my first year, got in a couple tournaments and actually won one. And then was exempt from there. I ended up playing for 21 years, won four times and really just had a great time."
After having a successful debut season, Hammel was named LPGA Rookie of the Year in 1985. In addition to her four career tournament wins, Hammel also performed well in some of the most prestigious LPGA tournaments, including third-place finishes at the 1989 U.S. Women's Open and the 1996 Women's PGA Championship.
"That was always a special treat. The U.S. Open I never really liked since their courses were always very hard and never quite suited my game. I wasn't a very long hitter, so it never quite suited my play style," Hammel said. "But the LPGA Championships were fun. You got to compete against the best players in the world and really to just make the cut is awesome. But for me to be able to finish in the top-five just kind of sealed the deal in knowing, 'Hey, I belong.'"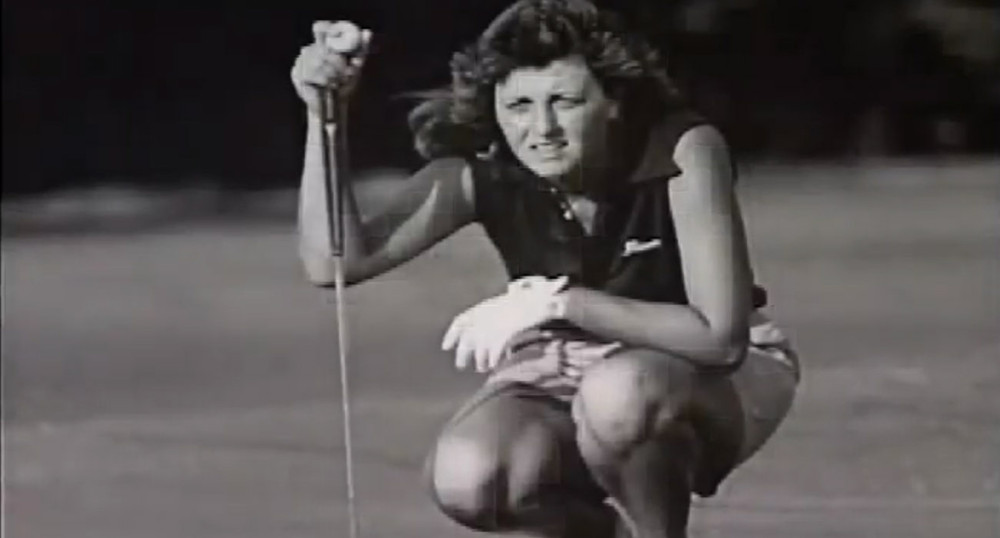 While her professional career was filled with accolades and success, Hammel remembers her first ever tournament on the LPGA most fondly.
"My most memorable moment actually took place in my first ever tournament on the LPGA, which was at Deer Creek and I was playing with [future Hall of Famers] Pat Bradley and Amy Alcott, two ladies who had won the Open," Hammel said before continuing with a couple chuckles. "On my first tee I kept thinking, 'Just don't shank it. Don't hit anybody.' And I didn't. I managed to finish the round without killing anybody. But it is weird what you remember. Of course, I can recall my wins, including my first win. My mom was there, and my one brother, who was in the army, flew in to watch me on my last day. So there are definitely things I remember about my wins, but my most vivid memory from my time on tour? My very first tee shot."
At the age of 42, Hammel retired from the LPGA Tour in 2006 after suffering a herniated disk in her back.
After taking a year off, she became the assistant golf pro at Hunters Run Country Club in Boynton Beach, Fla.
Nearly 15 years later, Hammel continues to reside in Palm Beach County and was promoted to being the head golf pro at the community center and currently finds herself teaching her students some of the lessons her parents once shared with her.
"It is a retirement community. The average age is like 70, so the biggest thing I teach them is patience," Hammel said. "I say, 'Listen, this isn't your livelihood. You have to make sure you enjoy this game.' And like I said earlier, that was one of the things my parents instilled in me, patience. And now I talk to quite a few of my students on a weekly basis and repeat, 'Patience, patience, patience. And with patience it will all come together.'"
The 1996 UM Sports Hall of Fame inductee still bleeds orange and green and is thankful for her four incredible years as a Hurricane.
"[Finding out I was going to be inducted] was awesome. I unfortunately wasn't able to be in attendance, I was out in California when they did it, but what an honor. You know, just 11 years after I graduated and I was inducted with Jimmy Johnson. Just a true honor," Hammel said. "I just loved UM. I haven't been back that often, but it is my screen saver at work, I have a UM chair cover and I totally support UM… I am just a huge fan and would recommend it anybody. I just loved it there."