A Well Traveled Professional
There's a long list of accomplishments that are attached to Haley Templeton's name.
Completing her childhood dreams of playing professional volleyball is just one of them.
Miami's star setter was on everybody's scouting report when playing the Canes during the 2014-2019 seasons.
The athletic achievements were seemingly endless.
The Alpharetta, Ga., native wasted no time announcing her presence in college volleyball, earning ACC Freshman of the Year honors to cap an incredible debut season.
One of the most decorated players in program history, Templeton was a four-time Preseason All-ACC election and lived up to the hype, earning four All-ACC honors, three AVCA awards and three All-ACC Academic distinctions. She also proved to be one of the best players in the country, representing Team USA on the Collegiate National Team.
To add to her numerous awards, Templeton finished her illustrious tenure as a Cane with the third-most career assists (4,632) in Miami history.
She wasn't done there.
The fire and drive to play continued after her collegiate career, as she searched for her first pro contract to live out those dreams.
"My mindset after playing Miami volleyball was focused on continuing to get better before I went over to play pro," Templeton said. "I was definitely honing in on how a pro athlete was going to be different than a college athlete."
Miami head volleyball coach Jose "Keno" Gandara and associate head coach Kasey Crider mentored Templeton even post-graduation. Templeton joined the Canes in the gym postgraduation, making sure she was prepared for life as a pro.
"Keno and Kasey, especially, did a great job of [preparing me for] what to expect when you get over there because it's very different from NCAA volleyball. They really prepared me by teaching me the fundamentals and knowing how to teach myself because a lot of pro coaches at that point don't teach you skillsets, they just hope you play well with the teams," Templeton said. "They were really teaching me how to be my own coach when I got over there and how to stay motivated and enjoy playing in a different atmosphere."
Her success on the court as a Hurricane led to her professional dreams. Templeton had three teams interested in her: one based out of a small city in France, a club just out of Porto, Portugal, and lastly, Slavia EU Bratislava in Slovakia.
After weighing her options, she chose to join Slavia EU Bratislava to begin her professional career. The excitement was automatic and the experience was "very cool" signing her first contract.
For Crider, it was nothing but a confirmation of what he already knew – Templeton was talented.
"I think sometimes people think of the volleyball performance is the stuff that makes a professional career, but plenty of medium-skilled players have had long, productive professional careers. To me, it's about the maturity in the other aspects of your life that will be far less structured in the professional game," Crider said. "If you have the maturity, professional volleyball overseas can be a life highlight. I don't think Haley's best skills were setting or serving – I think it was her ability to be excellent in all parts of her day. She dominated her time in the classroom, in friendships and relationships and, yes, in the gym, too. But considering that, a high-level contract was pretty much an inevitability is she wanted it."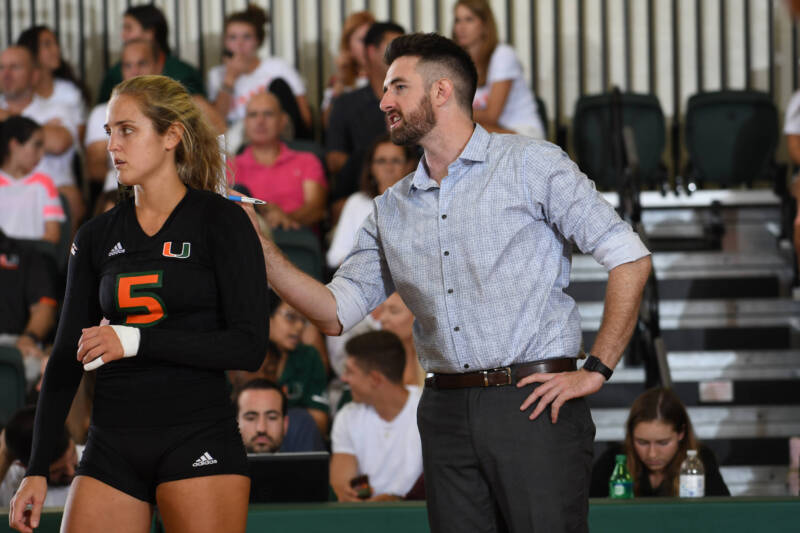 And that's what she got when she joined Slavia EU Bratislava.
Bratislava gave Templeton the opportunity to play against great competition. It also allowed her to live in Bratislava, the capital of Slovakia which sits in the center of Europe. For an avid traveler like Templeton, being close to a big city was an important factor that helped her decide which team to join.
After six months of professional volleyball and about 40 matches, Templeton led her team in assists per set and aces per set, something Canes fans saw often in her five years in Coral Gables.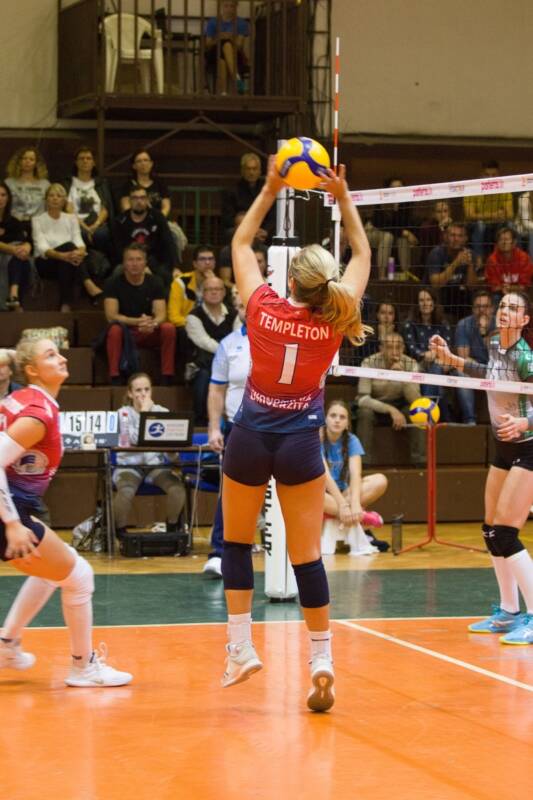 With one professional season under her belt, her favorite memory was traveling to Istanbul with her team to compete in the Euro Cup. Off the court, traveling was the highlight of Templeton's professional career.
"My favorite thing was being able to travel every weekend. I went to over 15 countries while I was over there. Every week I would train, drive – I'd rent a car – or book a flight somewhere because the flights were so cheap to different countries for a day and come back that night."
Some weekends her mom, Denise, would accompany her to different countries. The most traveled weekend getaways were Austria, Slovenia, Italy, Germany, Switzerland, Belgium, Netherland, the United Kingdom and the Czech Republic. But her favorite trip was to Switzerland, with the coastal city of Geneva making a big impression on the setter.
"I just loved the view of the lake with the mountains in the background and all the people there were super friendly and the food was super delicious," Templeton said.
One season as a pro was enough for Templeton, who said she "just knew it was time" for her volleyball career to be done.
But her career outside of volleyball was just taking off.
Templeton was a triple major while at UM, studying finance, economics and management. If that wasn't enough, she went on to earn her Master's in International Business and has one semester remaining before she earns her MBA.
Now well-traveled, Templeton is interning with Cushman & Wakefield – a global commercial real estate company – in Tampa, Fla.
Before playing overseas, Templeton interviewed with the successful company and had a goal set from then on.
"I was going to intern and, if I got the job offer, I was going to stay. With pro [volleyball] not being all of my expectations, I knew right away that I wasn't going to go back. This also worked out that I got the job that I couldn't turn down," Templeton said.
Templeton and the company have agreed to hire her as a Financial Analyst in August and her hopes for the future is to become a Transaction Manager.
But volleyball will always be a part of her life.
Joining a recreational beach club team is in the near future for Templeton, who also hopes to return to UM to work future camps under Gandara.
While her playing career is over, Templeton's legacy is clear. She will always be one of Miami's greatest setters in program history.