Feldman Makes Easy Transition to The U
Growing up in Miami, Maya Feldman has been on the water her whole life. From waterskiing to boating to just swimming in the ocean, there was never a shortage of water activities for the local.
It was only natural that Feldman would develop an interest in rowing.
"After my eighth grade soccer season ended I was bored and doing nothing," Feldman said. "My older brother was rowing at the time so my parents said 'why don't you try rowing out and see if you like it.'"
Feldman signed up for a camp over winter break and thoroughly enjoyed it. Looking to get more involved as her schedule freed up, Feldman joined the Miami Beach Rowing Club (MBRC), which is based out of the Shane Center, the same place that the UM rowing team calls home.
It was at MBRC that Feldman built lasting friendships with her teammates.
"It's kind of like having a second family," Feldman said. "I don't have any sisters so being on the rowing team is like having 30 more sisters. They are always supporting you and pushing you to be the best version of yourself."
One of her teammates at MBRC was current UM rower Isabella Larder. One of Feldman's favorite rowing memories features Larder as the pair were part of the Girls' Varsity 4+ that won the 2018 State Sweep Championships. Feldman describes the race as crazy but super fun and even more fulfilling because they won by open water.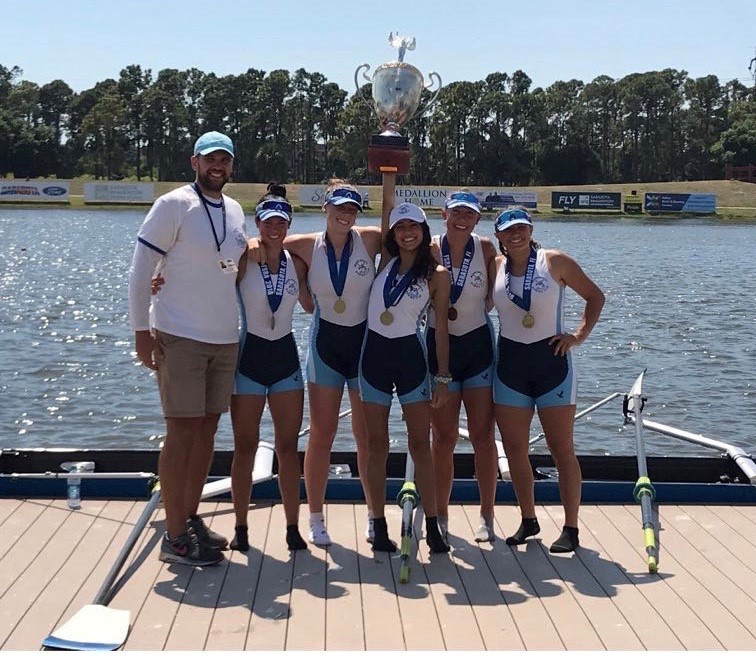 When she started thinking about her options for college, at first, Feldman didn't think UM was an option because it was so close to home. But a quick trip down U.S. 1 to the Miami campus quickly changed her mind.
"When I got to campus, I fell in love and honestly couldn't figure out why it wasn't my top choice," Feldman said. "I knew the minute I stepped on campus that UM was where I wanted to go to school."
When the Miami native gets to campus in the fall, she will continue a Feldman tradition, as her entire family went to Miami. While her family was hoping that she would choose UM, Feldman was certain that her parents would have been happy with any decision she made.
Feldman will be one of eight new faces on the rowing team this fall, but it is something that excites her.
"I'm looking forward to meeting new people, being with the team and just becoming the most fit and best version of myself," Feldman said. "Since I already know some girls on the team, I feel a lot more comfortable going in."
Feldman will major in business real estate with the hopes of going to law school upon graduation. Until then, she will continue to push herself on the water and give her all to the UM rowing team.