Preserving Hurricanes History
CORAL GABLES, Fla. – Every day he walks into the building, John Routh can't help but smile.
The Seminole War Canoe. The jerseys worn by Brad Kaaya and Duke Johnson when they broke records. The nearly hundred-year-old Hurricanes pennant once waved by a member of Miami's original freshman class. A jersey worn by late Hurricanes great Sean Taylor. And so much more.
There is history in nearly every corner of the University of Miami Sports Hall of Fame and the Tom Kearns Sports Hall of Fame Building. And Routh, the Hall's executive director, is grateful he gets to surround himself with so many reminders of Miami's athletic greatness on a daily basis.
"It's amazing. It really is. I mean, every day I see something that I had either forgotten was here or that I didn't know was here," Routh said. "There's always something unique about being in this place, the history of it. I mean, at times I almost feel like the ghosts of some of our past greats are in here because it's just a special, special place to be."
The Hall, which is nestled between the Hecht Athletic Center and Cobb Stadium on Miami's campus, was founded in 1966 by a group of former Miami-Dade County judges who wanted a place to honor Miami's growing sports legacy.
In the decades since, empty trophy cases have been filled with all sorts of Hurricanes sports mementos. And dozens of UM greats, past and present, have been enshrined in the Hall.
Well-known figures like former football coaches Howard Schnellenberger and Jimmy Johnson are honored there, of course, as are former baseball coaches Ron Fraser and Jim Morris, former basketball coach Leonard Hamilton and current UM coaches including Randy Ableman, Amy Deem, Katie Meier and Paige Yaroshuk-Tews.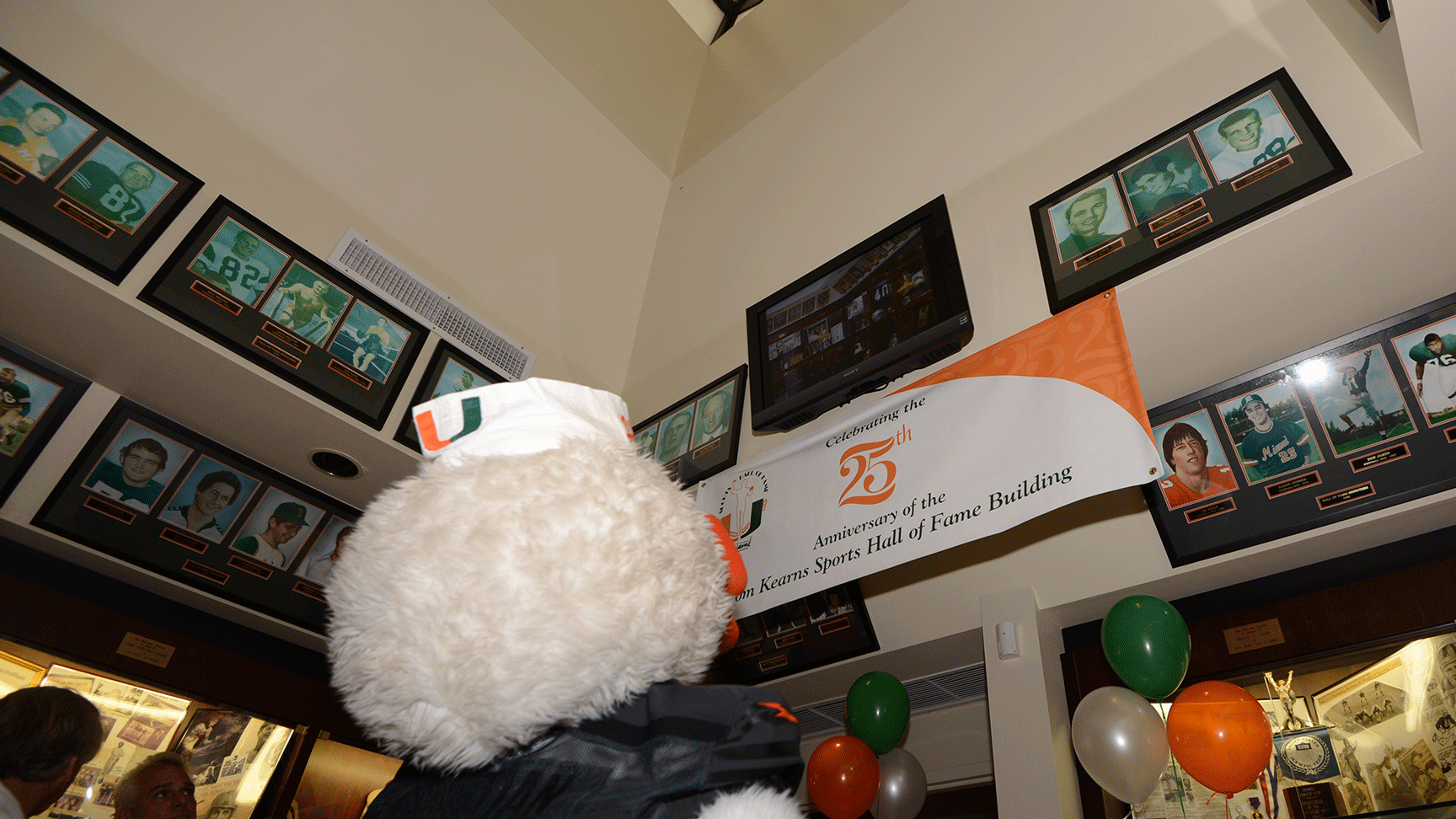 The list of enshrined Hurricanes athletes includes NFL royalty like Michael Irvin, Ray Lewis, Jim Kelly, Frank Gore, Jonathan Vilma, Edgerrin James, and Ed Reed. Former Hurricanes baseball players Pat Burrell, Alex Fernandez, Ryan Braun, Jon Jay and Charles Johnson have been enshrined, too, as have former Hurricanes basketball players Rick Barry, John Salmons, Tamara James and Octavia Blue.
But for Routh, some of the most special moments at the Hall come when visitors discover some of the less well-known stories of honored athletes.
"It's a labor of love. I really enjoy being able to gather the items for the Hall and putting them on display where people can come in and see and learn," Routh said. "Somebody walks in and says, 'Wow, I didn't know Pete Banaszak played here!' or 'Greg Louganis was a diver here?'
"When you hear that, it's special. People are seeing history they weren't aware of and like I always say, that's the great history of the University of Miami. We've been a leader in so much. Doris Hart being in our first [induction] class. And Miami gave out the very first scholarships to female athletes. Ray Bellamy was the first the first African-American in the southeast to go on scholarship, along with Will Allen, the basketball player, the same year. The history we have is not just football and baseball in the 80s. Our history literally goes back to the founding of the University and continues to this day."
One of the things Routh says the Hall has long prided itself on is being accessible to fans. Admission is free, something the founders insisted upon when the Hall opened. And the building receives support from the University.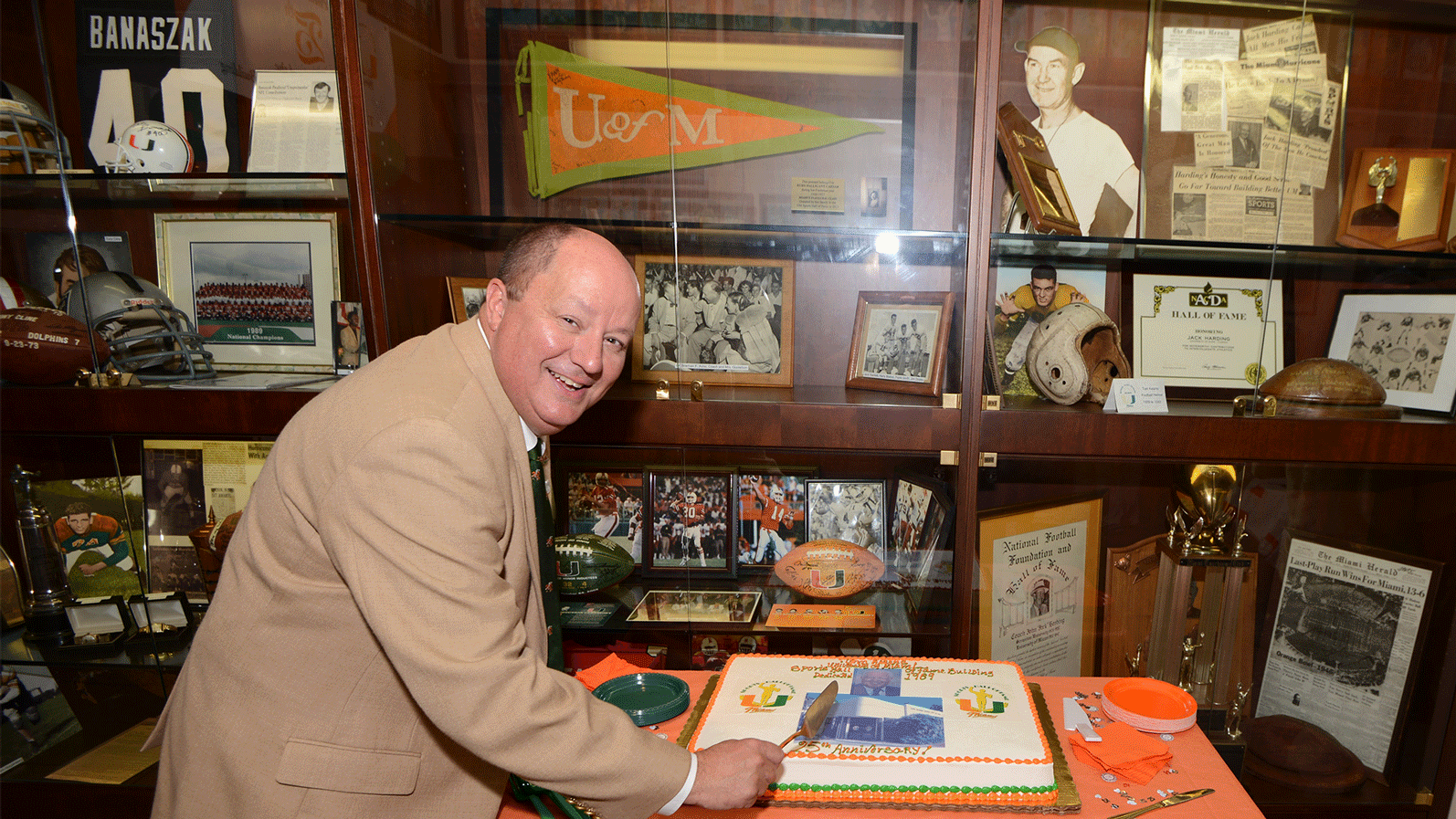 But, like many charities, companies and individuals during the coronavirus pandemic, the Hall has faced financial challenges.
Two of its biggest annual fundraisers – the Induction Banquet and the UM Sports Hall of Fame Fishing Tournament – have been canceled because of the COVID-19 pandemic. A third event – an annual golf tournament scheduled for the fall – is in question, while Routh is hopeful a fourth, the Hall's annual celebrity bowling tournament, can go on as scheduled in February.
To help continue raising funds for the Hall, Routh and the Hall's Board of Directors are currently hosting an online memorabilia auction that features some of the items that would have auctioned in person at the canceled events.
Hurricanes fans looking to donate to the Hall or bid on any of the auction items – which include a baseball autographed by the 2008 ACC Championship team, a signed Frank Gore photo and a 1987 Bennie Blades autographed game program, among other items – can visit the UM Sports Hall of Fame online at www.umsportshalloffame.com.
In the meantime, Routh – who as a former Sebastian the Ibis and Miami Maniac has long been an ambassador for the Hurricanes – will continue doing his part to chronicle and preserve Miami's history at a very special place.
"I guess it's one of those things that the University of Miami never really leaves your blood," Routh said. "I tell people, I actually went to South Carolina, but I bleed orange, green and white. It just gets into your system and the Hall, it seemed like a fun place to get involved with the University in a fun way. I started out as a volunteer … but you know, I guess you can it's like you can say I kind of found my identity here."