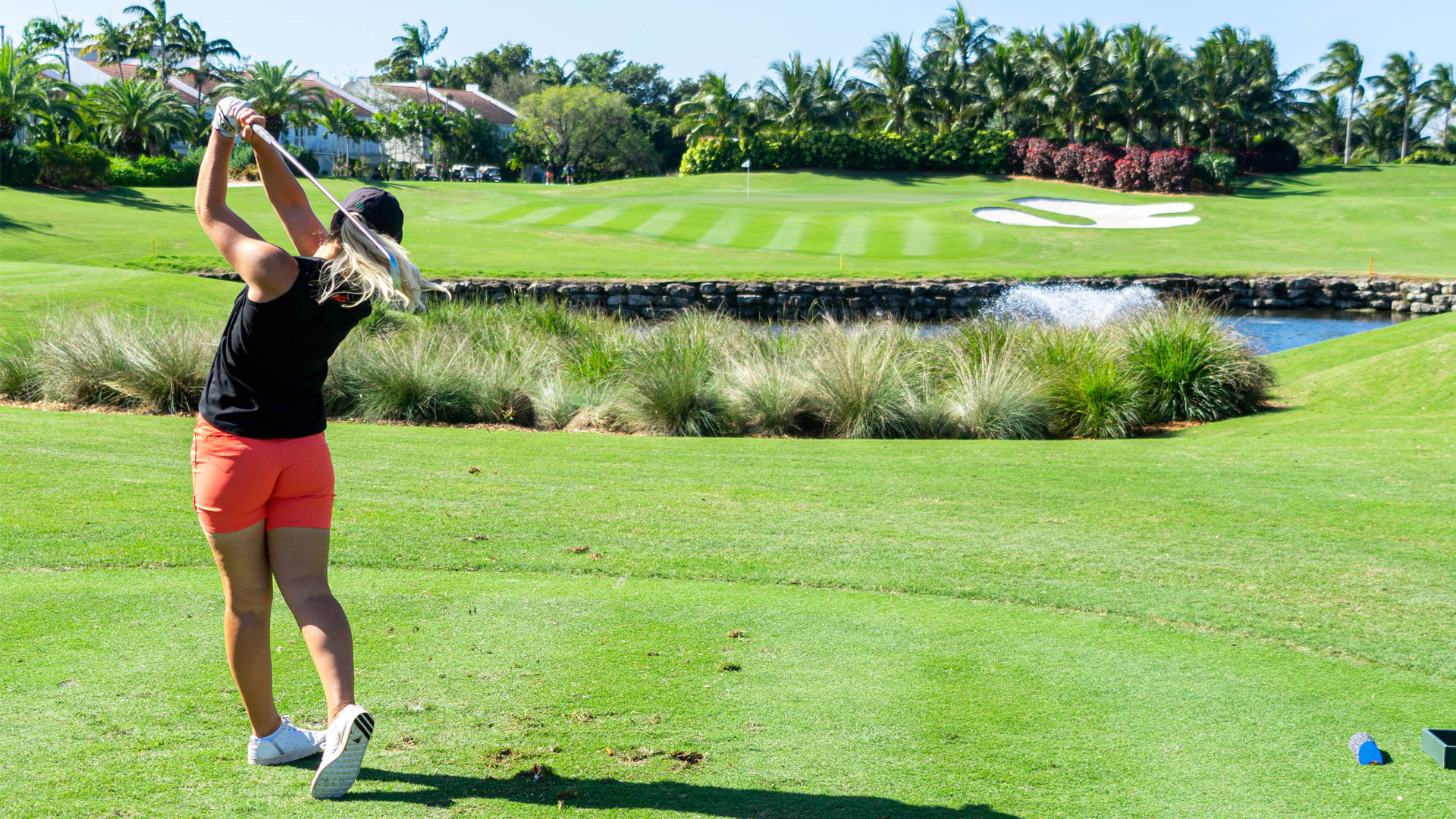 By Christy Cabrera Chirinos
HurricaneSports.com
CORAL GABLES, Fla. – Renate Grimstad knew she had the message – and the platform.
What the golfer could not have imagined as she took the stage earlier this year at Miami's Celebration of Women's Athletics was just how much she'd open up while sharing her message.
In front of hundreds of the event's attendees – including her fellow student-athletes, coaches from across the athletic department, Hurricanes fans and even Jill Ellis, the former coach of the United States women's national soccer team – Grimstad emotionally detailed how, for years, she'd allowed the negativity she'd encountered on social media infiltrate her psyche.
She recounted how much it had affected her when people criticized her appearance. She shared how the nastiness directed her way made her question herself. And as she fought back tears, Grimstad acknowledged some of the comments were so brutal they even affected her play on the course.
She was struggling – until she found help and learned to drown out the critics.
"There were definitely moments where I had to really fight through a lot of doubt and a lot of guilt for not being somebody I thought that I wanted to be and trying to lose weight, to be skinnier, to fit into certain outfits and to wear makeup. I changed my voice, even," said Grimstad, who like hundreds of Hurricanes student-athletes has had her career paused in the wake of the COVID-19 pandemic. "I remember people telling me I should smile more and  maybe have my voice go a pitch higher. I was shamed for all of it."
She continued, "And I realized after a while how messed up it is that all these people were telling me to be something I'm not. Those people were just trying to put me in a box I didn't belong in. … I felt I had this need to fight against stereotypes for women, but internally, I wanted all of that. I would delete images from Instagram if they didn't get enough likes. And I would try to lose weight to look skinnier and get more attention. There was a battle going on inside me and one of the most powerful things that I did was actually seek help.
"I knew I needed to talk to somebody and I think that's something we need to be open about."
That willingness to open up about her struggles made a  difference.
Not only did Grimstad find a place of peace after getting the help she needed, she learned to accept herself – something she knows made a difference when she opened the 2020 season with a dominant performance at the UCF Challenge.
The native Norwegian posted a 14-under par 202 in the three-day event to win her first collegiate title. Weeks later, her top-30 finish helped the Hurricanes place second at the Allstate Sugar Bowl Intercollegiate tournament. She garnered ACC Golfer of the Month honors for February and seemed poised to finish her final season in Coral Gables on a high note.
Then, a global pandemic changed everything.
In recent weeks, Grimstad has had to deal with the harsh reality of her season ending after the NCAA made the decision to cancel all winter and spring championship events.
Like every student at the University of Miami, she's had to adjust to online and distance learning because the picturesque Coral Gables campus she fell in love during a recruiting visit is now closed.
With non-essential businesses across South Florida also closed and social distancing becoming the new normal for millions across the globe, Grimstad has had to deal with losing access to both the gym and the golf course, places that have been her sanctuaries in the past.
Worse, she's an ocean away from her family, including her parents Rolv and Anita, who came to watch her play in the Hurricane Invitational earlier this month and are now under quarantine in Norway, and her pregnant sister Catrine, who works at a Norwegian hospital.
It has all, as one might imagine, taken a toll on Grimstad. But the senior says some of the tools she learned during her journey to this point have helped.
So, too, have frequent phone calls from her parents, Hurricanes golf coach Patti Rizzo, assistant coach John Koskinen and support from both her teammates and her boyfriend.
"My mind's been everywhere, but I guess that's the same for everybody," Grimstad said. "The team talks every day, trying to keep each other positive and trying to keep the energy going. But it's hard for everybody. I had a lot of people reach out to me because I'm a senior and I got off to a really good start this semester, so people were reaching out sort of saying 'This is not fair' and I had a couple moments myself lately where I thought with all the good that was happening that something would come crashing down eventually. … I know I'm having a reaction to this, but the good thing now is that I have tools I can use to cope."
And though their in-person contact has been limited in recent weeks, Rizzo saw, more than once this season, how Grimstad's new outlook has made a difference for the golfer.
"It's been all about growth. In four years, she's done a full circle," Rizzo said. "She was very insecure when she came into college, questioning her looks, her thoughts, her decisions. She was always comparing herself to others on the team. … But, I used to say to her, 'You have to be ready to be great. You have to think you're great and it has to be pretty much all about you. You can't care what other people think.' … It was a long road for her to rebuild herself and turn herself around. … Now, she's one of two seniors on the team and she's our number one player and she really is in that leadership role I thought she could fill. She's giving her team encouragement and she's done a great job. I'm very proud of her."
As to what's next in her journey, Grimstad is unsure.
Like many seniors participating in spring sports, she's waiting to see what the NCAA will ultimately decide when it comes to the possibility of eligibility relief. She says she'd like to have the chance to finish her college career the way she'd hoped.
Beyond that, she wants to one day, go to qualifying school and earn a spot on the LPGA Tour.
Whatever happens next, Grimstad says the lessons she's learned over the last few months will continue making a difference. And as her platform grows, Grimstad is determined to keep sharing her story to make sure other young women – whether they are athletes or not – understand the dangers of placing too much importance on social media.
"What you do and what you look like don't determine what's good enough," Grimstad said. "Who you are determines what's good enough and you are good enough. Every girl is good enough, exactly how they are."