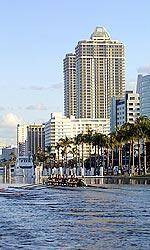 March 20, 2003
The University of Miami rowing team will pilot the Dr. Donna E. Shalala for its first competition against UConn at Miami Beach Saturday at 7 a.m.
A Vespoli Millennium 2 design, the Dr. Donna E. Shalala is a 56-foot, 198-pound, state of the art racing shell made completely of carbon fiber. According to UM coach Debra Morgan, the model is the "best racing shell manufactured in this country and, arguably, the world."
The craft is named in honor of University of Miami President Donna E. Shalala.
Shalala, who is in her second year as UM president, has been a strong supporter of Hurricane athletics.
The Hurricanes' race against UConn will also be their first official competition of the season.
Last season, the Hurricanes raced both UConn and West Virginia and took first (7:22.75) in the Varsity Eight. The Huskies placed second (7:30.65) and West Virginia took third (7:41.71).
UM and UConn also raced in the WJV8 and the W3V8. The Hurricanes placed first in both with times of 7:38.29 and 7:46.90 respectively. UConn's squads recorded times of 7:50.16 and 8:01.96.
" Both the UM and UConn teams are probably about the same as last year – with the exception of the fact that our novice eight will probably beat UConn's this year – we hope to win" UM coach Debra Morgan said. "The race we are most likely to struggle in is the WJV8 -that's the one that is making me nervous."
The Hurricanes are hoping for another solid season, but Morgan remains cautious due to the team's overall youth and inexperience.
"We are guardedly optimistic about this season," she said. "We graduated nine seniors who were key players in the team's past successes. We brought in seven recruits this year (four rowers and three coxswains) who are performing well. However, five of them are competing in the novice eight this year. The other two are freshmen coxswains that are coxing the V8 and the JV8. We only have two seniors on the varsity squad so we're a young team. Regardless, both the varsity and jv8's have performed well in two pre-season scrimmages so I am excited for the official 2k races to begin."
UM vs. UConn schedule
March 22, 2003
DRAFT UPDATED MARCH 21
Time
Event
Lane 1
Lane 2
Lane 3
8:00 a.m.
WV8
UM
UConn
8:20 a.m.
WJV8
UConn
UM
8:40 a.m.
WN8
UM
UConn
9:00 a.m.
W2ndN8
UConn
UM
9:20 a.m.
WV4
UM
UConn
UM
9:40 a.m
Break
Break
Break
10:00 a.m.
W2ndN4
UM
UConn
10:20 a.m.
WJV4
UConn
UM
10:40 a.m.
WN4
UM
UConn
*The start times of the fours may be slightly delayed due to boat sharing
UM Line up
Varsity 8+ (WV8+)
Jessica Martin (coxswain)
Jacqui Julien (stroke)
Jenny Krawec
Ananda Chou
Bridget Gallagher
Rachel Sander
Caroline Stuart
Margaret Knuth
Jordanna Heywood (bow)
Second Varsity Eight (W2V8+)
Megan Gallacher (coxswain)
Dorothy Clay (stroke)
Anna Cohen
Julie Crane
Elizabeth Miller
Deirdre Curran
Sara Grossman
Yennisha Pino
Yassi Haririnia (bow)
Novice Eight (WN8+)
Laura Comeau (coxswain)
Ashley Marincsin (stroke)
Taurii Coyne
Rachel Clausing
Jenny Dunning
Mackenzie Dove
Katherine Sullivan
Cody Bucher
Jaquelene Heywood (bow)
Second Novice 8+ (W2N8+)
Menna Haider (coxswain)
Aileen Kim (stroke)
Alexis Strimenos
Veronica Diaz
Kiki Moschella
Victoria Schwartz
Amy Williams
Lindsey Hall
Colleen Block (bow)
Varsity 4+ (WV4+)
Jessica Martin (coxswain)
Jacqui Julien (stroke)
Jenny Krawec
Ananda Chou
Caroline Stuart (bow)
Varsity 4+ (WV4+)
Megan Gallacher (coxswain)
Rachel Sander (stroke)
Jordanna Heywood
Anna Cohen
Deirdre Curran (bow)
Second Varsity 4+ (W2V4+)
Megan Gallacher (coxswain)
Margaret Knuth (stroke)
Dorothy Clay
Mary Radlinski
Melissa Saunders (bow)
Novice 4+ (WN4+)
Laura Comeau (coxswain)
Rachel Clausing (stroke)
Jenny Dunning
Cody Buchser
Jaquelene Heywood (bow)
Second Novice 4+ (WN4+)
Seema Gohil (coxswain)
Keri Bolden (stroke)
Whitney Drucker
Denise Neale
Dana Tolle (bow)
The Hurricanes race again April 5 at the Florida State Championships in Tampa, Fla. and the Varsity Eight only race April 5-6 at the San Diego Crew Classic. Look for the results on hurricanesports.com.