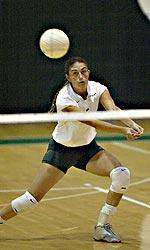 Dec. 6, 2002
MADISON, Wisc. (www.hurricanesports.com) – – The University of Miami volleyball team had an answer for every offensive move by Duke Friday night in the Wisconsin Field House in Madison, Wisc. On defense, the Hurricanes frustrated the Blue Devils to a -.029 team hitting percentage on their way to a 3-0 win and a ticket to the second round of the NCAA Tournament.
Despite the formidable block the Blue Devils were able to present, the Hurricanes also unexpectedly outblocked the Atlantic Coast Conference team 12.5 to 8.
"I'm really proud of how my team prepared and executed (for this match)," Miami coach Nicole Lantagne Welch said. "They played with a lot of heart against a very good Duke team."
Duke played with a spirited effort in the first game, but still fell 30-25. The Hurricanes dominated both the second and third, winning those games 30-18 and 30-20 respectively.
Despite the youth of her team, Lantagne Welch said that she "had a feeling (UM was) ready" for the high pressure of the NCAA Tournament.
Sophomore outside hitter Biz Tyson (Jacksonville, Fla.) was among the Hurricanes' stars in the match.
Through the first two games, she led the Hurricanes with 12 kills and a .409 hitting percentage. She went on to finish the match with 14 kills and a .265 hitting percentage.
Senior outside hitter Marcela Gamarra (Medellin, Colombia) provided the consistent solid play the Hurricanes have come to expect from her. She finished the contest leading the team in kills with a match high 15 and with a match high .268 hitting percentage.
On defense, libero Jamie Grass (Manhattan Beach, Calif.) led with a match high 19 digs, while Valeria Tipiana (Lima, Peru) had 14 and Tyson had 13.
At the net, Robin Lewullis (Allentown, Pa.) had seven block assists, while Tipiana had six.
With the win, the Hurricanes advance to the second round of the NCAA Tournament.
For more information on University of Miami athletics log on to its websitewww.hurricanesports.com, the official site for all Hurricane news, ticketsand apparel. For Hurricane ticket information call 1-800-GO CANES.