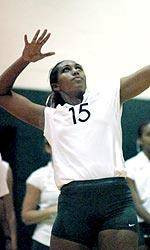 Nov. 3, 2002
CORAL GABLES, Fla. (www.hurricanesports.com) – – The University of Miami volleyball team improved its position in the hunt for a BIG EAST Tournament berth Sunday with a decisive win in the Knight Sports Complex over a strong Conneticut team.
The Huskies (11-13 overall, 6-3 in the BIG EAST Conference) arrived with somewhat of a size advantage along the net, but the Hurricanes (21-3, 7-2) countered with quick strikes from the service line and superior passing.
"(UConn) has a very nice block," Miami coach Nicole Lantagne Welch said. "They do a good job of sealing the net and we just had to try to swing higher and go off of their hands a little bit more and try to use it little bit more to our advantage instead of trying to go right into it. I think we made some nice adjustments that way. We also started covering better and giving ourselves second and third opportunities to get a kill."
The Hurricanes rolled through the Huskies in the first two games by scores of 30-22 and 30-18. In the final game, the Huskies improved their attack, but eventually succumbed 30-27.
"I think we won the serving and passing game today," Lantagne Welch said. "We served very aggressive and we passed very well and that was huge for us to come out with the win."
The Hurricanes racked up nine aces in the three games of play, while allowing only one, and sophomore setter Mallorey James (Tucson, Ariz.) generated a match high 41 assists.
Hurricane senior outside hitter Marcela Gamarra (Medellin, Colombia) hit for a match high 15 kills and also chipped in a match high 11 digs. Her hitting percentage also topped all competitors at .387.
Biz Tyson (Jacksonville, Fla.) had 14 kills for UM and Valeria Tipiana (Lima, Peru) had 10.
Melissa Wooley led the Huskies with 12 kills.
UM's next match will be Friday, Nov. 8 at Pittsburgh followed by another road match at West Virginia Sunday, Nov. 10,
For more information on University of Miami athletics log on to its website www.hurricanesports.com, the official site for all Hurricane news, tickets, and apparel. For Hurricane ticket information call 1-800-GO CANES.