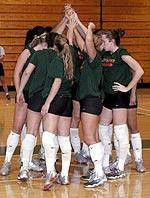 Sept. 20, 2002
The University of Miami women's volleyball team (10-0) hosts the Florida Atlantic Owls (5-9) Friday night at 7 p.m. at the Knight Sports Complex.
The Hurricanes, who hold the nation's longest win streak at 21 matches dating back to Oct. 5, 2001, are coming off three consecutive invitational championships at FIU last weekend, the Hurricane Invitational (9/6-7) and the Wichita State Classic (8/30-31).
At the FIU Fall Volleyball Classic, Miami swept its three matches with ACC-power Florida State (3-2), IUPUI (3-0) and the host Golden Panthers (3-0). The victory over the Lady Seminoles was arguably the top win in the programs' brief history, followed by a crucial win over FIU for the tournament title. Last season, both FSU and FIU claimed victories over Miami, with the loss to FIU being UM's last recorded defeat.
In the Hurricane Invitational, Miami swept its three matches with Howard, Oregon and Fordham. To start the season, Miami defeated New Mexico State, Georgia, Stephen F. Austin and Wichita State at the Shocker's tournament.
Last weekend in Boca Raton, FAU went 2-3 in competition with wins over Stetson and Bethune-Cookman coupled with losses vs. Georgia Southern, Xavier and South Florida.
Defensively, Miami is second among BIG EAST teams in average digs per game with 577 in 35 games (16.49 per game). Sophomore libero player Jamie Grass is third in the BIG EAST in digs with 4.11.
The Hurricanes also have the most assists in the BIG EAST Conference with 519 (14.83 per game).
On offense, Miami is the leader among BIG EAST Conference teams with 591 kills (16.89 per game) and is second behind Notre Dame in hitting percentage (.255).
Senior outside hitter Marcela Gamarra leads the BIG EAST in kills with 4.43 per game (155 overall).
Gamarra is the only senior on a roster that is dominated by freshmen and sophomores just beginning to come into their own.
Freshmen middle blockers Karla Johnson and Robin Lewullis are both among the top 10 in the BIG EAST in blocks.
For more information on University of Miami athletics log on to its newly designed website www.hurricanesports.com, the official site for all Hurricane news, tickets and apparel. For Hurricane ticket information call 1-800-GO CANES.