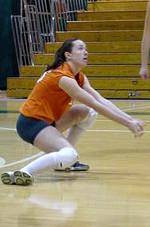 Sept. 15, 2002
CORAL GABLES, Fla. (www.hurricanesports.com) – – CORAL GABLES, Fla. (www.hurricanesports.com) – The University of Miami volleyball (10-0 overall, 0-0 in Big East play) remains undefeated after sweeping the competition at the Florida International Fall Volleyball Classic Friday and Saturday within the confines of Golden Panther Arena.
After victories over Florida State (3-2) and IUPUI (3-0) Friday night, the Hurricanes toppled host Florida International University 3-0.
Miami won the first game over the cross-city rival Golden Panthers 30-22, the second 30-20, and the third 30-27.
FIU was the last team to defeat UM last season October 5, 2001. Since then, the Hurricanes have won 20 consecutive matches.
Hurricane outside hitter Valeria Tipiana (Lima, Peru/Cristo Rey Catholic HS) was selected as the tournament MVP. A former Big East Player of the Week, Tipiana led UM with a match high 16 kills in the win over FIU and generated a .464 kill percentage.
Senior outside hitter Marcela Gamarra (Medellin, Colombia/Miami-Dade CC) followed with 14 kills and had 14 digs on defense.
Sophomore Libero player Jamie Grass (Manhattan Beach, Calif./Mira Costa HS) led the Hurricanes' defense with 21 digs and freshman setter Margie Young was credited with 44 assists. Freshmen middle blockers Robin Lewullis (Allentown, Penn./Allentown Central Catholic HS) and Karla Johnson (Houston, Texas/Westfield HS) both had solid games, knocking down six and eight kills respectively. Lewullis assisted on six blocks.
UM's next contest will be Friday, September 20 in the Knight Sports Complex on the Coral Gables Campus.
Those seeking information regarding the 2002 Hurricane Invitational or any other volleyball event this season should call 1-800-GO-CANES.