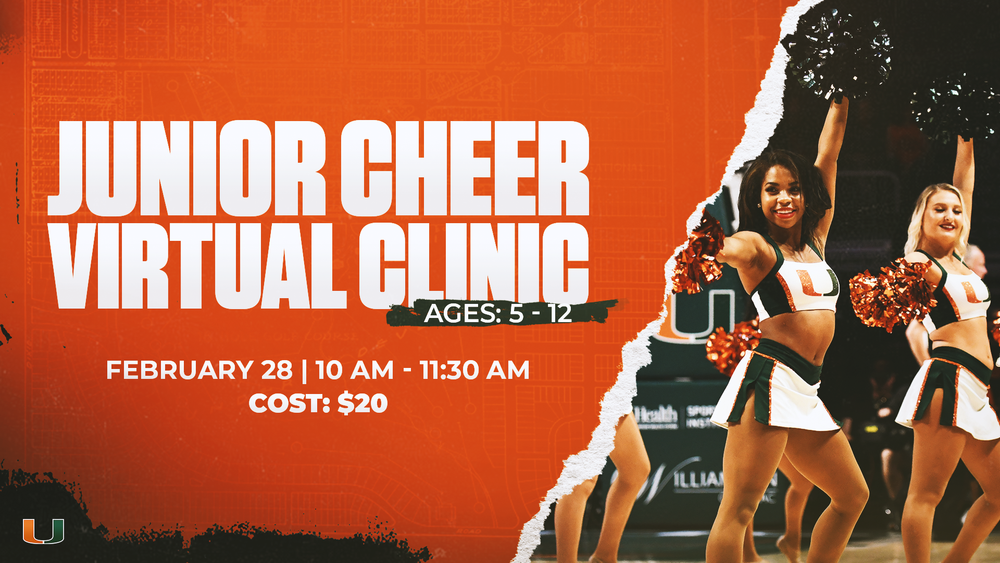 The Miami Hurricanes Cheerleaders and Dancers are hosting a Junior Cheer Virtual Clinic on February 28th at 10 AM.
The virtual clinic costs $20 per participant and will be around an hour and a half in duration. Ages of participants range from 5- 12 years old.
The students will learn the following:
– Warmup
– 3 cheers
– Jumps (pencil, tuck, and toe touch)
– Flying positions (lib, arabesque, heel stretch)
– Miami fight song
You will receive an email the night before the event with details on how to virtually attend. If you have any questions or do not receive an email, please reach out to Danielle White at dnwhite@miami.edu
To purchase visit: https://fevo.me/canescheerclinic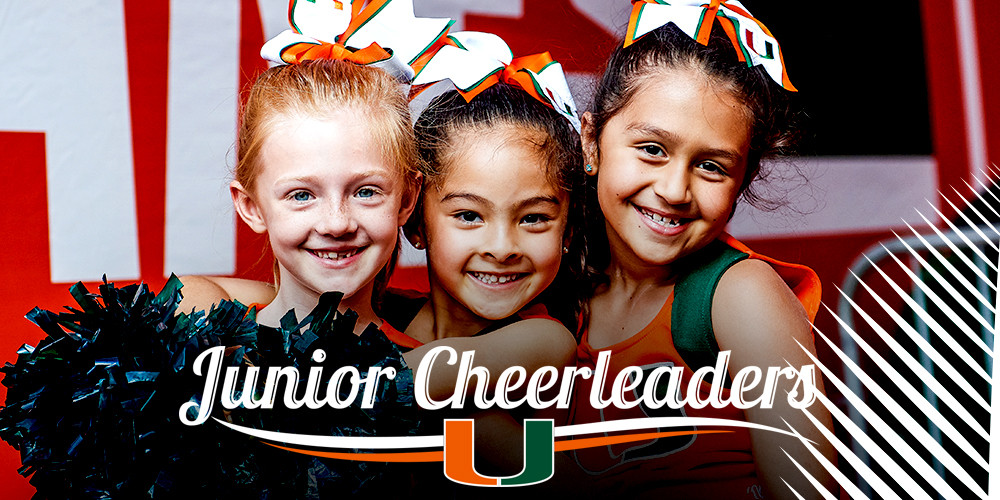 Qualifications:
The Hurricanes Junior Cheerleaders program is an instructional and performance opportunity for cheerleaders and dancers in 1st – 6th grade and is limited to the first 150 registrants. Participants are required to attend all practices and performances. Routine material will also be available online after the first practice. A guardian for each child must complete this release form prior to the start of camp.
Fall Practice Schedule:
TBD – Uniform Fitting
TBD – 2pm-4pm – Practice #1
TBD – 2pm-4pm – Practice #2
TBD – 2pm-4pm – Practice #3
*Practice dates and times are subject to change
*We encourage your child to wear comfortable clothing, sneakers, and to bring a water bottle for each practice
*Spectator seating will be provided for parents
Performance Dates:
TBD – Hurricanes Football v. TBD (Kickoff Time: TBA)
Location: Hard Rock Stadium (347 Don Shula Dr, Miami Gardens, FL 33056)
Check-in: 90 minutes prior to kickoff time
Performance: On field at halftime
Men's Basketball Performance Date & Time: TBA
Program Cost:
If spaces for the Junior Cheerleader performance experience become available, we will also allow additional participants to register for the Fall Program (uniform fitting + two practices). The program fee is $285 per child.
The program includes:
Hurricanes Junior Cheerleaders uniform (top, skirt, bloomers & bow)
Pom-Poms
(2) Football Performance Day Game Tickets – (1) ticket for participant & (1) for guest/parent
(1) Men's Basketball Performance Day Game Ticket – (1) ticket for participant Online Video Footage of Halftime Performance
Online Video Footage of Halftime Performance
Routine taught by Hurricanes Cheerleaders & Sunsations Dance Team along with other Cheer Technique
*Additional seats for other family members and friends will be available for purchase
Questions? Please contact Danielle White, Associate Director of Marketing, at (305) 284-3382 or dnwhite@miami.edu.