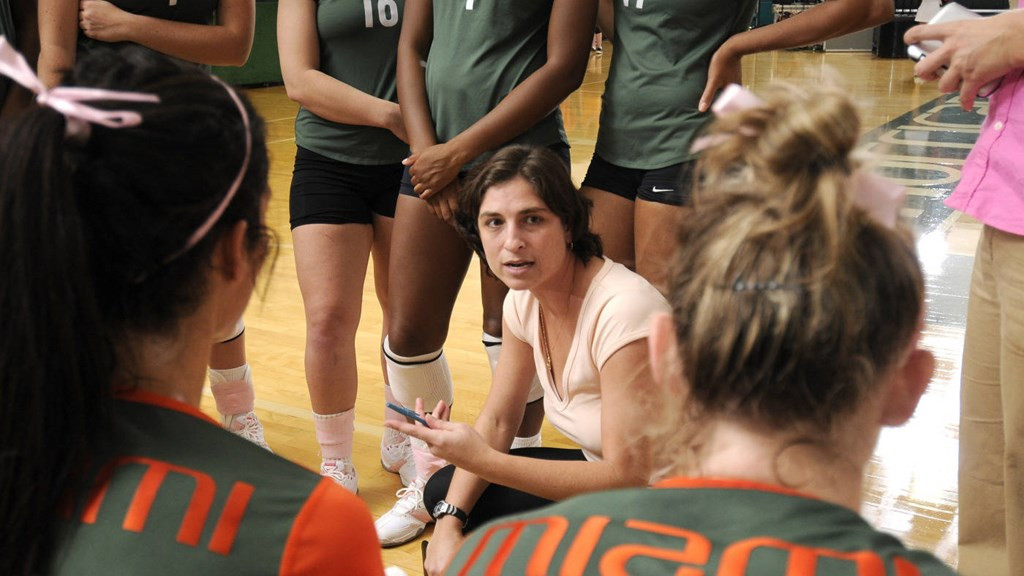 Volleyball History
After 28 seasons of competition, the University of Miami volleyball program has produced a winning record of 540-325-1. The Canes have made nine appearances to the NCAA Tournament, with the highlight of those appearances being the NCAA Regional Semifinal in 2002.
Miami has produced three ACC Players of the Year in 16 seasons in the conference – Lane Carico, Savannah Leaf and Olga Strantzali. The Canes finished as runners-up to Florida State after the 2011 and 2012 seasons, the best finishes since joining the league. In 2017, Miami finished third in the conference after Louisville and Pitt tied for first.
Miami has led the conference in hitting percentage twice, kills per game (twice), blocks, digs and assists per game (once), and aces per game three straight seasons from 2017-2019. The Canes have also recorded 35 All-Time All-ACC selections, four All-Time All-Freshman Selections, four AVCA All-America Selections, four ACC Scholar-Athlete of the Year winners, two ACC Freshman of Year award winners and two Coaches of the Year winners.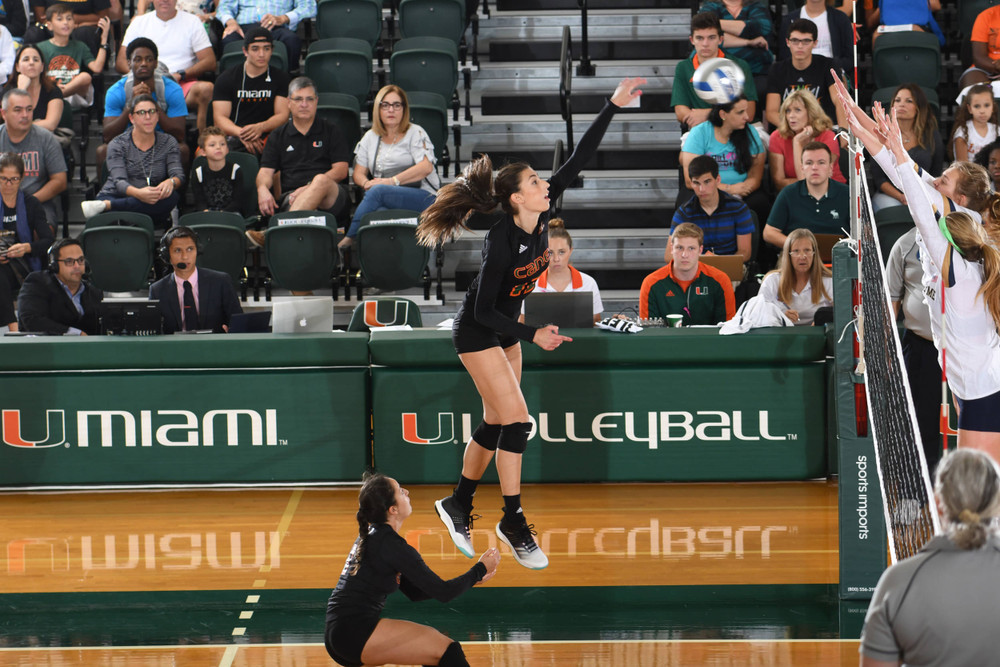 The volleyball program began in 1973 under the direction of Chris Bell.
Bell, was at the helm of the volleyball program for two seasons and finished with a 17-17 record.
Shortly after, Carol Smith took over for one season in 1975, finishing 12-15.
For the next two seasons, Sue Uscier went 30-20 from 1976-77.
Prior to the program being suspended in 1982, Cheryl Holt led the Canes for four seasons.

Holt finished with a .652 win percentage and a 116-61-1 record.
Holt now ranks as the third-most winningest coach in UM volleyball history.

There was no Miami Volleyball program from 1982-2000.
Hurricanes volleyball returned in 2001 under the direction of Nicole Lantagne-Welch. Lantagne-Welch led the Canes for 12 seasons and has the best winning percentage in Miami history at .669 (243-120).

Miami made its first NCAA appearance under Lantagne-Welch in 2002 while the Canes competed in the Big East conference.
No. 24 Miami defeated Duke 3-0 in the first round of the NCAA Tournament, followed by a 3-1 win over Wisconsin. Miami fell to No. 4 Nebraska

Miami's ranking was the first top-25 ranking since the restoration of the program

Miami held a 26-match win streak over the first two seasons back.

Miami played its first season in the ACC in 2004 and finished 17-9 overall, 11-5 in conference.
The Canes finished with its second-most wins under Lantagne-Welch in 2008 with a 26-6 record.
Miami returned to the NCAA tournament in 2009 for the first time in seven seasons, but fell in the first round to FIU, 3-2.
Miami made back-to-back runs to the NCAA tournament in program history in 2010. Miami dropped a five-set thriller to Indiana, 3-2.
In 2011 & 2012, Miami finished as the runner-up in the conference back-to-back seasons to Florida State.
From 2008-2011, Lane Carico tallied 1,749 career kills, a Miami program record.
Lane Carico is one of Miami's most-decorated student-athletes

One of the most decorated freshman in Miami history – 2008 All-ACC Academic Team Honors, AVCA All-America honorable mention, AVCA East Region Freshman of the Year, AVCA All-East Region Team, ACC Freshman of the Year, All-ACC Second Team
Named to All-East Region Team – 4x
High All-America Player in school history
First ACC Player of the Year in Miami history
All-ACC Team – 4x
2x – All-America honors

The Hurricanes reached the NCAA Tournament for seven straight seasons from 2009-2015, including two appearances in the Second Round.
Current head coach, Jose "Keno" Gandara, was hired in 2013, finishing with a 19-12 record and a NCAA First Round appearance.

In his first three seasons, Gandara posted three winning seasons and three NCAA tournament appearances.
Savannah Leaf – 2012-2014

Productive offensive power house for the Canes leading Miami in her final two seasons in kills and service aces
Finished her historic career as:

2x All-ACC First Team Honoree (2013 & 2014)
Senior CLASS All-America Second-Team honoree and Senior CLASS Award Finalist
2014 Capitol One Academic All-District First-Team & Capitol One Academic All-America Second-Team
2014 AVCA East Coast All-Region honoree
2014 ACC Player of the Year (2nd in Miami history)
2014 AVCA All-America Second-Team

Under Gandara, Olga Strantzali became one of the most dominant offensive performers for the Canes

In 2017, Strantzali was named ACC player of the Year, third player in program history, ACC Volleyball Scholar-Athlete of the Year, AVCA East Coast Region Player of the Year, earned All-America Honorable Mention, and named to the All-ACC First Team
In three seasons with Miami, registered the third-most career kills with 1,448 and most service aces (142) in program history.

Miami returned to the Second Round in the NCAA Tournament in 2018, finishing the season 22-6.
Haley Templeton became one of the best setters in program history from 2014-2018

Third-most career assists in program history (4,632)
4x Preseason All-ACC honoree
2x All-ACC First-Team honoree (2018 & 2017)
2x All-ACC Second-Team member (2014 & 2015)
2018 AVCA All-East Coast Region selectee
2017 All-ACC Academic Team; AVCA All-East Coast Region honoree, AVCA All-America Honorable Mention
2015 All-ACC Academic Team member; AVCA All-East Coast Region Honorable Mention
2014 ACC Freshman of the Year; All-ACC Freshman Team; All-ACC Second-Team; AVCA East Coast Region Freshman of the Year

After 2019 season, Gandara has produced eight First Team All-ACC selections, eight Second-Team honorees, two ACC Players of the Year, one ACC Freshman of the Year and two ACC All-Freshman team honorees.
2020 season featured four freshmen in the starting lineup, including Savannah Vach who was named to the ACC All-Freshman Team

Vach ranks sixth in Miami history with 1,028 career assists and 13th in assists per season after freshman campaign
Kennedy Prince (FR) – recorded second-most kills by a freshman (303) in Miami history since Lane Carico's 369 in 2008