Golf History
One of the most recognizable programs in all of collegiate golf, the University of Miami has collected 10 pieces of hardware dating back to its first in 1959, and is represented by 22 individual All-Americans.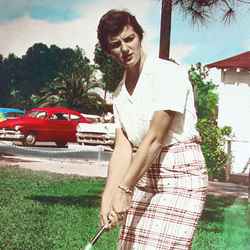 As a team Miami owns five national championships (1970, 1972, 1977, 1978, 1984), while individually, Judy Eller-Stree (1959), Roberta Albers-Speer (1965), Ann Laughlin (1972), Cathy Morse (1977) and Penny Hammel (1983) were each crowned champions.
From 1970-98 Miami found continuous success on collegiate golf's biggest stage, reaching the AIWA/NCAA Tournament 29 consecutive seasons. In addition, from 1959-1994 Miami earned 32 All-American honors, while Tracy Kerdyk was named NCAA Player of the Year in 1988.
Miami returned to national prominence following the hiring of two-time All-American (1981, 1982) and 20-year veteran on the Ladies Professional Golf Association (LPGA) Tour, Patti Rizzo, when she took the reins prior to the 2010-11 campaign.
Over the course of 10 seasons Rizzo and assistant coach John Koskinen have reached NCAA Regionals seven consecutive seasons (2013-19) and the NCAA Championship twice. They have coached a trio of All-Americans while also re-writing the program scoring record book.
Most recently, the Hurricanes were led by WGCA Second Team All-American, 2020 Dinah Shore Trophy Recipient and program record holder (71.00 season scoring average), Renate Grimstad, during the 2019-20 season.
INDIVIDUAL NATIONAL CHAMPIONS
Judy Eller-Street, 1959
The very first University of Miami All-American in women's golf, and native of Old Hickory, Tenn., Eller-Street enrolled as a non-scholarship athlete at UM in 1958. Eller-Street soon became a dominant force throughout the intercollegiate scene. In June 1958, she became the first Hurricane female athlete to win an individual championship, capturing the U.S. Women's Amateur Title.

Roberta Albers-Speer, 1965
Albers-Speer enrolled at the University of Miami in 1965. As a freshman, she would earn All-America honors and win the 1965 National Collegiate Women's Golf Championship as an individual. In 1967 she would earn All-America status for the second time and was the runner-up for the individual championship. Albers-Speer would be the second woman to ever be inducted into the UM Sports Hall of Fame in 1984.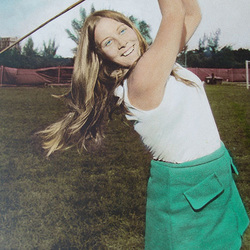 Ann Laughlin, 1972
Ann Laughlin, a native of Riverton, N.J., became the first Hurricane – and first freshman – to win the AIAW national crown in 1972 with a 72-hole score of 310, while also leading the Hurricanes to a team National Championship in the same tournament. Laughlin captured the 1972 title by sinking a 30-foot putt on the final hole to secure the two-stroke victory over Florida State.

Cathy Morse, 1977
In June 1977, playing at the Kuilima Country Club, Cathy Morse would fire rounds of 73-76-74-76 for a then-school-record 299 and a two-stroke victory in the AIAW National Championship. She became the fourth of Miami's five National Champion women's golfers in a 20-year span.

Penny Hammel, 1983
After a career-threating car accident, in which she suffered a broken left wrist a week before the NCAA Championship, Penny Hammel fought to capture the program's fifth individual National Championship in 1983. Hammel began the third round of the tournament three strokes behind the leaders before entering the last round tied for the lead. She then shot a 5-under 69 in the final round for a six-stroke victory and the individual national crown.