University of Miami Athletics
Sanja Tomasevic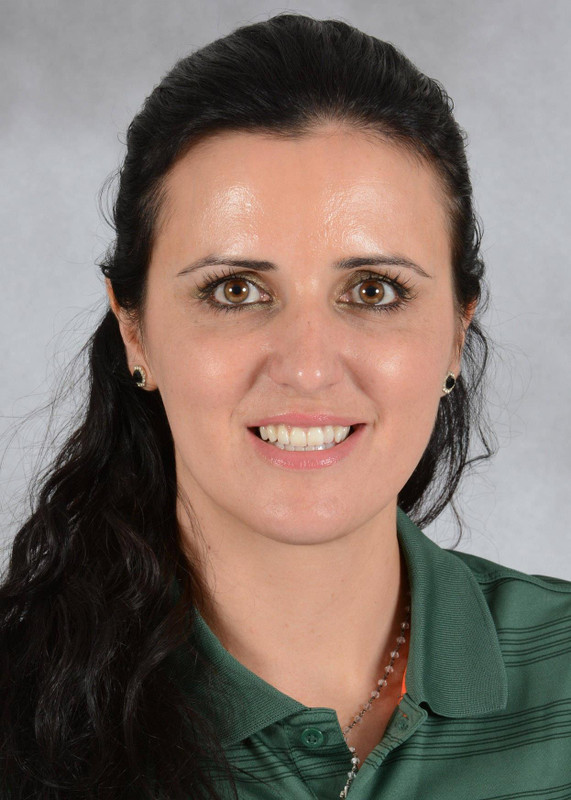 Sanja Tomasevic joined the Miami volleyball staff on February 17, 2014, accepting an assistant coaching position.
Tomasevic helped the Hurricanes reach the NCAA Tournament for the second straight year, as Miami faced Iowa State in a first round match in Madison, Wisc. The Canes finished the season 21-10 and 14-6 in the ACC, with Miami reaching 20 wins for the second straight season. The Hurricanes had saw seniors Alexis Mourning and Taylor Scott, as well as sophomores Olga Strantzali and Haley Templeton, named to the 2015 All-ACC Second Team with Strantzali and Templeton also earning AVCA All-East Coast Region Honorable Mention.
In her first season at Miami, Tomasevic helped the Canes reach the NCAA Tournament for the sixth consecutive season in 2014 and seventh time in program history. The Hurricanes, who finished the season 22-9, defeated UCF in five sets in the first round of the NCAA Tournament. 
Miami reached the second round of the NCAA Tournament before falling to No. 8 Florida in four sets. But Tomasevic helped develop several players to reach unprecedented levels of success.
Senior outside hitter Savanah Leaf was named 2014 ACC Player of the Year and a second team AVCA All-American, while freshman Haley Templeton earned ACC Freshman of the Year honors. Leaf was joined by senior middle blocker Emani Sims on the All-ACC First Team, while Templeton was picked for the All-ACC Second Team and the All-ACC Freshman Team. The accolades continued for the trio as Leaf and Sims were named AVCA East Coast All-Region selections and Templeton was tabbed as the AVCA East Coast Region Freshman of the Year.
The development of Leaf, Sims, Templeton and their Hurricane teammates supports the excitement Miami head coach Jose "Keno" Gandara expressed when Tomasevic joined the Hurricane family.
"I am excited to welcome a coach of Sanja's caliber to our program," Gandara said. "She has competed at the highest levels of collegiate volleyball, as well as both internationally and professionally. Sanja has now been successful in collegiate volleyball as a player and as a coach."
Tomasevic comes to Miami from Texas-San Antonio (UTSA). She spent two seasons as an assistant coach and recruiting coordinator for the Roadrunners after successful professional and collegiate volleyball careers.
"I started coaching a year and a half ago and it's been a dream of mine to work with Keno and for an institution like the University of Miami," Tomasevic said. "I feel like my career is just taking off having the opportunity to work with Keno at UM and working at one of the top academic and athletic institutions in the country is a dream come true."
Gandara coached Tomasevic in his first season as an assistant coach at the University of Washington and helped develop her into one of the greatest players in Huskies volleyball history.
A two-time All-American and the 2005 Asics and CVU.com National Player of the Year at Washington, Tomasevic led the Huskies to four NCAA tournament appearances, including the 2005 National Championship, and a pair of Pac-10 Conference titles.
The former outside hitter ended her collegiate career as Washington's all-time leader in points (2,159.5), kills (1,795) and service aces (156). She is one of only three players in Huskies history to record 1,000 kills and 1,000 digs.
"Sanja has a good understanding of the demands on the players, as well as the challenges involved in developing a team," Gandara said. "She is very familiar with the mechanics we want to utilize and she knows our system. She knows how we want to play the game and most importantly she knows how to teach the game."
While she was a standout on the court, she has also excelled in her two seasons as a coach.
This past season, UTSA finished 24-8 overall and 13-1 in Conference USA. The Roadrunners were the C-USA champions and earned the conference's automatic bid to the NCAA tournament, where they dropped their first round match to Texas A&M in three sets. Tomasevic helped develop McKenzie Adams into the 2013 Conference USA Player of the Year and a third team AVCA All-American. Under Tomasevic's tutelage, Adams earned All –Southwest Region honors, All Conference USA accolades and she was also the NCAA Division I statistical champion for kills per set with a nation-best 5.78.
"I have worked with outside hitters and liberos because that's what I played, but I am excited to work with any position," Tomasevic said. "As a coach, I want to grow and I know Keno is great at teaching and developing that."
In 2012, Tomasevic helped the Roadrunners to a 21-9 overall record and a 13-5 mark in the Western Athletic Conference (WAC). UTSA, which tied for second in the league standings, advanced to the WAC Tournament semifinals.
UTSA capitalized on Tomasevic's attacking tutelage en route to leading the league with 14.35 kills per set. Outside hitter McKenzie Adams ranked second in the WAC with 4.33 kills per set and was named an AVCA honorable-mention All-American and the league's Player of the Year. Three other Roadrunners gained postseason honors, including Annie Kunes who was named the WAC Libero of the Year.
"Sanja was a driven player and she has the same drive and determination as a coach and recruiter," Gandara said. "She cares greatly about her players and is committed to helping them reach their goals while at UM and beyond. As a recruiter, she is well connected in the U.S., as well as in Europe, and knows the type of player we are looking for to play in our system. She will be a great resource and a role model for our players. I am so looking forward to having Sanja as part of our staff."
The Serbia native played seven years professionally, including the last two as a co-captain of POMI Casalmaggiore in Italy. She was named to four All-Star Games and was named the Best Server at the 2010 European Challenge Cup. She won three league championships, including back-to-back Greek titles with Panathinaikos in 2009 and 2010.
"Being in the game for so long and playing all over the world, I played with different nationalities and cultures," Tomasevic said. "I have a better insight of what to expect in the mental side of the game from all different types of people."
Tomasevic graduated from Washington in 2006 with a bachelor's degree in communications.