University of Miami Athletics
Rob Jarvis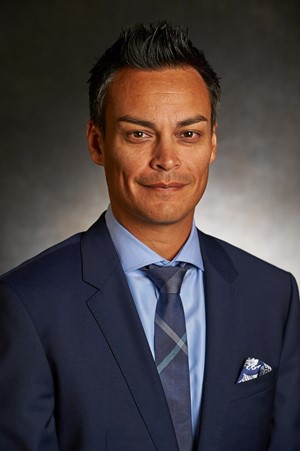 Rob Jarvis joined the University of Miami track and field coaching staff in September 2017, coaching the jumps and multi-events group.
In his first season with the Canes, Jarvis helped five athletes medal at the ACCs (four outdoor and one indoor), coached the ACC Outdoor Women's Field MVP and helped produce top performances in Miami history.
Andreas Christodoulou had a remarkable junior season earning the silver medal at ACC Outdoor Championship in the decathlon, his first as a Cane. His second-place finish also earned him All-ACC honors after scoring 7,271 points. Christodoulou also posted the second-best javelin throw in UM history with a throw of 60.41m.
Junior Michelle Atherley's season was filled with accomplishments including being named the ACC Outdoor Women's Field MVP. Atherley was part of the ACC 4x400m gold medal team, won both the ACC outdoor heptathlon and high jump and was named to the ACC First team in all three events. She went on to finish 21stin the heptathlon at the NCAA Championships and finished the season with Miami's best finish in the heptathlon with 5,816 points.
Celine Thompson was close behind Atherley in the high jump and earned the silver medal at the ACC Outdoor Championship and was named to the ACC Indoor Second Team in the high jump earlier in the season.
Niara Hill finished third at the ACC Outdoor Championships in the women's triple jump and finished with a personal best 12.81 mark, while Amy Taintor posted the third best finish in UM history in the pentathlon and earned the bronze medal at the ACC Indoor Championship. Taintor was also named to the All-ACC First Team in the pentathlon for her performance.
A combined-events and jumps specialist, Jarvis has extensive experience at the NCAA Division I, NAIA and international levels. He served as the volunteer director of operations/volunteer jumps and combined events coach in his most recent stint at UCLA.
Jarvis played a role in helping several jump and multis athletes have success at UCLA. In 2017, four student-athletes scored at the Pac-12 Outdoor Championships and five were NCAA West Preliminary qualifiers. Jarvis also helped Austin Hazel jump a lifetime best of 7.80m/25'7", which moved him to number two on UCLA's all-time indoor list, and also earned him a berth to the NCAA Indoor Championships.
Under Jarvis' tutelage, Isaiah Holmes was named Pac-12 Field Event Athlete of the Year and Pac-12 Freshman of the Year. At the Pac-12 Championships, Holmes was runner-up in the long jump with a lifetime best leap of 7.90m/25'11" (+1.5), moving him to ninth on UCLA's all-time list. Holmes also took fifth place in the triple jump.
Jessie Maduka posted a lifetime best 13.61m/44'7.75" (+1.5) in the triple jump at the German U23 National Championships that moved her to number three on UCLA's all-time list and also earned her a place on Germany's team to compete at the European Athletics U23 Championships in Bydgoszcz, Poland over the summer. Maduka won the UCLA vs USC dual triple jump (13.13m/43'1"), seventh best on UCLA all-time list. Maduka also placed fourth in the Pac-12 triple jump and qualified for the NCAA West Regional in triple jump and long jump (6.15m/20'2").
From 2014-15, Jarvis was an assistant coach at IMG Academy, working under the direction of Loren Seagrave. Jarvis assisted with Seagrave's elite training group and helped build the new IMG Academy track & field program. Jarvis coached the jumps event athletes from various country's federations, specifically Suriname, Brazil, China, and Barbados.
Athletes of note from the IMG based-group included '15 World Champion and Diamond League Champion in long jump Tianna Bartoletta-Madision, '14 European bronze medalist Darya Klishina, '15 Pan American Games silver medalist in triple jump Keila Costa, and CARIFTA Games gold medalist and Suriname national record holder in triple jump Miguel Van Assen.
From 2010-13, Jarvis led the men's combined events and jumps groups at UCLA, helping the Bruins emerge as a premier program in NCAA Division I. Under his tutelage, athletes went on to earn seven NCAA All-American honors, nine NCAA West Region qualifiers,18 Pac-12 Conference meet scorers, as well as one of his decathletes qualifying for the IAAF World Championships. Three of the decathletes are now recognized on UCLA's prestigious All-Time Top 10 List for the decathlon (numbers 3, 7, and 10) and Heptathlon (number 1 and 2).
Prior to joining UCLA, Jarvis was assistant coach for the sprints and jumps groups at NAIA powerhouse Azusa Pacific University (APU, now a member of NCAA Division II) from 2005-10 as the team won a combined eight national championships (five men's, three women's). While at Azusa Pacific he mentored seven individual NAIA National Champions, a combined 49 NAIA All-Americans, and 10 All-American relay teams.
Also while at APU Jarvis assisted the coaching staff of fellow APU alum, Olympic and World Champion Decathlete Bryan Clay, 2008 Olympic Gold Medalist, 2004 Olympic Silver Medalist, and three-time IAAF World Champion, with meet preparation and training, as well as traveled with Clay to numerous meets including the USA Olympic Trials and IAAF World Championships.
For summer of 2015, Jarvis was selected by USA Track & Field to serve on the USA vs. Germany Thorpe Cup coaching staff. The Thorpe Cup is an annual team combined-events competition between the USA and Germany, named after American Olympic gold medalist Jim Thorpe.
A native of Southern California, Jarvis earned a business administration degree from Azusa Pacific University in 2005. He holds certifications in USATF Coaching Education Level III, Sprints and Hurdles (2013), IAAF Coaching Academy Level V, Sprints and Hurdles (2013), USTFCCCA Jumps Event Specialist (2012) and attended the USATF Emerging Elite Coaches Camp (2011).