University of Miami Athletics
Rhett Lashlee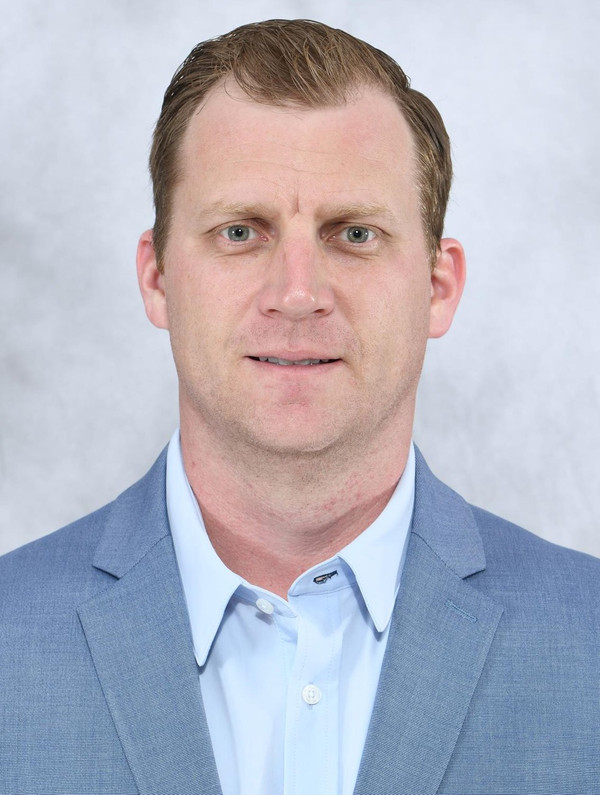 Rhett Lashlee is entering his second season as the Miami Hurricanes' offensive coordinator and quarterbacks coach in 2021.
Lashlee, who was a semifinalist for the Broyles Award honoring the nation's top assistant in his first season at The U,  spent the 2018-19 seasons as offensive coordinator / quarterbacks coach at Southern Methodist before joining the Hurricanes prior to the 2020 season.
In his first season in Coral Gables, the Hurricanes jumped to No. 32 in FBS in total offense (from No. 98), No. 29 in passing offense (from No. 52), No. 26 in scoring offense (from No. 90), No. 17 in red zone offense (from No. 122) and No. 20 in first downs gained offense (from No. 84).
Under his watch, QB D'Eriq King was a semifinalist for the Maxwell Award, Johnny Unitas Golden Arm Award and Davey O'Brien Award. Several offensive players enjoyed career years under his tutelage, including WR Michael Harley and TE Brevin Jordan, who was a Mackey Award semifinalist and an eventual 2021 NFL Draft pick of the Houston Texans.
Lashlee helped lead the Mustangs to a 10-3 finish in 2019, guiding an offense that ranked No. 7 in FBS in scoring (41.8 points per game), No. 13 in passing offense (309 yards per game), No. 9 in total offense (489.8 yards per game) and No. 12 in first downs gained (322). SMU's 10 wins were the school's most since the 1984 season, and its 35 rushing touchdowns set a school record.
The Mustangs were ranked No. 3 nationally in "plays per game. averaging 80.9 – a testament to Lashlee's up-tempo offensive style. SMU was one of only 34 teams in FBS to average more than six yards per play in 2019. Quarterback Shane Buechele threw for 3,929 yards with 34 touchdowns and just 10 interceptions, completing 63 percent of his passes. Running back Xavier Jones rushed for 1,276 yards and 23 touchdowns, averaging 5.2 yards per carry. Both Buechele and Jones were first-team All-AAC selections.
In his first season at SMU, the Mustangs offense ranked 27th nationally in passing offense at 271.7 yards per game. Quarterback Ben Hicks registered 2,582 yards and 19 touchdowns to finish his SMU career as the all-time leader in passing yards (9,081), total offense (8,977), TD passes (71), TDs responsible for (74), completions (718) and 300-yard games (12). His season passing yards ranked 11th at SMU, while his 19 touchdowns tied him for eighth. Wide receiver James Proche was named a first-team All-AAC selection, and finished the season ranked fifth nationally in receptions per game (7.8), seventh in receiving touchdowns (12) and ninth in receiving yards (1,199).
Prior to joining SMU's staff, Lashlee served as an offensive coordinator for seven seasons, spending 2017 at UConn, 2013-16 at Auburn, 2012 at Arkansas State and 2011 at Samford.
In his only season in Storrs, Lashlee improved the Huskies' offense significantly, as UConn jumped from 122nd to 49th in the nation in total offense and from 94th to 34th in passing offense.
Prior to UConn, Lashlee helped Auburn to the 2013 SEC Championship, a BCS Championship berth and the 2016 Sugar Bowl, managing one of the more prolific offenses in college football during his tenure. The 2013-14 seasons were the best back-to-back offensively in Auburn history, and the 2014 squad set an Auburn record for total offense. Lashlee also served as the quarterbacks coach and demonstrated impressive ability to develop talent. In 2013, Auburn had the second biggest turnaround in college football history. Starting QB Nick Marshall did not practice until August, but Lashlee tutored the junior college transfer to 3,044 yards of total offense (1,976 passing, 1,068 rushing), 14 TD passes and 12 rushing TDs.
Lashlee was the offensive coordinator at Arkansas State (2012), helping the Red Wolves to a Sun Belt Championship and quarterback Ryan Aplin to conference Player of the Year honors, and at Samford (2011) and also served as a graduate assistant at Auburn (2009-10) and Arkansas (2006). While at Auburn as an offensive graduate assistant during the 2009-10 seasons, Lashlee assisted Gus Malzahn with all aspects of the offense and coached the quarterbacks and slot receivers in 2010. In 2009, the Tigers finished 8-5 winning the Outback Bowl. During the 2010 season, he helped the Tigers finish 14-0, winning the SEC title and the BCS National Championship behind Heisman Trophy winning quarterback Cam Newton. Lashlee coached at Springdale (Ark.) High School in 2004-05, working with the quarterbacks and 2005 National Player of the Year Mitch Mustain.
Lashlee has been a finalist for the Broyles Award, presented to the nation's top assistant coach, on two occasions.
Lashlee graduated from Arkansas in 2006 with a degree in marketing and business administration. He received his master's degree in higher education from Auburn in 2009.
He is married to the former Lauren Lee. They have twin sons, Thomas and Hudson, and twin daughters, Rowyn and Scarlet.