University of Miami Athletics
Matt Cleveland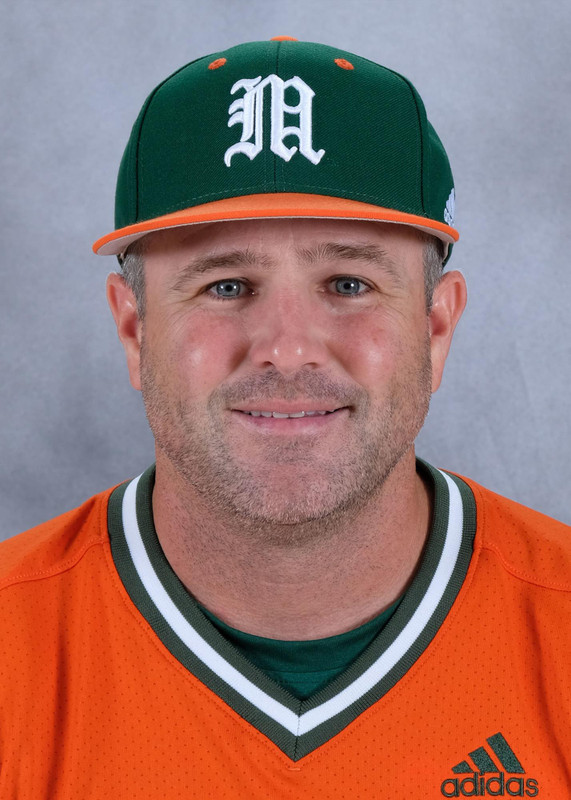 Matt Cleveland joined the Hurricanes baseball program prior to the 2020 season, accepting a position as an assistant coach.
Cleveland will be the Hurricanes' infield coach and will also assist with Miami's hitters. A South Florida native, he joins the program after 17 years as a high school coach in Florida.
Cleveland amassed nearly 300 wins, eight district championships and two regional titles in his tenure as head varsity baseball coach at three different schools. He also has had over 50 players go on to play college baseball and developed several MLB draft picks, including 2014 first round selection and big league pitcher Touki Toussaint and 2019 No. 5 overall selection Riley Greene.
Most recently, Cleveland was the head baseball coach at Hagerty High School in Oviedo, Fla. In three years at Hagerty, Cleveland went 70-21 and won district championships in 2017 and 2019. He led the Huskies to the state championship game in his first season, finishing as the Class 8A runner-up in 2017, and to the regional final in 2018.
Prior to his time at Hagerty, Cleveland won a district championship in his two years as the head baseball coach at The Master's Academy in Oviedo, Fla.
Cleveland's longest tenure in coaching came at Coral Springs Christian Academy, where he won 190 games in 12 seasons. As the head baseball coach, he oversaw the varsity, junior varsity and middle school programs at Coral Springs Christian and built the baseball program from the ground up.
Under Cleveland's direction, the Crusaders won five consecutive district championships and were a steady presence in the top five in the Class 3A state rankings from 2008-2014. Cleveland led the Crusaders to the regional finals in both 2013 and 2014, winning the regional title in 2014. While at Coral Springs Christian, Cleveland sent 36 players to play college baseball, including 10 to Division I, and had six MLB draft picks.
As a player, Cleveland spent two years as an infielder in the Kansas City Royals organization and reached the Class A Midwest League. While with the Royals, he was instructed by some of the greatest players in franchise history like hall of famer George Brett, Frank White and Bucky Dent.
Cleveland was a four-year letter winner at Nova Southeastern University, where he was named the team's Most Improved Player in 2000 and was a Preseason All-American in 2001. He also excelled academically, earning a spot on the Scholar Athlete Team in all four years at Nova. Cleveland earned a bachelor's of science in sports and recreation management from Nova Southeastern University in 2001.
A native of Fort Lauderdale, Fla., Cleveland and his wife, Melissa, have a son named Jax and a daughter named Grace.