University of Miami Athletics
Kasey Crider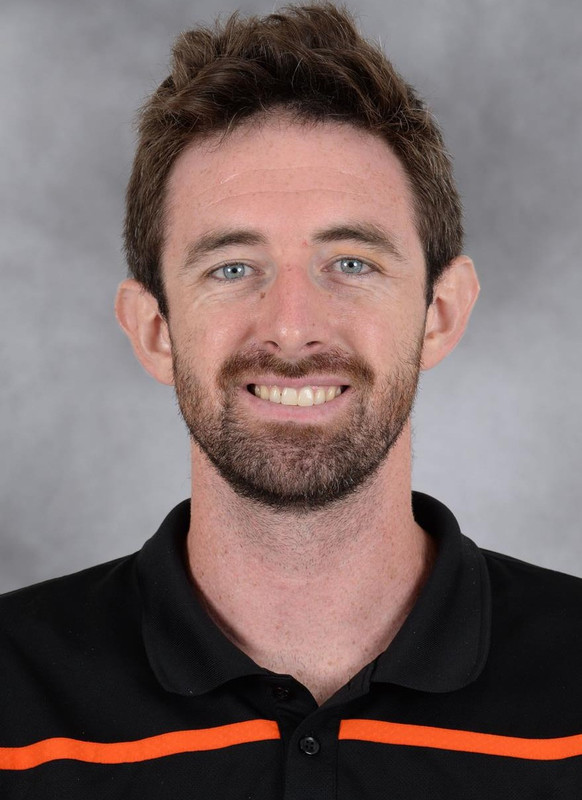 Kasey Crider accepted a position as assistant coach on the Miami volleyball coaching staff in March 2015.
The Hurricanes returned the NCAA Championship in 2017 for the ninth time in program history. Miami won its first postseason match since 2014, defeating the College of Charleston in the opening round of the tournament in a Gainesville, Fla. The Canes fell to No. 2 Florida in four sets in an exciting second round matchup to close the season 22-6 and finish with their best winning percentage since 2012.
Senior outside hitter Olga Strantzali was named ACC Player of the Year and AVCA East Coast Region Player of the Year. Strantzali was joined by redshirt junior setter Haley Templeton on the All-ACC First Team and AVCA All-East Coast Region team. Strantzali and Templeton topped off a memorable season with AVCA All-America Honorable Mention recognition. The Canes both started and finished the campaign strong, winning the first nine matches and the seven contests prior to falling to second-seeded Florida. Miami topped the ACC in service aces with 1.71 per set and finished the season in the top three of two additional categories – hitting percentage (second with .246) and kills (tied for third with 13.64 per set).
In 2016, the Hurricanes won 11 matches away from Coral Gables, picking up big road wins at Notre Dame and Louisville. Junior outside hitter Olga Strantzali developed into one of the best players in the country, receiving AVCA All-America honorable mention and earned AVCA All-East Coast Region and First Team All-ACC honors. Strantzali and freshman setter Hannah Sorensen were named to the All-ACC Academic Team in recognition of their success on the court and in the classroom.
In his first season at Miami, Crider helped the Hurricanes reach the NCAA Tournament for the seventh consecutive season. The Canes, who finished 21-10 and 14-6 in the ACC, faced Iowa State in a first round match in Madison, Wis. Miami reached 20 wins for the second straight season and the Hurricanes had seniors Alexis Mourning and Taylor Scott, as well as sophomores Olga Strantzali and Haley Templeton, named to the 2015 All-ACC Second Team with Strantzali and Templeton also earning AVCA All-East Coast Region Honorable Mention.
Following the 2015 season, Crider was honored as an AVCA Thirty Under 30 Award recipient. The award was created in 2009 to honor up-and-coming coaching talent at all levels of the sport.
"Kasey is a young coach with a great desire to learn, improve and become a great coach," Gandara said. "He has been involved in really good programs, as a player at Pepperdine and then working with the Pepperdine men and Stanford women. He understands the setter position from a technical standpoint; not just in the way he played it, but also as a teacher."
Crider comes to Miami after spending two seasons as a volunteer assistant with the Stanford women's volleyball program. In 2014, Crider helped the Cardinal win the Pac-12 Championships and earn the No. 1 overall seed in the 2014 NCAA Tournament. Stanford went 33-2 that season, reaching the semifinals of the 2014 NCAA Tournament before falling to eventual national champion Penn State.
"First, I think it's important to acknowledge where I came from," Crider said. "Many thanks to John Dunning and the Stanford women's volleyball program. I'll always cherish my time there; it's a wonderful place. But I am equally as appreciative and excited for my opportunity here at 'The U.' Keno, Sanja and the rest of the community couldn't have been more welcoming. It feels like something special is happening here and I'm fired up to be a part of it. There is work to be done and I am looking forward to doing it the best I can."
Prior to his time at Stanford, Crider spent the 2012-13 season as a volunteer assistant coach for the men's volleyball team at Pepperdine. Crider played for the Waves from 2008-11 and was a two-time All-American, ending his career ranked second in program history in assists (3,989).
"His background as a setter compliments us really well," Gandara said. "He was a good player at a good program. He played at a high level, both in college and professionally. He understands the position. He will get familiar with our system and combine his knowledge with my philosophy and really be able to help our setters. He will be kind of like an offensive coordinator, working with the setters and helping me run the offense and keeping track of our offensive output."
Following his collegiate career, Crider played professionally overseas during the 2011-12 season for Boldklubben Marienlyst, located in Denmark. There he led the squad to first-place finishes in both the Nordic Cup and Danish Pokal Cup Championships. He was named the Danish Super League Player of the Year, while also earning the Best Setter Award and was picked as MVP of the Danish Pokal Cup Championship.
"Kasey and I will work closely on offense. Our offense is a big part of our identity, so we will have two coaches on offense."
In addition to being an asset coaching the current crop of Hurricanes, Gandara believes Crider will be an asset in recruiting.
"We will definitely take advantage of his knowledge and ability to evaluate talent," Gandara said. "Once he understands the way we want to play, he will be able to find the players we want to bring into our program."
A native of Granite Bay, Calif., Crider graduated from Pepperdine with a degree in journalism in 2011.
"He came very highly recommended by everyone he worked for," Gandara said. "He has strong character and is confident, but also has a desire to learn. He is also very familiar with a lot of the technology that is popular in coaching and teaching volleyball and that is an asset to us. I think his personality really fits in well with our staff and our program and we are very excited to have him here."