University of Miami Athletics
Dave Sanderson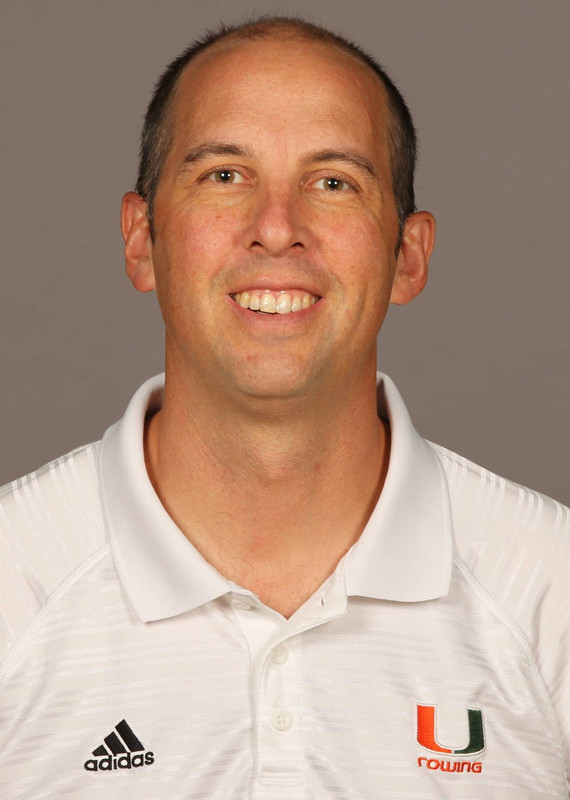 Email: CoachSanderson@Miami.edu
Office: 305-284-9198
Dave Sanderson was announced as head coach for The University of Miami Women's Rowing team in September of 2013. Coach Sanderson took over as the 4th varsity head coach since the team's inception, and in the first year of the NCAA Rowing Championships' expansion of the racing field, as well as a large expansion of the Atlantic Coast Conference (ACC) rowing membership teams.
Sanderson now heads the Hurricanes' program after spending six years as the head coach at Barry University. He joined the Miami family with his wife, Taber Sanderson, and their son, Porter.
Sanderson accepted the head coaching position at Barry University in 2007. The accomplished coach guided the Buccaneers for six seasons, leading Barry to four straight NCAA Division II Championships from 2010-13 and the 2010 and 2013 Sunshine State Conference team championships.
Under Sanderson, the Barry Bucs placed second overall at the NCAA Division II Championships in 2013. Barry's Varsity 8+, placed second at the NCAA Division II Championships in 2013 and third in 2010.
Barry's Varsity 8+ earned numerous accomplishments under Sanderson, placing first at the 2010 and 2013 Sunshine State Conference Championships and winning the 2013 Dad Vail Regatta. They were also named the Sunshine State Conference "Boat of the Year" in 2010 and 2013.
Sanderson, who was named the 2010 Sunshine State Conference "Coach of the Year", had four student-athletes selected to the CRCA Pocock All-American team in his tenure at Barry. He also coached 12 CRCA Scholar Athletes and 19 All-Sunshine State Conference selections.
Prior to Barry, Sanderson spent 2006-2007 as an assistant coach at Miami under former head coach Debra Morgan. During this time he oversaw recruiting, operations at the boathouse and specifically worked with the 2nd Varsity Eight.
Prior to his first stint at the University of Miami, Sanderson served as an assistant varsity coach for Boston University men's crew for three years and as a coach at Community Rowing in Newton, Mass. While with the Boston University Terriers, Sanderson helped the program achieve its (at the time) best-ever result at the 2005 IRA National Championships with a sixth-place finish.
Coach Sanderson's personal rowing accomplishments include two years as a member of the United States National Rowing Team. Sanderson was an important member of Team USA during the summer of his junior year of university. He raced in the 1997 World Championships in Lac d'Aiguebelette, France as stroke-seat of the lightweight Men's 2-. He represented Team USA again in the 1999 World Rowing Championships held in St. Catharine's, Ontario, Canada as stroke-seat of the lightweight Men's 4x.
Sanderson's successes for Team USA are part of a long tradition of high-level training and racing. Graduating in Yale University's class of 1998, Sanderson was a member of Yale's top lightweight Men's 8+ for 3 years, and the top lightweight Freshmen 8+ before that. As a Bulldog, Sanderson was part of crews that won bronze and silver medals at the historical Eastern Association of Rowing Colleges (EARC) Eastern Sprints Regatta. Sanderson was also a medalist at the Intercollegiate Rowing Association (IRA) National Championship Regatta, regarded as the Men's Rowing equivalent to the NCAA Women's Rowing Championships.
He is a member of USRowing and is also a member of The Collegiate Rowing Coaches Association.
Personally, Sanderson most fondly remembers his years training in a single out of Naragansett Boat Club, Seekonk River, Providence, R.I. Sanderson's best stories are from his training days there. In the early 2000's Naragansett BC named a shell in his honor.