University of Miami Athletics
Cameron Dobbs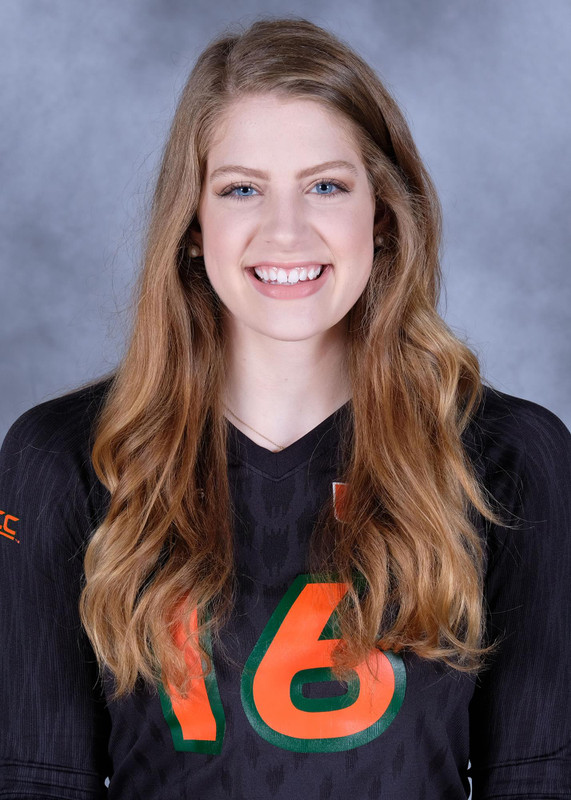 2019 (Junior): 
2018 (Sophomore): Recorded the second-most digs on the team in the first match of the season against FAU (Aug. 24) and finished with one assist and one service ace… Added eight digs to her name and recorded one service ace against FGCU (Aug. 25)… Had four aces in the final match of the 2018 Sunshine State Challenge against UCF… Finished the Puerto Rico Classic with two kills, one service ace and 13 digs (Aug. 31-Sept. 1)…Recorded seven digs against TAMUCC (Sept. 7) and four kills, one assists and two digs against Texas Southern (Sept. 8)… Finished with one kill, dig and block assist against UNC (Oct. 5)… Appeared in the NC State match (Oct. 7)… Competed against Syracuse (Oct. 12) and recorded one kill and two service aces against Boston College (Oct. 14)… Saw action against Clemson on Oct. 19 and recording one kill, an ace and one block against Georgia Tech on Oct. 19… Recorded a season high in attacks against Florida State with 12, posting four kills and three digs in the 3-2 win (Oct. 24)… Tallied three season highs in kills (seven), blocks (one), and block assists (one) against Virginia Tech (Oct. 26)… Finished with a season high 13 attacks, converting four kills, three digs and a career high four blocks against then-No. 24 Louisville (Nov. 2)… Recorded one ace, one dig and two blocks at Notre Dame (Nov. 4)… Totaled four kills, two digs and blocks at Wake Forest (Nov. 9) while adding three kills, five digs and three blocks against UNC (Nov. 11)…Logged four kills, a team-leading two aces and two blocks against No. 10 Pitt (Nov. 18)… Finished the season with five kills, one assists, two aces and four blocks at Duke (Nov. 23).
2017 (Freshman): Introduced herself to college volleyball with a total of 26 kills, 30 digs, four service aces, a block and an assist at the Southern Miss Invitational … recorded her first career double-double with 14 kills and 13 digs against the host team (Aug. 25) … her 14 digs in the season opener against Little Rock (Aug. 25) were second-most in the match … managed two kills, an assist and three digs, all in a set's worth of work against FAU (Sept. 1) … picked up career-high four service aces and two blocks, in addition to 12 kills and five digs, in her ACC debut against Virginia (Sept. 24) … Recorded three kills and five digs at Louisville (Oct. 1) … Tallied nine kills on a career-best .304 hitting, a service ace and two digs at Florida State (Oct. 4) … contributed two kills in one set against Pittsburgh (Oct. 8) … Picked up a kill, an assist, a service ace and two digs in two sets against Duke (Oct. 13) … Played the role of a golden substitute against Boston College (Nov. 9), picking up 11 kills on a career-best .474 hitting display, her first solo block, an assist and a dig in two sets to help the Hurricanes to a hard-fought five-set victory against the Eagles … had four kills and as many digs off the bench in a weekend that featured wins at Virginia (Nov. 17) and Virginia Tech (Nov. 19), while also tying a career-high of one assist against the Cavaliers … Contributed four kills and four digs in a win over Clemson (Nov. 24) … Picked up three digs, two kills and an assist in her first NCAA Championship game against Florida (Dec. 1).
High School: An AVCA Under Armour High School All-American in 2016, Dobbs was a four-year starter at Landmark Christian School and served as team captain over the final three seasons of her career. The gifted outside hitter helped Landmark Christian reach the state championship game in 2015 and amassed over 2,000 kills, 1,000 digs and hit .367 in her career. A four-time all-area, all-state and all-state tournament selection, Dobbs was named area and state player of the year following each of the final three seasons of her high school career. In addition to her success at Landmark Christian, Dobbs was a standout for her the A5 Mizuno Volleyball Club, winning Beast of the Southeast in 2015 and 2016, as well as Southern Dream and Icebreaker Championships in 2017.
Personal: Full name is Cameron Elise Dobbs… Daughter of John and Paula Dobbs… Has one brother Sam and one sister Kelsey… Sam plays football at Vanderbilt and Kelsey played volleyball at Auburn her freshman year… Dobbs's dad also played football at Auburn.