University of Miami Athletics
Christina Ocampo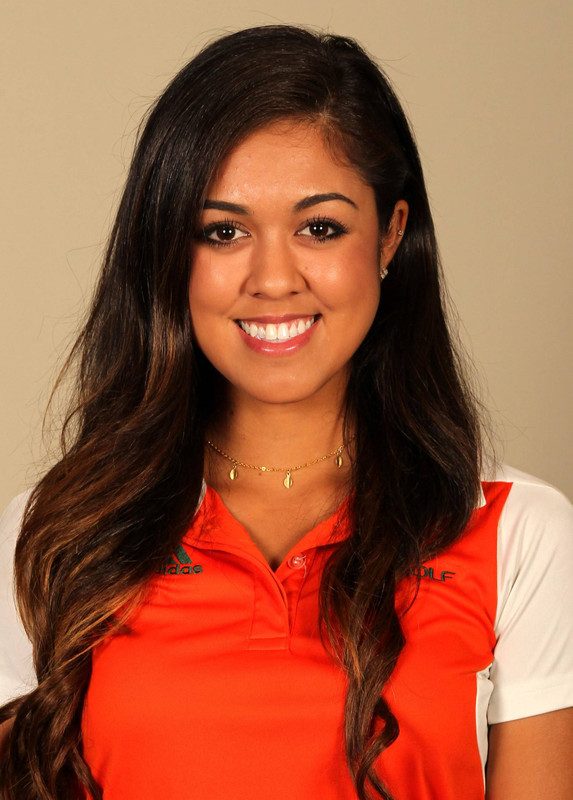 2015-2016 (Senior): Saw action in eight rounds during the 2014-15 campaign…Tied for 82nd at the Dick McGuire Invitational posting a final round score of 238… Placed 72nd at the Betsy Rawls Invitational with a final round score of 242 … Completed the Hurricane Invitational with a three-round total of 233 (T83). 
2014-15 (Junior):Participated in 3 tournaments and eight rounds of play in the fall … Season-best finish was tied for 39th at East & West Match Play Challenge.
2013-14 (Sophomore): Competed in four tournaments, making starts in the final two … Made season debut at Florida Challenge in spring opener … Competed as individual … Tied for 37th at 16-over 160 … Part of Miami's second squad at Hurricane Invitational, tied for 77th at 22-over 235 … Late addition to ACC Women's Golf Championship lineup in place of Leticia Ras-Anderica … Tied for 46th overall at 25-over 238.
2012-13 (Freshman): One of three golfers to compete in all 12 tournaments … Started 11 of 12 tournaments … Third on team with a 76.81 scoring average in 32 rounds … Made collegiate debut in season-opening Cougar Classic … Finished 14th at Florida Challenge … Tied for 18th at UCF Challenge with career-low 3-over 219 … Tied for eighth at Sir Pizza Terrapin Challenge, shooting 7-over 223 … Made NCAA postseason debut at NCAA West Regional, tying for 108th overall at 26-over 239.
High School: Played under Paulette Riedel at Spanish River High School in Boca Raton, Fla. … As a senior, won her second consecutive Florida High School State Championship in 2011 … Earned Palm Beach Post & Sun Sentinel Player of the Year accolades … As a junior, Ocampo went unbeaten at the 2010 Florida High School State Tournament, notching first-place victories at District, Regional and State Championship rounds … As a sophomore, recorded Third-Place at the 2009 Florida High School State Tournament while earning First-Team Sun Sentinel Honors … Chosen as the 2009 Palm Beach Post Player of the Year … Voted team MVP and team captain three times at Spanish River.
Personal: Native of Delray Beach, Fla. … Daughter of RJ and Norina Ocampo … Has one younger brother, Christian.
OCAMPO CAREER STATISTICS
SEASON
EVENTS
RDS
STROKES
AVG
LOW
TOP 10
2012-13
12
35
2,697
77.06
71
1
2013-14
4
11
853
77.55
77
0
2014-15
3
8
649
81.13
74
0
2015-16
3
9
713
79.22
78
0
CAREER
22
63
4,912
77.96
71
1
OCAMPO TOURNAMENT RESULTS

2012-13 TOURNAMENTS
SCORE
FINISH
Cougar Classic
75-75-78=228
t78th
Mary Fossum Invitational
79-81-76=236
t46th
UNCG Starmount Forest Invitational
79-80-77=236
t61st
Mercedes-Benz Women's Collegiate*
77-79-76=232
t56th
Florida Challenge
75-76=151
14th
Hurricane Invitational
77-84-74=235
t41st
UCF Challenge
74-74-71=219
t18th
Sir Pizza Terrapin Challenge
71-79-73=223
t8th
SunTrust Gator Invitational
72-77-79=228
t46th
The SDSU Farms Invitational
74-84-76=234
t35th
ACC Championship
80-77-79=236
t31st
NCAA West Regional
79-81-79=239
t108th
2013-14 TOURNAMENTS
SCORE
FINISH
Florida Challenge*
83-77=160
t37th
Hurricane Invitational
72-82-81=235
t77th
ACC Women's Golf Championship
83-78-77=238
t46th
NCAA Central Regional
84-82-84=250
t112th
2014-15 TOURNAMENTS
SCORE
FINISH
East & West Match Play Challenge
78-80=158
t39th
Windy City Classic
74-82-82=238
t70th
Betsy Rawls Longhorn Invitational
83+86+84=253
t73rd
2015-16 TOURNAMENTS
SCORE
FINISH
Branch Law Firm/Dick McGruire Invitational
81-79-78=238
 t82nd
Betsy Rawks Invitational
81-77-84=242
 t65th
Hurricane Invitational
79-79-75=233 
 t83rd