University of Miami Athletics
Elle Mezzio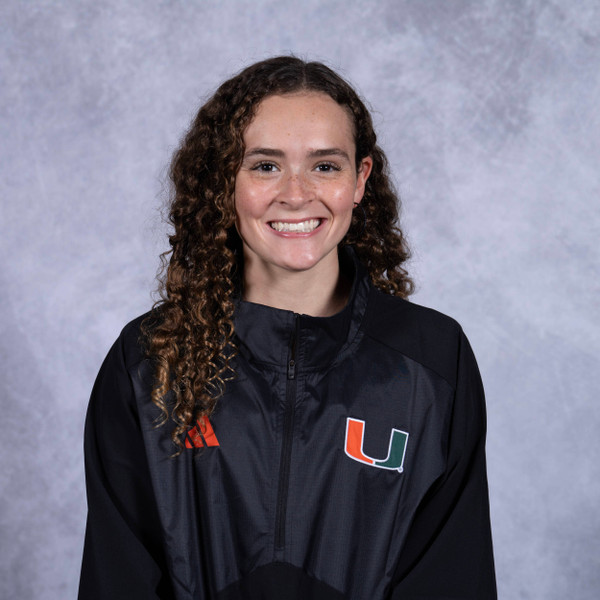 NIL Opportunities
Powered By

Engage with Elle today!
2021 Cross Country: Earned ACC Freshman of the Week on Oct. 5 for her performance in the 6K at the Paul Short Run with a time of 21:28.1… her time at the Paul Short Run of 21:28.1 is the sixth-fastest 6K time in program history… ran the sixth-best 5K time in school history at the XC23 Invitational with a finish of 17:58.2… in her collegiate debut at the FAU Invitational 5K, she finished first with a time of 18:18.72… crossed the finish line in 22:25.6 in the 6K at the FSU XC Open… ran a time of 22:17.6 at the ACC Championships… concluded the year with a time of 21:41.70 at the NCAA South Regional Championships.
High School: Named Second Team at the Powerade All-Metro XC Banquet hosted by the Atlanta Track Club… tabbed Third Team at the Powerade All-Metro XC Banquet hosted by the Atlanta Track Club as a junior… earned the Iron Raider Award for track for excelling in a range of track events… selected to the All-State First Team for cross country and track as a senior… crowned Region Champion in the 1600 and 4×800… claimed the region championship both individually and as a team for cross country as junior… finished region runner-up for cross country… placed third at State 5A Division for cross country and 16th at the Meet of Champions as a junior… tabbed team captain as a senior and cross country MVP all four years… earned the Coaches Award for track as a junior and was named Student-Athlete of the Month… holds her school record in the 4×800, 4×1600 and DMR… placed sixth at State in the 6A Division and seventh in the Meet of Champions as a senior… ran PRs in the cross country 5K (18:08.32), 1600m (5:05.75) and 3200m (11:06.99)… earned the Best Newcomer Award for track as a freshman… finished 11th at state as a freshman and fifth as a sophomore… she is the only student-athlete in school history to participate and advance to state in four sports — cross country, diving, soccer and track and field… claimed the Coaches Award for diving her senior year… finished fifth at State for classes 6A and 7A in diving as a senior… advanced to the Final Four for soccer her sophomore and senior years… named the Class of 2021 Valedictorian… earned the Harvard Book Award, Scholar Athlete Award and AP Scholar with Distinction… was a member of BETA Club and National Honor Society.
Personal: Daughter of Julie Wyrick and Michael Mezzio… has one younger sister, Sofia… wants to be a sports medicine physician… she must have cheerios before a race.