University of Miami Athletics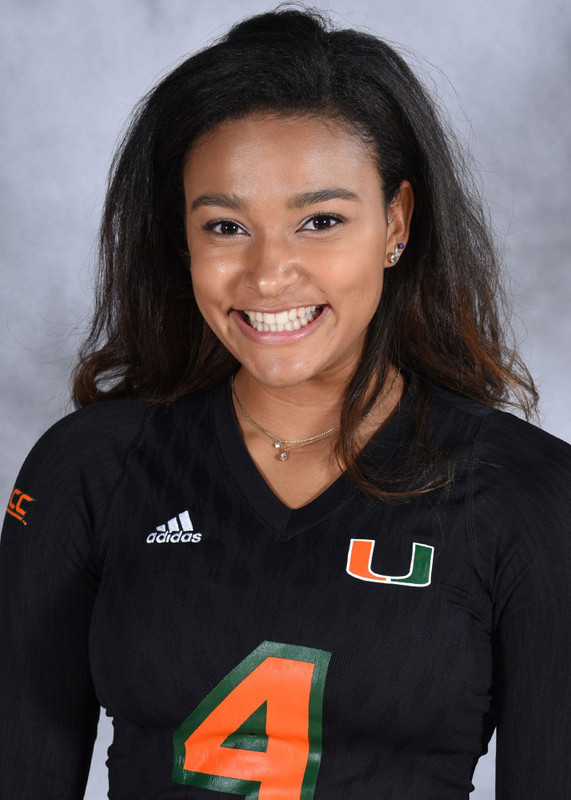 2018 Sunshine State Challenge All-Tournament Team
2018 (Freshman): Had a standout performance in her debut with the Canes leading the team with 19 kills and posted a .350 attack percentage in her first collegiate match versus FAU (Aug. 24)… She also collected two service aces, two assists, three blocks and six digs… Recorded five kills, five digs and three assists against FGCU(Aug. 25)…Had a team-leading 13 kills in the 3-0 sweep against UCF along with two assists and five digs… Recorded four kills and five digs in the opening match of the Puerto Rico Classic against Towson (Aug. 31)… Finished with 17 kills, one service ace and a career-high seven digs against Missouri (Sept. 1)… Finished with 17 kills, one service ace and a career-high seven digs against Missouri (Sept. 1)…Finished with nine kills, four assists and seven digs against TAMUCC (Sept. 7) and nine kills and four digs against Texas Southern (Sept. 8)…Finished with 10 digs, two service aces and seven digs in her debut ACC match against Wake Forest (Sept. 21)… Recorded her first career double-double against Duke with 11 kills and 12 digs, while also recording two assists and two service aces (Sept. 23)… Reached 100 kills in her 10th match with the Canes finishing with five kills and two digs against Pitt (Sept. 28).. Finished with 12 kills, eight digs and two blocks (Sept. 30)… Recorded her second career double-double against UNC with 12 kills and 21 digs, including one ace and one block (Oct. 5)… Was one dig shy of recording back-to-back double-doubles against NC State with 10 kills and nine digs (Oct. 7)… Tallied 11 kills  and five digs against Syracuse (Oct. 12) and recorded four kills and nine digs against Boston College (Oct. 14)… Finished with 10 kills and a .321 hitting percentage and five digs against Clemson (Oct. 19) and 12 kills and two block assists against Georgia Tech (Oct. 21)… In her first match against FSU, Brown tallied her third double-double with 12 digs and 12 kills, while also registering a career-high three aces in the 3-2 win (Oct. 24)… Finished with nine kills, tied a career high in aces (3) and nine digs against Virginia Tech (Oct. 26)… Recorded a season-high four blocks against then-No. 24 Louisville and five kills (Nov. 2)… Tallied nine kills, five digs and three blocks against Notre Dame (Nov. 4)… Registered her fourth double-double against Wake Forest with 12 kills and 10 digs and tallied three assists and one ace (Nov. 9)… Totaled 19 kills, one assists, tied a season-high with three aces and finished with eight digs (Nov. 11)…Logged her fifth double-double of the season against No. 10 Pitt with 13 kills and 10 digs, while also tallying four assists and three block assists (Nov. 18)…. Finished the season recording her fifth double-double with 17 kills and a season-high 23 digs, while also registering one block and one ace at Duke (Nov. 23).
High School:  As team captain of Southridge High School Brown led the school to it's first ever 6A State Championship, while earning the Oregonian's Player of the Year, First Team All State (MVP), Oregon Gatorade Player of the Year, 2018 Nike Oregon Sports Awards, Female Athlete of the Year (Finalist) and Nike Oregon Sports Awards – 2018 Prep Volleyball Player of the Year. A four-letter winner in high school, Brown averaged 5.36 kills on .364 hitting and 4.18 digs in 276 sets for the Skyhawks. She also accumulated 174 service aces and 52 blocks in her high school career. Those statistics earned her three Team MVP honors, three West Valley League First Team appearances and two conference Player of the Year awards. Brown captained Southridge to the OSAA State Tournament in her junior and senior years, earning First Team recognition both times before signing off on a high note as the Tournament MVP in 2017. She was a 4-year first team All-Team honoree, served as the captain for three years, was the 2017-18 Metro League Player of the Year and the OSAA State Player of the Year… Brown was a high school All-American in 2017  in Oregon… Championed the 2016 and 2017 Seaside Beach Tournament in doubles and quads… Was named to the All-Tournament Team at the Emerald City Classic in 2014 and 2016… Earned a silver medal at the USA HP Championship in 2015… Earned high Honorable Mention in Prepvolleyball's 2015 Soph 79 for the top best high school sophomores and was the 2014 USA Volleyball Jr. Beach Tour U14 Champion in Portland, Ore.
Personal: Full name is Chloe Brown… Daughter of Johnny and Lili Brown… Johnny played collegiate basketball at Idaho and continued his professional career in Europe… Has seven siblings, four brothers and three sisters, Donna, Danielle, Jasmine, Nicole, Jamaal, Gary and Ian.