Miami Closes the Gap on UCF
ORLANDO, Fla. – For the second straight outing, the University of Miami rowing team squared off with the University of Central Florida Knights, hitting the water on Lake Pickett Friday afternoon.
"Overall, the thing that we really needed to show in this race was some progression from the last one and we absolutely did," head coach Dave Sanderson said. "The 1v8 closed a really significant amount of time on UCF from the last time we raced against them."
The first and second varsity eight boats started the race strong, posting their best showings of the season thus far. The 1v8 significantly closed the gap on UCF since the Sunshine State Invite, crossing the finish line in 6:46.87, just six seconds behind the Knights.
"I'm really proud of how they attacked the last week and a half of training," Sanderson said. "They really made some progress and stuck with it, and it definitely showed today."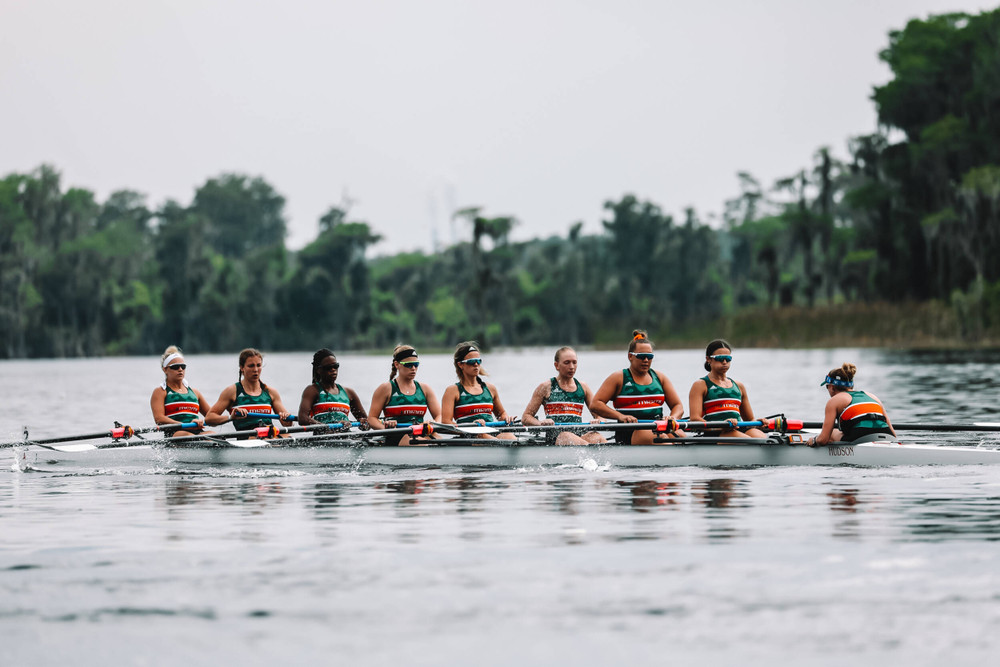 The 2v8 tallied its second first-place finish of the season with a time of 6:46.87, besting the UCF 2v8 by nine seconds.
"We are extremely pleased with the result of the 2v8," Sanderson said. "But there is still a lot of room to find some speed, so it is really exciting that we have the opportunity to chip away at some things as we approach the ACC Championship."
The Canes closed out the duel with a pair of third-place showings for the 1v4 and the 3v8, posting times of 7:49.27 and 7:25.93, respectively.
Miami hits the road for its final regular season regatta next week when it travels to North Carolina for the Lake Wheeler Invite.
"The Lake Wheeler Invite will be an interesting regatta as it is a really good mix of teams," Sanderson said. "We are excited to finally race some more ACC counterparts. To a certain extent, it will be a good preview for the ACC Championship."
Among the teams competing at the Lake Wheeler Invite are Clemson, Duke, North Carolina and UCF.
Miami Lineups
1v8: Abby Schwenger (cox), Constance Stirling, Isabella Larder, Mackenzie Holmgren, Loretta Brueckner, Taylor Kuligowski, Alyssa Bacchus, Marilou Chardin, Logan Sudholz
2v8: Shelly Sclater (cox), Eden Mindel, Halle Alitz, Stephanie Ferrali, Anastasia Ray, Victoria Stewart, Liane Lopez, Laura Alcorn, Rebecca Camplin
3v8: Carolina Rodriguez (cox), Brielle Racanelli, Fionna Magee, Emmalyn Brenner, Paige Jackett, Casey Morgan, Erika Arvelo, Jackqueline Goggins, Meghan Doyle
1v4: Taryn Kaelin (cox), Meredith Costello, Sammi Tripp, Sabina Lewis, Laura Johnson