Takeaways from Miami's Game at Texas A&M
The Hurricanes knew they'd face a test in College Station.
They were playing a top-25 opponent. A rowdy, raucous crowd would make its presence felt. And they were without one of their top receivers, who missed the game with an injury.
Still, for all the challenges Miami encountered against Texas A&M, the Hurricanes had a chance late to potentially tie the game and send it to overtime.
Unfortunately, they come up short.
Final Score: Aggies 17, Hurricanes 9.
"Not good enough. We've got to get better," Hurricanes head coach Mario Cristobal said immediately after the game. "Part of [it is] the fact that we know how to compete, or at least we showed that we can compete in a difficult environment. But competing in itself is just not enough. You've got to execute. You've got to prevent shooting yourself in the foot on some things. But we have a high-character team. Competitive character is high. And we've got to get back to work and get better."
The Hurricanes returned to South Florida in the pre-dawn hours of Sunday morning. They'll begin that work of preparing for their next opponent – Middle Tennessee State – immediately.
Here is some of what Cristobal said the team can take from its game against the Aggies…
1.  The Hurricanes have to clean up the mistakes
Miami's final drive wasn't the only time it had opportunities to put points on the board but came up short.
The Hurricanes got in the red zone four times against the Aggie defense, yet settled for three field goals instead of touchdowns.
Miami also saw drives sputter because of penalties and muffed a punt deep in its own territory that set up a quick A&M touchdown.
All of that proved too much to overcome and all are miscues the Hurricanes will work to correct, Cristobal said.
"Down there four times, three field goals, one blocked as well, correct? We had a couple of penalties down there as well. We had an illegal man downfield. That certainly hurt us, put us behind the sticks. It's not good enough," Cristobal said. "If you're going to get down in the red zone against a team like this at their place, with as good as their defense is, you've got to score touchdowns and try to put them behind a little bit, make them chuck the ball around a little bit."
2. There were ups and downs for the offense
In Miami's first two games, receiver Xavier Restrepo has been a steady, consistent weapon for quarterback Tyler Van Dyke.
The two – good friends and roommates – have an established chemistry that's paid off on the field. Ahead of the Texas A&M game, Restrepo – a third-year sophomore – had been Miami's leading receiver with 11 catches for 172 yards and a touchdown.
But with Restrepo sidelined by a foot injury, the Miami passing game struggled to find consistency.
Van Dyke completed 21 of 41 passes for 217 yards, but there were no scoring passes and there were a handful of drops by receivers. Tight end Will Mallory led Miami with six catches for 56 yards, while Key'Shawn Smith had three catches for 42 yards.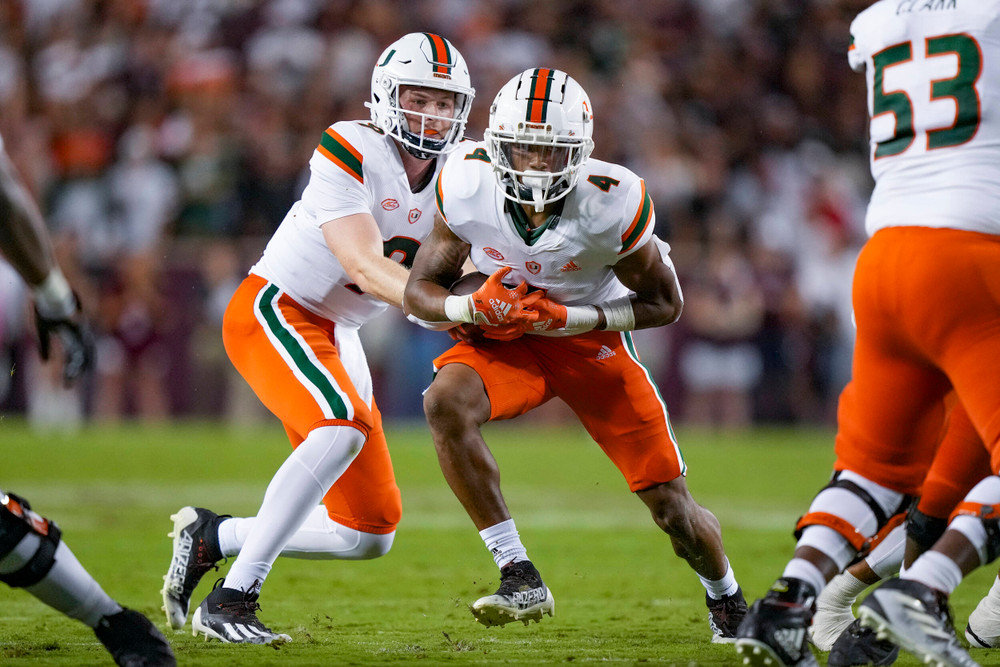 The running game, meanwhile, was led by Henry Parrish Jr., who had 16 carries for 85 yards, while Jaylan Knighton added 14 carries for 79 yards.
"I mean, we've got to catch the ball too now. There were some things [Van Dyke] did really, really well. Sometimes he was flushed out of there, avoided pressure, avoided sacks, got rid of the ball, made some good decisions in the run game as well," Cristobal said. "Tried to run him a couple times, they were squeezing the back side so much. But, we've got to do a better job as a supporting cast to give him an opportunity…
"Offensively, we had our moments. But we had our miscues. We had some dropped balls. We had some penalties, especially on the next-to-last drive where we had to punt. [We] gave ourselves a chance with the defense playing great. Again, gave us the last possession. But not good enough."
3. The defense played well
Ahead of Saturday's game, the Hurricanes were aware the Aggies might make a change at quarterback. Sure enough, once the game kicked off, it was LSU transfer Max Johnson – not Haynes King – leading the offense.
The change didn't faze the Hurricanes at all.
Miami's defensive front pressured Johnson all night, sacking him three times and hurrying him three more times. Johnson completed just 10 of 20 passes for 140 yards with just one touchdown.
The Hurricanes also limited the Aggies to a total of just 124 rushing yards and held them to just 4-of-12 on third-down conversion opportunities.
"That front seven, particularly the front four, put a lot of pressure on them, made them uncomfortable. Even some of the throws they made were under duress," Cristobal said of the defense. "They were consistently in the backfield…I think we had three or four sacks, but several quarterback hits and made it uncomfortable for the quarterback and allowed our coverages to play tighter. That goes hand-in-hand."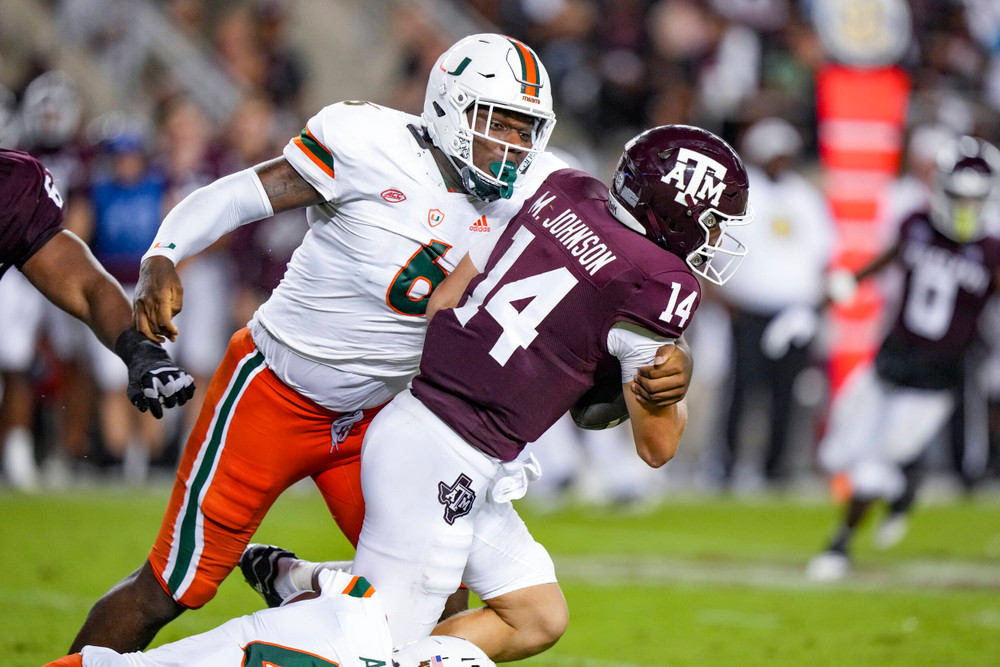 4. The Canes showed fight
Despite the mistakes and some of their struggles throughout the night, once the game was over, Cristobal – now three games into his tenure as his alma mater's head coach – made it clear he was pleased with the effort his team showed in College Station.
That, he said, is something Miami can build on as it closes out its nonconference schedule next week and then turns to ACC play.
"Going back to the team in terms of effort and toughness, I love it," Cristobal said. "We go hard. And there's no quit in the team. Now, real is real. We've got to get better. Playing a tight game doesn't automatically make you more successful next week. We've got to go to work. We've got to look in the mirror and face reality. We gave up some opportunities that you just can't give. And we did that. That's upsetting. It should burn. It needs to burn. It needs to feel really, in a way, motivational, knowing we could be a good team. But becoming a good team is not just going to happen. We've got to keep working. We've made some progress, but we could have coached better tonight. We could have played better tonight. We could have executed better tonight. We'll get back and we'll get back to work."
5. One last nonconference test awaits
The Hurricanes are set to close out their non-conference schedule on Saturday when they host Middle Tennessee State at Hard Rock Stadium. After that, they'll have a week off before it's time to focus on ACC play and an Oct. 8 showdown against Coastal Division foe North Carolina.
The key now, for Miami, is making sure that not only do they correct the mistakes from the A&M loss, but that the Hurricanes focus on what's ahead of them.
"There is no choice. It's really not a choice," Cristobal responded when asked Saturday night how the Hurricanes will rebound after their first loss of the year. "We've worked very hard to become a competitive football team and to have an opportunity…on a big stage like this and we came up short, there's no sugarcoating that. And I'm not going to sugarcoat that. We have to go and get better and eliminate issues that hurt us in this game. And also, the things that we do well, to get better at them and go forward. No one else is going to pick us up. We've got to do it ourselves."