Hurricanes Fly Past Purple Eagles
HEMPSTEAD, N.Y. – The University of Miami volleyball team started the 2022 campaign 3-0 after defeating the Niagara Purple Eagles, 3-0, in its final match of the Hofstra Invitational.
"Today was another opportunity for our young players to continue to learn how to prepare for matches, establish our routines, and get more familiar with the game plans," head coach Jose "Keno" Gandara said. "We were able to work on some areas of our game and getting to see everyone compete is always nice."
With the win on Saturday, the Hurricanes have notched three consecutive shutout victories to start the season for just the third time in program history.
Miami recorded its best offensive performance of the weekend on Saturday, hitting at a .405 clip against Niagara. Nine different Hurricanes tallied a kill in the match, paced for the second straight match by sophomore Peyman Yardimci at eight.
The Hurricanes started the match on a 12-0 run, fueled by the serving of freshman Naylani Feliciano, who posted a pair of service aces during the stretch. It was all Miami during the rest of the first set as the Hurricanes recorded a decisive 25-7 victory over Niagara.
Miami carried its momentum into the second set, tallying the first seven points of the frame with three kills from three different Hurricanes. As a team, Miami recorded 15 kills, 15 digs and 15 assists during the second set to best Niagara, 25-13.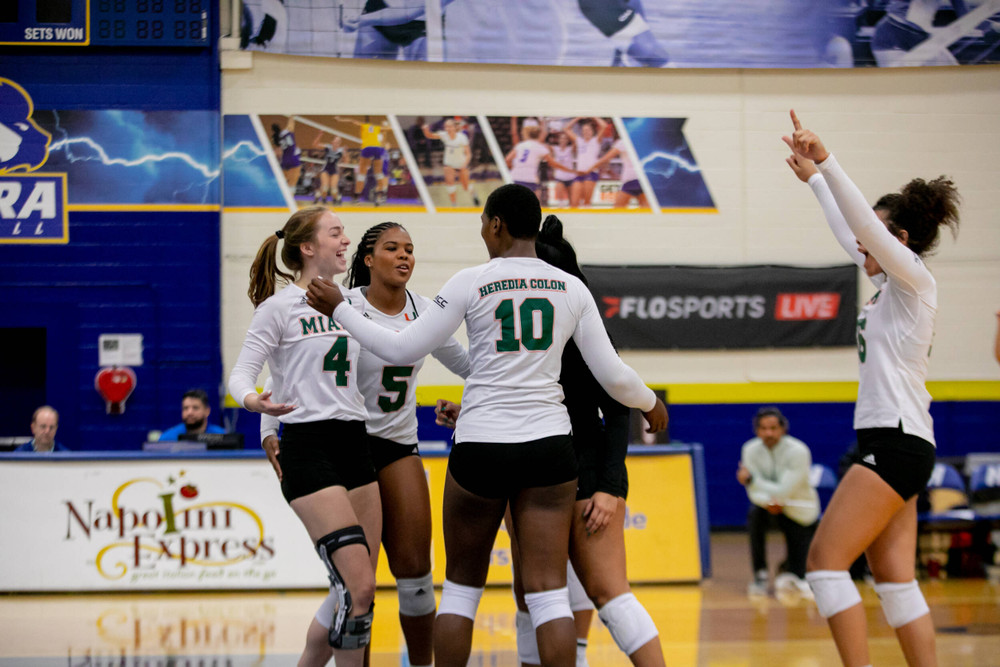 Sophomore Ashley Carr posted her first two kills of the season in the third set, helping the Hurricanes to a 25-13 victory to close out the match in favor of Miami.
"I thought it was a good weekend, all in all, not only because of what we were able to do, but also because of all we learned about ourselves and our players," Gandara said.
Miami is back in action at the Rebel Challenge in Las Vegas, Nev., hosted by UNLV. The first match will take place at 2 p.m. ET against St. John's.