Miami Downs Clemson for Third Straight Win
CLEMSON, S.C. – The Miami women's basketball team (11-10, 8-10 ACC) recorded its third straight victory on Sunday, downing the Clemson Tigers (10-12, 5-12 ACC), 68-62, at Littlejohn Coliseum to close out the regular season.
"Pretty ugly disjointed, that was the game," head coach Katie Meier said. "With a team like Clemson, you can't lose your faith because they disrupt everything you want to do. They play so hard."
Redshirt junior Destiny Harden poured in a career-high 21 points in the contest to lead all scorers, marking her third 20-point effort in the last six games. Seniors Endia Banks and Kelsey Marshall also tallied double-digit outings, with 13 and 12 points, respectively. Banks knocked down 8-of-10 shots from the charity stripe, while Marshall notched four rebounds and an assist.
As a team, Miami shot better than 45 percent for the third straight contest. The Canes knocked down 43 percent (6-of-14) of their shots from beyond the arc, with 3-pointers coming from five different Canes.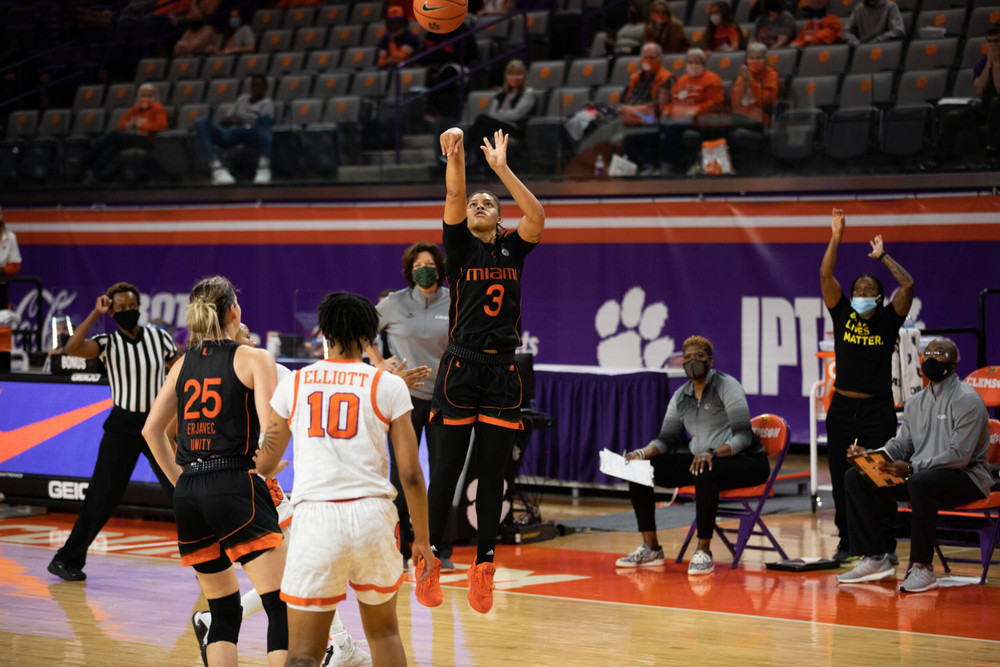 Clemson jumped out to a five-point lead early in the game, but a fast break layup by Marshall sparked a 10-0 Miami run to put the visitors on top, 16-12, at the end of the first quarter. Harden poured in a team-best six points on 3-of-5 shooting in the frame.
The teams traded baskets throughout the second with Clemson holding the 13-12 scoring advantage in the quarter. The Canes shot 40 percent from the field in the first half, paced by Harden and Marshall who tallied eight points apiece.
It was all Tigers to start the third quarter as Clemson embarked on a 13-0 run to take its first lead since the five-minute mark in the first quarter. Miami responded with eight answered points, highlighted by a pair of layups from sophomore Sydnee Roby, to cut the deficit to two.
The Canes outscored the Tigers 26-17 in the fourth thanks to a seven-point fourth quarter from Harden. The redshirt junior knocked down a 3-pointer with 4:05 remaining the game to cap a 12-3 run for Miami and put the Canes up, 58-53.
Clemson clawed back to make it a two-point game at the 2:34 mark, but Banks knocked down a tremendous 3-pointer with just under a minute to play to put Miami back up by five. Banks closed out the game for the Canes, hitting four straight free throws to clinch the Miami victory.