CORAL GABLES, Fla. – The Miami women's basketball team moved to 2-0 on the season after cruising to an 81-39 victory over the North Florida Ospreys on Saturday. Sophomore Moulayna Johnson Sidi Baba led all scorers with 17 points, setting a new career high in scoring.
"We played a heck of a lot harder, more focused and better than we did on our first game," head coach Katie Meier said. "North Florida had all of our respect. They played NC State really tough and NC State is a very, very good basketball team. Coach Gibbs is doing a great job and he really uses this talent very well."
It was a complete team effort on Saturday as all 10 Hurricanes tallied a point in the contest. The Canes posted a .458 clip from the field and recorded 15-plus assists for the second straight outing.
Senior Taylor Mason dominated the court for Miami, notching 10 points and 10 rebounds for her first career double-double. The guard added five assists and four steals in the game to round out her performance. 
"Taylor Mason, what a performance by her," Meier said. "Taylor really set the tone. That's as good of a game as she's ever played."
Senior Kelsey Marshall and redshirt junior Destiny Harden also reached double-figures for the second consecutive game, recording 13 and 12 points, respectively.
Miami controlled the game from the jump, shooting 40 percent from the field to take a 22-13 lead at the end of the first quarter. Six of Johnson Sidi Baba's 17 points came in the first quarter alone as the sophomore knocked down a pair of threes. 
The Canes extended their lead to 19 thanks to a 50-percent shooting effort from 3-point range. Freshman Nyayongah Gony recorded her first points in a Miami uniform in the second frame, connecting on a deep 3-pointer. Eight Miami players tallied a point in the first half, paced by Johnson Sidi Baba at 10.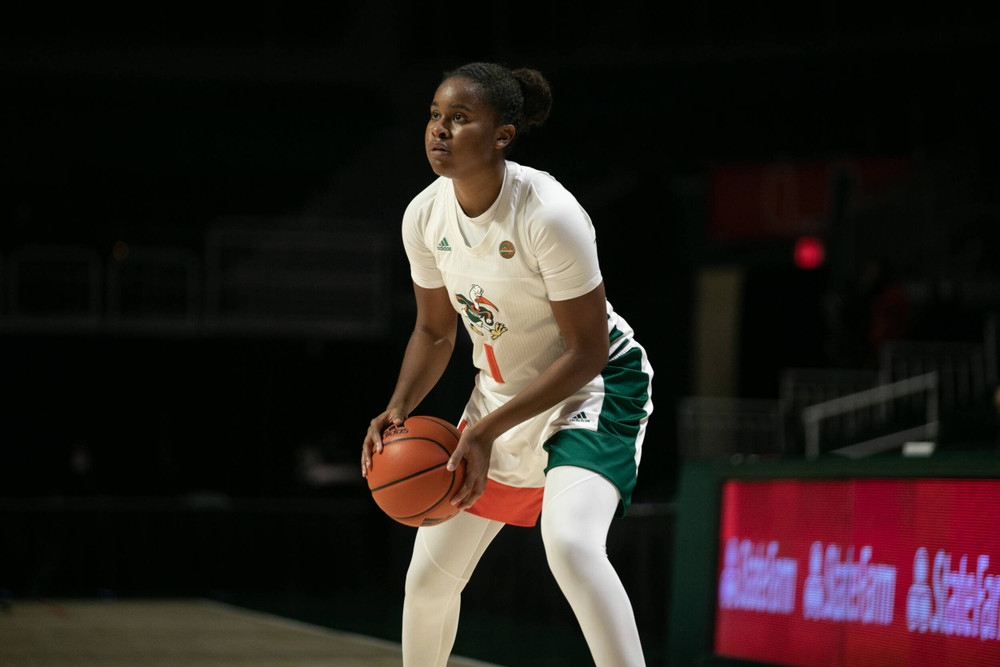 Miami dominated the third quarter, outscoring the Ospreys 31-13 for Miami's first 30-point quarter since Feb. 7, 2019. Harden was a perfect 4-for-4 from the field in the frame, while Mason and Marshall tallied seven points apiece.
New Canes Naomi Mbandu and Gony found their rhythm in the fourth quarter accounting for six of Miami's 11 points in the frame. Sophomore Sydnee Roby went 1-of-2 from the charity stripe in the final seconds of the game.