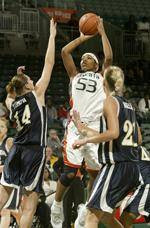 Jan. 16, 2004
CORAL GABLES, Fla.-The No. 21-ranked Miami women's basketball team will put its seven-game home winning streak on the line Saturday night hosting Pittsburgh at 7 p.m. in the Convocation Center.
The Hurricanes enter the contest 14-1 overall and 3-1 in BIG EAST play, while Pitt is 6-8 overall and 2-2 in conference action.
Miami is coming off of a 57-55 double overtime victory over Georgetown Wednesday night in the Convocation Center.
The Panthers earned their first BIG EAST road win of the season Wednesday night with a 61-56 victory over Seton Hall.
The Hurricanes are on a three-game win streak over the Panthers and lead the all-time series 15-8.
Miami won the last meeting by three points 79-76 in Pittsburgh, Pa. on Jan. 22, 2003.
The Hurricanes own a 10-1 advantage over the Panthers in Coral Gables. UM's only loss (59-53) at home to Pitt came during the 1993-94 season.
Four Miami starters are averaging in double-digits. Tamara James (Dania, Fla.) is probable for Saturday's matchup and leads the team with 16.2 points per contest.
Chanivia Broussard (Miami, Fla.) averages 13.5 points, Yalonda McCormick (Miami, Fla.) averages 12.8 and Shaquana Wilkins (Plymouth, Fla.) averages 11.5 points and a team-high 7.6 rebounds per game.
The Panthers have one player averaging in double-digits, senior LaToya Kincaid leads the team with 15.8 points and 7.8 rebounds per game.
Miami averages 74.5 points per game, compared to 59.3 for Pitt.
The game will be broadcast live on WVUM-90.5 FM or via the internet at hurricanesports.com.
For more information on tickets please call 305-284-CANES or 1-800-GO-CANES.