University of Miami Athletics
Diana Khodan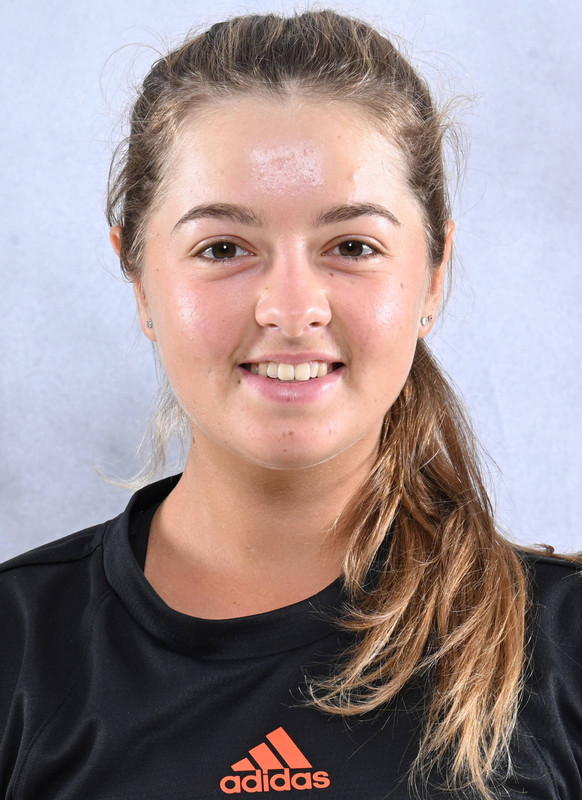 As a Third-Year Sophomore (2021-22): All-ACC Academic Team
As a Second-Year Freshman (2020-21): All-ACC Academic Team … ACC Freshman of the Week (4/6)
No fall season due to COVID-19 pandemic … Notched a record of 13-8 in both singles and doubles … Played in the NCAA Doubles Championship alongside Maya Tahan … Ascended to No. 14 in the ITA doubles rankings and finished at No. 19 … Ended the year fifth in the ITA Southeast Region … Went 5-4 versus ranked doubles tandems, including 3-1 against top-10 pairs … Paced Miami in ranked doubles winning percentage (.556) and co-led the team in ranked doubles victories … Finished second in doubles wins, doubles winning percentage (.619) and ACC singles winning percentage (.833), as well as tied for second in ACC singles victories (10) … Ranked third among Hurricanes in combined singles/doubles winning percentage (.619), combined ranked wins (six), ranked singles wins (one), combined ACC wins (16) and combined ACC winning percentage (.696) … Played at No. 5 and No. 6 in the singles lineup … Logged a 10-2 mark in ACC singles action with nine straight wins from March 7 to April 4 … Earned her first-career ACC victory by topping Clemson's Zaina Nait Omar, 7-5, 6-1 … Picked up her first ranked triumph with a 6-3, 6-2 decision over No. 44 Margaryta Bilokin at eighth-ranked Duke … Defeated Ines Fonte, 7-6 (8-6), 6-0, at No. 50 Syracuse … Topped No. 47 Notre Dame's Yashna Yellayi, 6-1, 6-2 … Cruised to a 6-0, 6-1 win over Louisville's Rhea Verma … Beat No. 26 Wake Forest's Peyton Pesavento, 7-5, 6-3 … Downed Lexi Keberle of No. 11 NC State, 7-6 (7-3), 7-6 (7-5) … Posted a 6-2, 6-2 decision over Vivian Glozman in the win over eighth-ranked Virginia … Again defeated Yellayi, this time 6-3, 6-3, in the ACC Championship second round … Won, 6-1, 6-4, versus No. 41 FIU's Andreea Velcea in the NCAA Team Championship Round of 64 … Played primarily at the No. 2 doubles position … Finished 13-7 in dual matches, including 6-5 in ACC competition … Lost only three games across a trio of top-10 triumphs … Went 11-8 with Tahan and 2-0 with Florencia Urrutia … Alongside Tahan, beat No. 44 Tereza Janatova/Anna Vrbenska of No. 23 Ole Miss, 7-5 … With Urrutia, defeated Monika Dedaj/Carol, 6-2, at No. 12 Georgia Tech … Back with Tahan, registered a 6-0 win against Chloe Beck/Karolina Berankova at eighth-ranked Duke … Edged Polina Kozyreva/Sofya Treshcheva, 6-4, at No. 50 Syracuse … Cruised to a 6-0 victory against seventh-ranked Jaeda Daniel/Adriana Reami of No. 11 NC State for her first top-10 decision … Won, 6-3, versus No. 65 Shene Disbergen/Rita Pinto of Virginia Tech … Tallied a 6-2 result versus No. 10 Ally Bojczuk/Julia Lilien of Notre Dame in ACC Championship second-round play … Downed Marina Alcaide/Andreea Velcea of No. 41 FIU in NCAA Team Championship first-round action.
As a Freshman (2019-20): ITA Scholar-Athlete
Spring season cut short due to COVID-19 pandemic and did not count towards eligibility … Enrolled at Miami for the spring semester … Limited to just three matches because of a left wrist injury … Went 1-1 in singles competition, notching a victory at the No. 4 position … Made her collegiate debut against UC Santa Barbara's Juliana Valero in ITA Kick-Off Weekend action and the match was left unfinished … Defeated Tennessee State's Ashia Jones, 6-1, 6-0, for her first victory … Played in one doubles match, alongside Maya Tahan, and held a 5-3 lead over Florida Atlantic's Natalie Kallmunzerova and Martina Kudelova when play was halted.
Prior to College: Ascended as high as No. 80 in the ITF Juniors singles rankings, doing so to close the 2018 calendar year … Competed for her nation's junior national team … Claimed the Ukrainian Champion Cup in 2015 … Spent time training at the Kyiv International Tennis Academy … In 2019, at a tournament in Belgium, defeated Leylah Annie Fernandez, a Canadian standout who went on to win the 2019 Junior French Open … Began playing ITF Junior tournaments at age 14.
Personal: Full name is Diana Khodan … Name is pronounced Dee-AH-Nuh KHOW-Dahn … Nickname is Di … Born Aug. 17, 2001 … Parents are Liubomyr and Natalya Khodan … Father is a private entrepeneur … Has an older brother, Taras … Majoring in art with a minor in sport administration … Favorite athlete is Simona Halep because she plays quality, smart tennis and moves well on the court … Best sports memories are reaching the quarterfinals of a G1 singles tournament in Spain in 2018 and winning a $10K singles title in Turkey in 2016 … Enjoys playing volleyball … Chose Miami because of the high level of tennis and quality education … Committed to Miami over Florida, Iowa, Kansas, Missouri, NC State, Pepperdine, Syracuse, Texas and Tulsa … First Ukrainian to play for Miami during Paige Yaroshuk-Tews' tenure.
 SINGLES
YEAR
TOTAL
FALL
SPRING
DUAL
ACC
*RNK
2019-20
1-1
0-0
1-1
1-1
0-0
0-0
2020-21
13-8
N/A
13-8
13-8
10-2
1-1
CAREER
14-9
0-0
14-9
14-9
10-2
1-1
DOUBLES
YEAR
TOTAL
FALL
SPRING
DUAL
ACC
*RNK
2019-20
0-0
0-0
0-0
0-0
0-0
0-0
2020-21
13-8
N/A
13-8
13-7
6-5
5-4
CAREER
13-8
0-0
13-8
13-7
6-5
5-4
*RNK = record vs. ranked opponents
No fall season in 2020-21 due to COVID-19 pandemic