University of Miami Athletics
Zach Cooper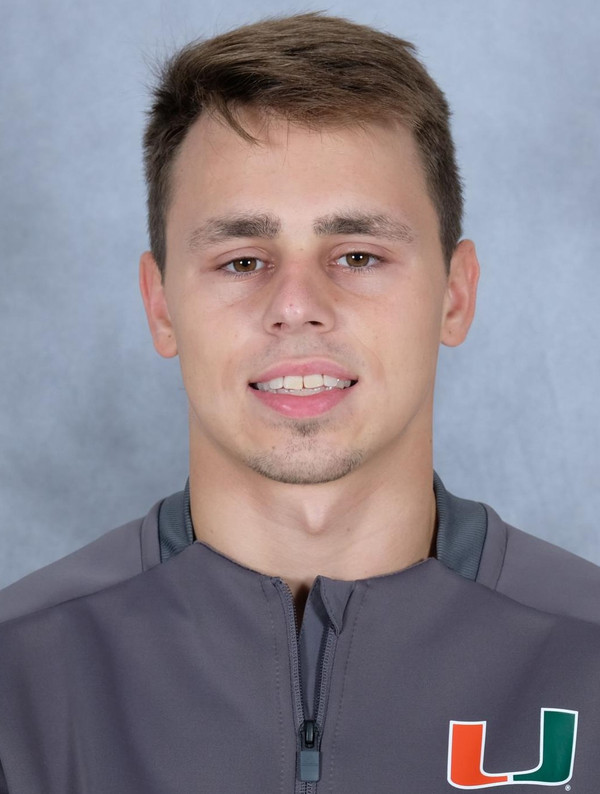 2020 ACC SILVER MEDALIST (platform)
2019 NCAA ALL-AMERICA (platform)
2019 ACC SILVER MEDALIST (platform)
2018 NCAA ALL-AMERICA (platform)
2018 ACC SILVER MEDALIST (platform)
Junior (2019-20): Delivered another standout year, capturing third straight ACC silver medal…Finished with 434.65 on platform at Greensboro Aquatic Center to take second at 2020 ACC Swimming & Diving Championships…Finished second in Zone B qualifying in platform event to earn berth to NCAA Swimming & Diving Championships, eventually cancelled due to COVID-19 pandemic…Scored 790.10 in Zone qualifiers in Athens, Georgia at Gabrielsen Natatorium on University of Georgia campus…
Sophomore (2018-19): Impressed in another standout campaign, capturing NCAA All-America recognition and second conference medal…Finished fourth nationally in platform at 2019 NCAA Men's Swimming & Diving Championships in Austin, Texas…Sored 407.80 for top finish of career and second All-America honor of career…Qualified for NCAA Championships by finishing second at Zone B qualifying in Auburn, Ala., ending event with 822.35 points…Earned second-place finish and second ACC silver medal of career with score of 413.50 at ACC Swimming & Diving Championships in Greensboro, N.C.
True Freshman (2017-18): Delivered sparkling first season that culminated in All-America honors…Finished seventh nationally in men's platform with 386.85 points to earn first All-America recognition of career at 2018 NCAA Swimming & Diving Championships in Minneapolis…Represented Team USA at 2018 FINA World Cup…Captured silver medal in platform at 2018 ACC Swimming & Diving Championships in Greensboro, N.C., finishing only behind teammate David Dinsmore with 429.50 points…Finished eighth in 3-meter springboard (318.60) at ACC Championships…Ended in second in 3-meter (352.55) and third in 1-meter (317.45) in tri-meet with Florida State and Alabama (Jan. 12)… Captured bronze medal in 10-meter synchronized event at 2017 USA Diving Senior Nationals to earn trip to FINA World Cup…Took fourth in 1-meter (342.75 points) at University of Texas Invite (Nov. 16).
Prior to Miami: Was 2016 national champion on 10-meter at AT&T National Championships…Two-time junior national champion on platform…Member of USA national team (2013-2016)…Competed at 2015 Pan American Games as member of Team USA…two-time Junior World Championships Team USA member (2012, 2016)…Competed on USA team at 2009 Junior Pan American Championships.
Personal: Parents are Bradley and Leslee…Has one younger brother, Jacob.