University of Miami Athletics
Sarah Barnes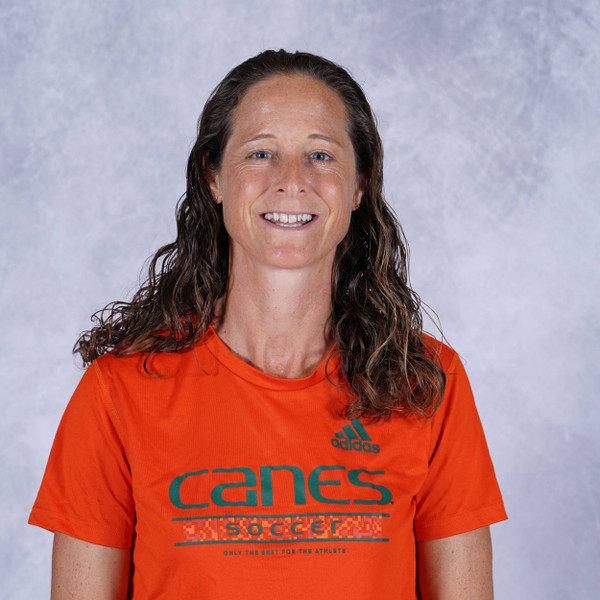 Barnes Records (after 2022 Season):
Career (11 years): 81-90-23
At Miami (Five years): 21-49-9 overall, 8-37-3 ACC
The Barnes File
Birthday: January 3 (Snohomish, Wash.)
Education: Snohomish High School, 1991-94; University of Connecticut, 1994-97 (B.A. Sociology & M.A. Social Psychology and Women in Sports)
Playing Experience
Snohomish High School, 1991-94
University of Connecticut, 1994-97
Coaching Experience
University of Miami (Head Coach), 2018-present
George Washington University (Head Coach), 2012-17
University of Texas (Assistant Coach), 2008-11
University of Connecticut (Associate Head Coach), 2007
University of Connecticut (Assistant Coach), 2000-06
University of Connecticut (Volunteer Assistant Coach), 1998-99
Sarah Barnes enters her sixth year at the helm of the Miami Hurricanes soccer team. Since taking over the Hurricanes in 2018, Barnes has led Miami to some of its finest victories in school history.
In 2023, Barnes' team finished with five home wins and five shutouts — the most by the Hurricanes in six seasons — highlighted by victories over eventual NCAA College Cup semifinalist Alabama and then-No. 24 Virginia Tech.
During the 2021 campaign, Miami improved its win total by three, including the first victory over rival Florida for the first time since 2012 and the first win at Boston College in program history.
In 2019, the Hurricanes topped then-No. 15 Clemson, 3-2, in a double overtime thriller at Cobb Stadium, posting a top-25 win for the second consecutive campaign.
Barnes capped off her first season in Coral Gables, guiding the Hurricanes to a 1-0 result over then-No. 9 Florida State. The victory marked the 12th time Miami has defeated a top-10 team. 
Under Barnes' guidance, goalkeeper Phallon Tullis-Joyce earned Second Team All-ACC honors in 2018, closing out her illustrious collegiate career with 259 saves, the third-most all-time at Miami.
Seventeen student-athletes have garnered All-ACC Academic Team accolades, with the dozen selections in 2022 besting the previous program record of five set in 2007.
At George Washington
Barnes spent six seasons as the head coach at George Washington University, where she was named the 2015 Atlantic 10 Coach of the Year.
Over her six seasons at GW, Barnes led the Colonials to a 60-41-14 (.583) mark, including a 48-23-8 (.658) record the last four years.
In 2013, her second season at GW, Barnes guided the Colonials to their first A-10 Championship berth since 2002, beginning a streak of five consecutive years in the conference tournament.
The following year, Barnes turned in the first of four straight seasons with double-digit victories, as the Colonials finished 12-6-1 (4-3-1).
In 2015, Barnes led GW to a 15-5-0 (10-0-0) mark and the program's first A-10 regular season title since 1995. It was the first time in school history the team finished with a perfect conference record. After tallying an 11-7-3 (4-3-3) record in 2016, Barnes concluded her GW tenure with a 10-5-4 (5-2-3) campaign.
As An Assistant Coach
Prior to joining the Colonials, Barnes spent four seasons as an assistant at the University of Texas. The Longhorns went 47-30-12 (.596), both reaching the NCAA Championship and notching 12-plus victories three times.
Barnes started her coaching career at her alma mater, the University of Connecticut, from 1998-2007. She spent two years as a volunteer assistant, seven as an assistant coach and one as the associate head coach.
In her decade on the UConn staff, the Huskies went 167-57-17 (.728), winning six BIG EAST regular season title and two conference tournament crowns. UConn made the NCAA Championship all 10 years, advancing to the Sweet 16 eight times, the Elite Eight six times and the national championship once, in 2003.
Playing Career
During her collegiate playing career, Barnes led UConn to a dazzling 83-14-2 (.848) record, including a school record 23 wins her final season. The Huskies made the NCAA Elite Eight every year, reaching the College Cup in 1994 and 1997, advancing to the national final the latter year.
In 1997, her last season, Barnes was a co-captain, co-team MVP and a Second Team All-BIG EAST honoree. She graduated magna cum laude from UConn in 1998 with a degree in sociology. Three years later, Barnes earned a master's degree with a dual emphasis on social psychology and women in sports.
A native of Snohomish, Wash., Barnes made the NCAA Championship 17 of 18 years as a player or coach from 1994 through 2011.